Ground reality
She grew up in City Beautiful, led a laid back, protected life with a daily geri to Panjab University campus on her scooty, complete with a typical helmet, face covered with a cloth and huge glares…ala Chandigarh mode! Only this Chandigarh di kudi is today an icon, face of many a mega brands!
Sense & sensitivity
The grey in her hair boasts not just of her experience as an early childhood education expert, but goes beyond the shades of knowledge and defined wisdom that is soaked in her ability to understand children.
Take it easy!
Paulo Coelho in his book The Manuscript Found In Accra has laid down more than 100 rules to make life easy, simple and blissful. Our woman here hasn't read any of these, but she has always known one basic rule that has kept her happy—'I am comfortable in my skin, I do what I want to and be happy with that'.


For women, by women
Pali Waraich, a designer by profession, wanted to do something for the underprivileged and she did it by organizing an exhibition at Aroma-22, Chandigarh.

Life cycle
He designed his first bicycle in 1991 and since then there has been no stopping him. Talk to him about bicycles and he will tell you a story, an interesting one. He is a man with a dream to reach the skies. So what if the path is unusual and less trodden and more stumbled upon, he will ride through it on his gigantic bicycle.

Tall order: Rajeev Kumar with his creation.
Par Excellence
Core training
The core or the abdominal muscles play a very important role in the golf swing. They help in providing stability to the lower body and also create swing speed. A weak core will create problems of getting into a good posture and being able to maintain it, lack of swing speed due to a slow rotation of the body and a high risk of injury to the lower back.
TROUBLE SHOOTER
Positively happy
Why do some people have more negative thoughts and why are some people cheerful most of the time? Can one change this?
TRENDSETTER
Simply chic
Sunanda Sharma, a fashion designer, likes to experiment. She loves singing, travelling and photography. Her favourite pastime is to go on a geri or hangout at a local coffee shop with friends. With her confidence and creativity, she transforms the simplest of things into a style statement. Sunanda is a girl who stands out.


Fresh faces of the filmdom
Siddhant Kapoor: Shraddha Kapoor's younger brother Siddhanth has made his debut in Shootout at Wadala and has got rave reviews in his gangster role, holding his own opposite established actors. Shootout is likely to do well so he will have many offers in his kitty.

It's all in the family
In the last few days the petite and pretty Shraddha Kapoor's life has undergone a complete transformation. It's known as the before-and-after affect. And it happens to every aspirant who is blessed with that career-changing hit. Understandably Shraddha Kapoor is a little dazed and disoriented with all that has happened to her since the release of Aashiqui 2. Here she talks about it.

Step up: Shraddha Kapoor
Wedding bells for Keira Knightley
Actress Keira Knightley has married Klaxons star James Righton in a ceremony held in the south of France. The couple, who have been dating since 2011, wed in front of about 10 people in Mazan, Provence, close to where the bride's family has a holiday home. The short service was followed by a reception for family and friends, reported to have included Righton's bandmates and actress Sienna Miller.


Motherhood & more
Actress Tara Sharma hosts a popular parenting show on television which is absolutely natural, real and fun. She is a working mom but is not looking at getting back into movies. The bubbly young mother is happy with her blog and talk show. She talks about her two young sons and her love of writing.

Play time: Tara Sharma with sons Zen and Kai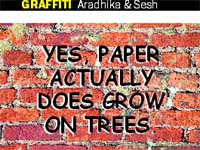 In news for wrong reasons
Sometimes the Bollywood stars are held at the airport for their surname and sometimes they are detained for carrying undeclared stuff. This time Ranbir Kapoor fell prey to custom fiasco.