Judicial remand of 54 CSS teachers extended till June 1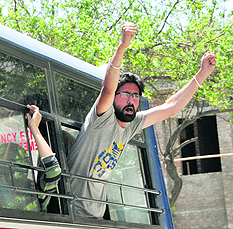 Bathinda, May 18
The judicial remand of 54 teachers working under the Centre Sponsored Scheme (CSS), who were arrested for staging a protest rally in Bathinda while demanding salaries, has been extended till June 1. As many as 138 teachers were arrested from Bathinda and sent to the Faridkot jail. Of them, 54 were produced in the court of Judicial Magistrate 1st Class Karan Garg today. While they were being produced in the court, the teachers raised slogans against the state government. They said they would continue their agitation till the government disbursed their salaries.
A protester shouts a slogan against the state government while he was being taken to a Bathinda court on Saturday. photo: Bhupinder Dhillon

Treating Hepatitis C
Early diagnosis holds the key: Experts
Bathinda, May 18
Doctors in the city feel that the preliminary diagnostic tests of Hepatitis C, which has taken an alarming proportion in Punjab, should be imbibed with the regular blood tests like haemoglobin.
Missing 8-year-old boy from Haridwar re-united with family
Bathinda, May 18
An eight-year-old child from the Kankhal area of Haridwar was re-united with his family nine days after he went missing from his home. The volunteers of Sahara Welfare Society united the boy, who was found in the restroom at Bathinda railway station in a serious condition, with his family members.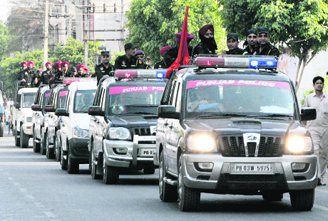 Keep the faith: The police staging a flag march to instil a sense of security among residents on the eve of zila parishad elections in Bathinda on Saturday. photo: Bhupinder Dhillon
DAV staff, students pitch in for special kids
Bathinda, May 18
Fifty students and ten teachers of the RBDAV Senior Secondary School were honoured today at Anusaran — a special felicitation ceremony — for their contribution towards betterment of children with special needs at the DAV Red Cross School, Amritsar.


(Left) Children present a dance item at a function organised by RBDAV Senior Secondary School; students who contributed to the betterment of kids with special needs by raising funds for them being felicitated by the school authorities at the function on Saturday. Photos: Bhupinder Dhillon

Legal awareness camp held at Desraj school
Bathinda, May 18
The District Legal Services Authority (DLSA) held a legal awareness camp at the Desraj Memorial Government Senior Secondary School for Boys today. Advocate Gurdev Singh Sodhi delivered a lecture to the students on fundamental rights, fundamental duties and other related laws. Suresh Gaur and Kulwant Singh Brar gave information about the rights of the children.


Students at Desraj Memorial Government Senior Secondary School for Boys were informed about fundamental rights and duties at a legal awareness camp held on Saturday. A Tribune photograph

SBoP branch to remain open on Sunday
Bathinda, May 18
The State Bank of Patiala (SBoP) has made changes in the working hours of its prestigious branch at Guru Nanak Dev Thermal Plant (GNDTP), Bathinda. The branch of the bank will now remain open on all Sundays from tomorrow, i.e. May 19.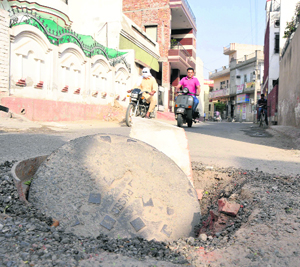 Danger on road: A displaced manhole in street number six near Bibiwala Road poses danger to the commuters and pedestrians passing through the area. Photo: Bhupinder Dhillon

World Athletics Day observed at AIMSR
Bathinda, May 18
World Athletics Day was celebrated at the Adesh Institute of Medical Science and Research (AIMSR). The sports committee of the college organized games in the evening that was presided over by the chairperson, sports committee, Dr Vijay Suri.
Kidnapping bid: man booked
Bathinda, May 18
The Cantonment police arrested a man for taking away an eight year old girl on the sly. Nachhattar Singh, a native of Uttar Pradesh, who now lives on Mansa Road, told the police that the accused Durgesh Kumar, a resident of village Gehri Bhagi, took away his eight-year-old daughter. However, he was caught. Police has registered a case. TNS