M A I N N E W S
Red terror in Bastar; 17 dead
Naxals ambush Cong convoy in Chhattisgarh, kill 3 leaders Ex-Union Minister Shukla hurt
PCC chief, son abducted
Raipur, May 25
At least 17 persons, including senior Congress leader Mahendra Karma, were killed and former Union Minister Vidya Charan Shukla and 19 others injured when heavily armed Maoists ambushed a convoy of party leaders in a forest area of Chhattisgarh's Bastar district today.
The Maoists also kidnapped PCC chief Nand Kumar Patel and his son Dinesh after attacking the convoy of Congress leaders in Darba Gati Valley near Jagdalpur, headquarters town of Bastar district, the police said.
Joint Secretary (Naxal management) in Union Home Ministry MA Ganpathy said 17 persons were killed and around 20 injured in the attack.
Most of the dead and injured were Congress leaders and workers, he said adding four to five of those killed were personal security officers of Congress leaders. Chhattisgarh Chief Minister Raman Singh put the number of dead at 16.
Shukla (84) underwent an operation at a Jagdalpur hospital to remove three bullets from his body. Raman Singh said Shukla's condition was stated to be stable.
Besides Karma, former Congress MP Gopal Madhavan and former MLA from Rajnandgaon Udya Mudaliyar were shot dead and prominent woman tribal leader Phulo Devi Netam wounded in the attack that took place around 5.30 pm when they were returning from the party's "Parivartan" rally.
Karma, a former Home Minister and founder of "Salwa Judum" (anti-Naxal operation by vigilante groups to combat Communist rebels), was surrounded by around 100 Maoists who peppered his body with bullets.
The Maoists had put up roadblocks by felling trees before triggering a landmine blast that hit one of the vehicles in the convoy before opening fire, police sources said. The Maoists later set nearby trees on fire.
The personal security officers of the Congress leaders returned fire but soon ran out of bullets becoming sitting ducks.
The attack took place in a dense forest near NH-202 connecting Chhattisgarh with Naxal-hit Bhadrachalam district in adjacent Andhra Pradesh.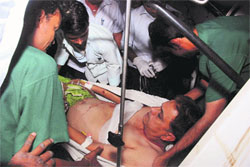 An injured being treated at Ramkrishna Hospital in Raipur on Saturday. PTI
Opposition Congress' CParivartan Yatra, comprising senior party leaders, had launched the yatra on April 12 in the state where Assembly elections are due this yearend.
In New Delhi, Prime Minister Manmohan Singh condemned the "dastardly" attack and appealed to the attackers to release all those who may have been abducted. He spoke to Raman Singh over the phone twice and offered help in rescue and relief operations.
"I have spoken to the Chief Minister of the state and urged him to provide all possible assistance to those who have been injured and to ensure the security and safety of those who have been abducted," said Singh. The Prime Minister also had a meeting with Congress chief Sonia Gandhi and party vice-president Rahul Gandhi to assess the situation.
Union Minister of State for Home RPN Singh, who will visit Chhattisgarh tomorrow, said in New Delhi that "our top priority is to find the missing PCC chief and his son".
An air ambulance will be sent to Chhattisgarh tomorrow morning to bring back the injured for treatment after Raman Singh spoke to Dr Naresh Trehan, chairman and managing director of Medicity Medanta in Gurgaon.
Raman Singh said a three-day state mourning had been declared from tomorrow and all those killed would be given a state funeral.
He announced cancellation of his government's "Vikas Yatra" that was started in April. — PTI

(1) Shot dead: Mahendra Karma, ex-state minister (2) Critically injured: VC Shukla, former Union Minister (3) Abducted: Nand Kumar Patel, PCC chief
The bloody ambush
Maoists put up roadblocks by felling trees at Darba Gati Valley near Jagdalpur in Bastar district on Saturday afternoon
Trigger a landmine blast as a convoy of Congress leaders and workers passes the spot after party's 'Parivartan' rally around 5.30 pm
A vehicle is hit; the convoy comes under a barrage of Maoist fire Personal security officers of Congress leaders return fire but soon run out of ammunition; become sitting ducks
600 CRPF men mobilised
The Centre has rushed more than 600 CRPF personnel, including elite CoBRA anti-Maoist commandos, to sanitise and take control of the scene of the attack
I strongly condemn the violent attack on Congress leaders. My deepest sympathies are with the families of those who have lost their lives. — Manmohan Singh,PM
We are shocked and pained by the attack on our colleagues in Chhattisgarh. It is despicable that ordinary people engaged in political activity were attacked. — Sonia Gandhi, congress president