Patil to inaugurate smart school sans facilities today
Chandigarh, May 26
UT Administrator Shivraj Patil will inaugurate a school building with incomplete facilities in Sector 54 here tomorrow even as another government school building in Hallo Majra, which was completed two weeks ago, awaits a VIP for its inauguration.
Workers give the finishing touches to the Government High School building in Sector 54, Chandigarh; and (below) the Government High School building in Hallo Majra awaits inauguration. Tribune photos: Parvesh Chauhan & Manoj Mahajan
Constable booked on molestation charge
Chandigarh, May 26
It took a city resident five hours to get an FIR registered against a UT constable, who allegedly molested his teenaged daughter. The complainant, Ramesh (name changed), faced a harrowing time as the Mani Majra police kept coercing him to withdraw the complaint as it involved a constable.


Open house responses
Engage private agency to act as watchdog
While the tricity is heading towards an acute power crisis, kundi connections galore with no check on the misuse of power by illegal means. What should be done to ensure that no one draws power illegally?
A young boy attaches a kundi connection for his shop at Colony No 4 in Industrial Area, Phase 1, Chandigarh. Tribune photo: Pradeep Tewari

PGI serais in a shambles
Chandigarh, May 26
Exposing the authorities' apathy, the two oldest serais at the PGI, Nehru Serai and Rotary Serai, are in a shambles. Also, the authorities have failed to look into the accounts maintained by the NGO, Lifeline, which charges a nominal fee from patients for providing basic services at these serais.
A room of Nehru Serai at the PGI, Chandigarh. Tribune photos: Pradeep Tewari


| | |
| --- | --- |
| Leaking roof in a corridor of the serai. | The entrance to the building. |

Heat takes a toll on skin
Chandigarh, May 26
A number of cases of sunburn and skin rashes are being reported at the city hospitals and clinics. Experts suggest in addition to carrying water bottles all the time, it is important to apply the right sunscreen lotions, which are resistant to both UVA and UVB rays, and cover skin properly when going out.



Girls fully draped in clothes to protect themselves from the scorching sun in Chandigarh. Tribune photo: S. Chandan



Four special trains to meet summer rush
Chandigarh, May 26
In view of the approaching summer vacations and subsequent increase in passengers' rush, four special trains have been introduced. The Ludhiana-Saharsa (no. 04504) will run on Mondays and Fridays, starting from May 27 and the train will make 10 trips.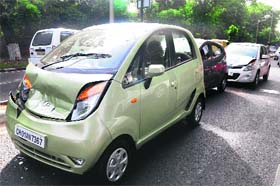 Three cars that were damaged in an accident near a speed hump on the road separating sectors 19 and 20 in Chandigarh on Sunday. Tribune photo: Parvesh Chauhan
Fuel consumption soars as candidates campaign in full steam in Panchkula
Panchkula, May 26
As the Panchkula Municipal Corporation election campaigning is in full swing, the petrol consumption here has increased considerably. On an average the daily consumption of petrol has gone up by worth over Rs 5 lakh.
Lack of basic amenities remains common issue
Panchkula, May 26
Ward 11 comprises the colony area like the Rajiv Colony, Indira Colony and Budanpur village. As many as 15 candidates are in fray from this ward. The common problems which all of them are zeroing in on are the provision of power supply, cleanliness, water supply and repair the broken roads.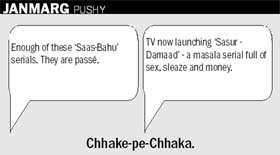 Gogolís play staged
Chandigarh, May 26
Students of the department of Indian Theatre staged Gogolís Russian play, ďRevizorĒ, the inspector General, designed and directed by Professor Mahendra Kumar. The play, staged in the studio theatre of the department, was based on the translated version of the master playwright Gogolís 150 years old text.


This college has produced international sportspersons
Chandigarh, May 26
Established in 1958, DAV College is among the prominent colleges in the city. Students from different parts of the country take admission to the college. During more than 50 years of its existence, the college has produced great academicians, administrators and sportspersons of international repute.
A view of DAV College, Sector 10, Chandigarh.
ambiguous questions in NEET
Students to submit representations
Chandigarh, May 26
Several students are planning to submit representations against ambiguous questions reported in the recently held National Eligibility-cum-Entrance Test (NEET) as the Central Board of Secondary Education (CBSE) will display the images of OMR answer sheets and responses to the questions marked by candidates on website www.cbseneet.nic.in from May 27 to May 31.
CBSE Class XII results to be out today
Chandigarh, May 26
The anxiety has gripped students as the CBSE Class XII results will be declared after 10 am tomorrow. This year, Class XII results are quite crucial, especially for those trying to get admission to undergraduate engineering courses like BTech and BE in Centrally-sponsored universities, including the National Institutes of Technology, the Indian Institutes of Information Technology and deemed universities at the state level like PEC in Chandigarh.
Board launches helpline for counselling students
Chandigarh, May 26
The Central Board of Secondary Education (CBSE) has launched a post-result helpline service ahead of Class XII results to overcome common psychological problems and deal with general queries after the declaration of results.


common entrance test
PU student parties help candidates, parents
Chandigarh, May 26
The student parties at Panjab University have pulled up their socks for the next student council elections as supporters of all parties were found camping outside examination halls today where the Common Entrance Test was conducted.
Student leaders distribute pamphlets among students outside their examination centre at Panjab University on Sunday. Tribune photo: Pradeep Tewari
Answer sheets stolen
Chandigarh, May 26
As many as 10 answer sheets of revaluation exam of family social welfare at Home Science College have reportedly been stolen. The UT police has registered a case of theft and started investigations.


PGGC-11 founderís day
Sufi singer casts a spell
Chandigarh, May 26
Sufi Balbir, an internationally renowned singer, performed at Post Graduate Government College (PGGC), Sector 11, at the founderís day function. It was organised by the Alumni Association of the college.
Sufi Balbir performs during the founder's day of Post Graduate Government College, Sector 11, in Chandigarh on Sunday. Tribune photo: Vicky Gharu
FROM SCHOOLS
Student company
After a successful debut run last year, the Student Company, Ascension, of Bhavan Vidyalaya, Sector 27, Chandigarh, held activities on business management skills. This year, Ascension has expanded its range to include a wider array of products - both food and non-food items.