Bus services to far-flung villages stopped
Jalandhar, May 28
Residents of far-flung villages are a harassed lot as the Punjab Roadways has stopped its services on all such routes ever since its contractual staff went on strike over a month ago.
Eklavya School wins video-making contest
Jalandhar, May 28
Kamla Nehru Public School, Chak Hakim, Phagwara, organised the Jalandhar Sahodaya Inter-School Video-Making Competition. Senior citizens, various club members and eminent citizens of in and around Phagwara town gave them opinion on the topic "nature and gender sensitivity" and the school teams recorded the same.
Badal's statement drives dist admn to intensify crop diversification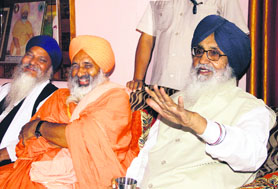 Kapurthala, May 28
Punjab CM Parkash Singh Badal's statement for crop diversification, issued in Seechewal village of neighbouring Jalandhar district on Monday, has driven the Kapurthala district administration to swing into action for motivating farmers to adopt alternative crops for breaking the traditional cycle of wheat-paddy sowing.
Chief Minister Parkash Singh Badal interacts with the media at the dera of environmentalist Balbir Singh Seechewal at Seechewal village in Jalandhar. Photo: Sarabjit Singh

PIMS staff threaten to go on strike
Jalandhar, May 28
Feeling cheated by the management, the technical and paramedical staff of the Punjab Institute of Medical Sciences (PIMS) has threatened to go on indefinite strike for the non-payment of their two months salaries. The employees, in a representation to the PIMS management, warned that they would be forced to resume their agitation if their salaries, due for the past two months, were not released by June 2.
Congress burns Maluka's effigy
Jalandhar, May 28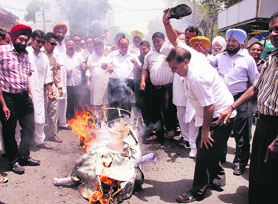 Congress workers staged a protest outside the office of the Circle Education Officer and burnt Education Minister Sikander Singh Maluka's effigy in protest against his alleged role in the irregularities while purchasing school library books, science kits and supply of map masters. Congress workers, led by former MLA Jagbir Brar and Rajinder Beri, demanded Maluka's dismissal from the Cabinet for free and fair inquiry into the case.
Congress activists burn Education Minister Sikander Singh Maluka's effigy in Jalandhar on Tuesday. Photo: Sarabjit Singh

Man held for duping NRI woman
Jalandhar, May 28
Staff of the NRI police station has arrested a man for allegedly duping a Canada-based NRI woman by getting a false registry done for a 20 marla commercial site valuing Rs 1 crore near Lambra village.
Rs 6.25 lakh snatched
Jalandhar, May 28
A resident of Gandran village in Nakodar, who had gone to tehsil complex to get registry of his plot done, was robbed of Rs 6.25 lakh. Narinder Singh, a farmer, said he was standing in the compound when a youth with his face covered snatched his bag containing cash. "When I ran after him, a man was already ready with his bike outside the complex and they managed to escape. I raised alarm, but to no avail, he rued. TNS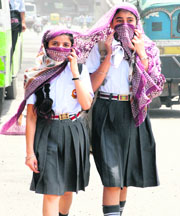 Heatwave intensifies after short relief in city
Jalandhar, May 28
Heatwave again intensified in the city and surrounding areas as maximum temperature increased today after short relief by showers. The Meteorological Department recorded maximum temperature at 40.9 degrees Celsius, whereas the minimum temperature today was 24.9 degrees Celsius. Heatwave is likely to continue in the next few days. TNS
Schoolgirls cover their faces as heatwave again intensifies in Jalandhar on Tuesday. Tribune photo: Malkiat Singh