City boy tops in PSEB Class XII exams in non-medical stream
Aparna Banerji
Tribune News Service
Jalandhar, May 18
Devinder Pal, a student of DC Collegiate Senior Secondary School here, has topped the state in the PSEB Class XII examinations in the non-medical stream securing 96 per cent marks (431 out of 450 marks).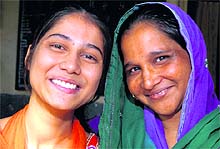 Nishad with her mother; and Jasdeep Kaur with her parents in a jubilant mood after securing top positions in PSEB examinations in Jalandhar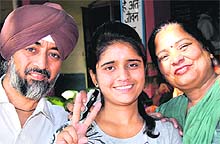 Belonging to Sanghwal village in Kishangarh, Jalandhar, Devinder belongs to a quaint, humble Punjabi family and a nondescript village, which has never seen a state topper so far.

Giving credit to his parents and teachers for his success, he said his parents always inspired him to make independent decisions, due to which he had been able to make it big.

While Devinder's father Hardev Singh works in a private bank, his mother Jagdish Kaur is a homemaker.

He had also topped the district in the Class X examinations, but it is the first time that he has bagged the first position in the state.

His father Hardev Singh says, "I had admitted my children to a government primary school in Class I. But once we came to know that their teacher dozed off in the class, we decided that our children will study in noted schools and colleges."

Devinder had cleared his Class X from a local school. His parents expressed thanks to the college authorities, who have not charged anything from them after his initial admission fee, owing to his merit position in Class X.

Devinder's mother Jagdish Kaur said, "Studying till 10 pm was routine for him. There were also days when he would stay awake till 3 am. We had anticipated a good result, but have been blessed with the best."

Devinder, who aspires to be an engineer, has his eyes set at IIT. "I would like to pursue mechanical engineering from an IIT in the country and have been studying with that aim in mind," said Devinder.

His advice to students is "complete school syllabus in six months and then study for future tests."

Devinder has two sisters. While the elder sister is working as a nurse in the US, the younger one recently appeared for her Class X exams.

Other than Devinder, district government school students have also achieved merit positions in the PSEB Class X exams this year. Nishad and Jasdeep, both students of Nehru Garden Government Girls Senior Secondary School, have attained seventh and 16th position in the district, respectively.

Nishad has got the seventh overall position and third position in the non-medical stream in the state.

Jasdeep, Neelam and Navreet from the same school have won the 16th, 17th and 20th positions in the state, respectively.

While Nishad secured 95.33 per cent marks, Jasdeep, Neelam and Navreet have secured 93.33, 93.11 and 92.44 per cent marks, respectively.

Talking to The Tribune, Nishad said she gives credit to her parents and teachers for her accomplishment. "It is our teachers who told us about what is important and what's not. They really prepared us well and hence the great results," said Nishad.

Nishad's beaming mother Hamida said she had

been working hard all through the year and especially in the exams she sat late through the night, taking little or no rest at all.

Nishad's father is a TV mechanic and she says a promise to school principal Gurinderjit Kaur made her fare well in the exams.

Jasdeep Kaur, who has secured the 17th position in the state, says, "I had never expected that I would be making it to the 17th position in the state. But now that I have, I feel really good about it."

Jasdeep, whose father is a salesman, also secured 92 per cent marks in her matric exams. Her mother Kuwinder Kaur said it was all due to her efforts that she had reached this place today.

Navreet, who stood 20th in the state, said she owed a special thanks to her parents for letting her prepare for the exams free of any tension or botheration.

"My parents Rupinder Kaur and Tarsem Bhardwaj are both lecturers at a private school in the city. While most girls are told to help with the work at home, I am thankful that my parents have never asked me to help at home. Their concern was always my studies. Even when I offered to help my mother in the kitchen, she would tell me to go and study. They have been a great support and so have been my teachers, who gave us the best advices."

Nehru Garden school principal Gurinderjit Kaur congratulated her students and patted the back of her teachers Dalbir (chemistry), Kanchan (maths) and Maninder (physics), among others, to have been good guides for the students and aiding them to make it to the top in the state.

Barring the top slot in non-medical stream, most of the key positions in the state (among district students) have been won by the Nehru Garden schoolgirls.

Bhawna Nagina (district rank 12 and state rank 20) as well as Aashima Munjal (district rank 13 and state rank 20th) from New St Soldier Senior Secondary Public School also won the 20th rank in the state in the Class XII exams.

Sakshi, a science student from the St Soldier Collegiate School also stood 20th in Punjab (ninth in the district) securing 416 (92.44%) marks.