National Congress on Science and Technology gets underway
Tribune News Service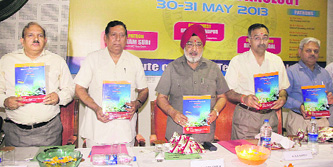 Vice-Chancellor of DAV University RK Kohli, Regional Director, DAVIET, CL Koccher and Director-General of the Pushpa Gujral Science City RS Khandpur release a souvenir during the National Congress on Science and Technology on the DAVIET campus in Jalandhar on Thursday. Photo: Sarabjit Singh

Jalandhar, May 30
Dr RS Khandpur, director general, Pushpa Gujral Science City, Kapurthala, inaugurated the two-day DAV National Congress on Science and Technology (NCST) organised at the DAV Institute of Engineering and Technology, Jalandhar today.
The first DAV NCST-2013, a multi-disciplinary congress, has been organised at six different venues of the knowledge centre of DAVIET. As many as 337 papers have been accepted for oral and poster presentation for this congress from across the country.
Participants from institutions such as IIT Roorkee, Thapar University, Mumbai University, Delhi University, PEC, CSIR Chandigarh, Central University of Punjab, PAU Ludhiana, PU Chandigarh, GNDU Amritsar, GNDEC Ludhiana, Rajasthan Technical University Kota, NIT Hamirpur, Himachal University, Shimla will participate.
As many as 95 papers were presented on the first day of the congress. CL Kochher, regional director, Engineering Colleges, DAVCMC, and one of the patrons of the congress welcomed the chief guest and all dignitaries present.
Dr RS Khandpur threw light on sustainable development, scientific and technological strength of India, world publication share of top 12 countries in science and technology, productivity issues and STI policy 2013. He discussed the scenario of technology in India and abroad. He presented the Indian editions of his four books published abroad to Dr AL Sangal, principal, DAVIET.
Dr RK Kohli, Vice-Chancellor, DAV University, Jalandhar, Dr Satish Kapoor, Registrar, DAV University, Dr AL Sangal, Principal, DAVIET, Dr Buta Singh, dean academics, PTU, Dr AP Singh, dean, research, innovation and consultancy, PTU, OP Mahajan, Arvind Ghai, Principal, CL Arora, Kundan Lal Aggarwal, Ravinder Sharma, members, local governing body, DAVCMC, Prof Jagroop Singh, Principal, Mehr chand Polytechnic Jalandhar, Dr SP Singh, dean, NIT, Jalandhar, and Jaspal Singh, Chief Engineer, PAU, Ludhiana, were present on the occasion.
Physical Sciences: advanced challenges and sustainable futuristic trends, innovations and challenges in civil engineering, recent advances in computer science and technology, emerging trends in electrical and electronics engineering, futuristic computing and applications and advanced manufacturing and Nano technology were deliberated upon today.