star track

The rules of chasing
The singer shares on how she would only drop hints and never like to actively pursue a guy
Country star Taylor Swift says that she likes to drop subtle hints when she likes guys but she would never chase them. While the 23-year-old Love Story singer has a number of tricks to show a guy when she is interested in him, Swift said she would never actively pursue someone, reported a website.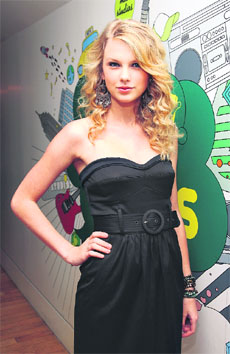 "I ran into this problem a lot when I was in junior high because the guy I liked never noticed me. The best thing to do is to give little hints. Go up and talk to him! But don't seem desperate. And never chase a boy," Swift said. "I think it's always good to be somebody's friend first. If it escalates into something more, that's awesome. If not, now you've got another friend. Never be jealous. You can be competitive, but never be jealous. If you're jealous in a relationship, it's because you're not confident of yourself," she added. Swift also revealed how she had her first kiss at the age of 15.

The We Are Never Getting Back Together hit maker, who has dated a string of stars including Joe Jonas, Harry Styles and Jake Gyllenhaal, says that she was a late bloomer but is happy she waited because she dated the guy for a year afterwards. "I was 15. I was one of the last of my friends to ever kiss a guy. It wasn't a bad kiss. I think it was cute. We ended up dating for a year," Swift said. — PTI


Not me:

Taylor Swift

The costume drama

Singer-actress Jennifer Lopez said that producers on Britain's Got Talent (BGT) requested her to wear the revealing black outfit that drew complaints from viewers. The On the Floor hit maker performed on the ITV talent show recently wearing a black bodysuit that flashed her bottom cheeks, reported a publication.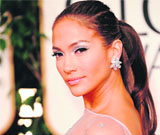 "I think people are so much raunchier than I am. I feel like I'm so tame. We wore it at Billboard and Britain's Got Talent said they wanted exactly the same. So I thought I'd wear the outfit in black. No-one complained at Billboard. I think people just like to talk. It was a body suit. A lot of performers wear that these days. It is standard stage clothes. I'm not going to walk down the street like that," she said. The 43-year-old singer will perform at this weekend's Sound of Change Live gig. — PTI

Stage managed: Jennifer Lopez
A bear hug

Neetu Singh was not particularly fond of Deepika Padukone when she was Ranbir Kapoor's girlfriend . Things have changed now. At the screening of a movie, she hugged Deepika warmly because she liked her work in the movie and has no problem with Ranbir and Deepika's friendship.

Past present: Neetu Singh
No sister act, this!
Reality TV star Khloe Kardashian has lashed out at people, who call her 'the hot sister', saying it is an insult to her siblings Kim and Kourtney. The 29-year-old has recently slimmed down but she says it is not a compliment if it comes at the expense of her siblings Kim, who is pregnant with her first child, and mother-of-two Kourtney, reported a website. "I am sorry but I do not find it a compliment when I am told that I am 'the hot sister'. I appreciate the compliment but this is not a competition. We are sisters and women need to stop being compared to other women! Beauty is not how we look, it is how we act (sic)," Khloe posted on twitter.
Khloe lost weight earlier this year when she was constantly compared to her petite sisters. "After my father died (in 2003), I gained a lot of weight, and then I was in the spotlight. I was quickly blasted for not being a cookie-cutter sister like Kourtney and Kim. I understand why so many people have eating disorders," she said. — PTI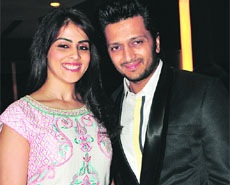 Genelia's tiffin service!
Genelia D'souza would take dabbas for the cast and crew of Masti's sequel. Her husband Riteish Deshmukh is shooting for the movie. Everybody loved the Maharashtrian tiffin she got comprising rotis, aamti, Kolhapuri fish, shrikhand and puran poli. How sweet!



Sweet gesture Genelia D'souza
Kicking up a storm

Mallika Sherawat called India "regressive" at the Cannes Film Festival. Actresses like Madhuri Dixit and Priyanka Chopra have given it back to her on Twitter saying that India is progressive and even wannabes like Sherlyn Chopra and Poonam Pandey have slammed her. Interestingly, Kalki Koechlin felt that she is right about India being regressive for women, as mannequins displaying lingerie are also banned here.


Opinion piece: Mallika Sherawat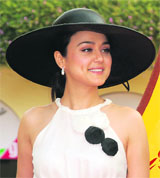 The break point
Preity Zinta's Ishkq in Paris may have come and gone but it kept her busy, from pre-production to editing to promotions, for two years. She now wants to take a break from production and only act. But we wonder who is casting her!





Acting smart: Preity Zinta
I still struggle with eating disorder: Demi Lovato
Singer Demi Lovato, who was in rehab to beat an eating disorder, admits to still struggling to stay healthy.
The 20-year-old claimed that her fans helped her recover, reported a publication. "My fans have helped me in many ways. One, because whenever I have struggled and thought about going back to bad habits, there's been times when I have contemplated what I am really doing. Do I really have a problem and then I think to myself, 'Yeah, my fans are holding me accountable and I have to stay strong for them,'" she said. The X Factor host looked healthy and happy when she took to the stage, to perform on Britain's Got Talent, recently. Lovato credits her honesty for enabling her to get on in her career and get closer to her fans. "I've been honest about the things that I've been through and because of that, a lot of people have learnt from my mistakes and the things that I've been open about. I think that's been what's brought me and my fans closer together," she added. — PTI
Age no bar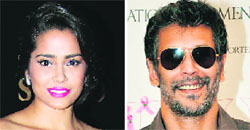 While it seemed that Shahana Goswami and Milind Soman had called it off two months ago but they were spotted dining happily at a suburban restaurant that specialises in Bengali food. They talked softly and laughed too. She is 27 and he is 47 but they are doing fine.



Love birds Milind Soman & Shahana Goswami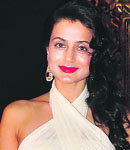 Down and out
Amisha Patel is down with gastroenteritis and she had to skip the New York leg of promotions for Shortcut Romeo and return to Mumbai from London. She has a weak stomach, which worsened by travelling and time zone changes.
Retired hurt: Amisha Patel

Action, by chance!
Ranveer Singh started off as a romantic hero but has now become an action hero, having done extensive stunts in Raam Leela, Gunday and Lootera. Sham Kaushal has choreographed his stunts in all the films and is all praise for the actor and his dedication to perform the stunts under any condition.
Stunt scene: Ranveer Singh
B-town's long lost lovers
Most Bollywood romantic movies have happy endings with the lead pair uniting but that does not always happen in real-life. Bollywood's very own couples have broken off and do not even talk to each other anymore. Here is a list
Irreconcilable differences


Salman Khan and Aishwarya Rai: They had crackling chemistry in Hum Dil De Chuke Sanam and started dating during the movie. They broke up because of Salman's drinking and violence, which she refused to tolerate. He even created a scene outside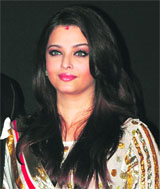 her house and it was off after that. She is the only girlfriend he has had who does not talk to him.


Sad story: Salman Khan and Aishwarya Rai
The unequal match

Aishwarya Rai Bachchan and Vivek Oberoi: Aishwarya and Vivek did not even look like a couple or talk much when they were a couple because she always denied it and he was the one going on about her. She was the ice maiden and one fine day she dumped him and moved on to Abhishek Bachchan. Vivek is now married to Priyanka Alva.

Status update: Vivek Oberoi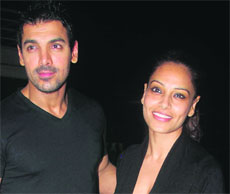 Split wide open
John Abraham and Bipasha Basu: They were inseparable for nearly a decade and then they split publicly and John moved on and maintained a dignified silence about his former flame. Bipasha made digs at him alleging that he strayed. They cannot stand each other anymore and are not friends at all. They do not even talk about each other to the media anymore.




Silent treatment: John Abraham and Bipasha Basu
Once upon a time
Shahid Kapoor and Kareena Kapoor Khan: They split when she dumped him for Saif Ali Khan in 2007. After that they have avoided each other at public events and Shahid was not even invited to her wedding. They stopped talking from the moment they broke up and often look through each other.






Sudden turn Kareena Kapoor and Shahid Kapoor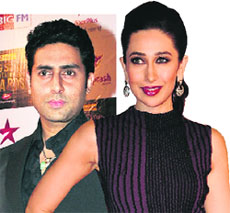 The family feud
Abhishek Bachchan and Karisma Kapoor: Abhishek and Karisma dated for five years before getting engaged but the engagement was called off for reasons best known to them. They stopped talking to each other and there was a problem between the families too. Abhishek is married to Aishwarya and Karisma is married to Delhi-based businessman Sanjay Kapoor.





Separate ways Abhishek Bachchan and Karisma Kapoor