Over 200 pledge to donate organs at PGI
Chandigarh, June 3
Waking up to the need of organ donation, more than 200 people have pledged to donate their organs, including liver, on the website created by the PGI seven months ago.
Excise raid on Fun City at Elante Mall
Chandigarh, June 3
UT Excise Department officials today raided Fun City, an entertainment house run by a Bangalore-based company at Elante Mall for alleged evasion of entertainment duty and value added tax (VAT).
Panchkula MC poll results today
Panchkula, June 3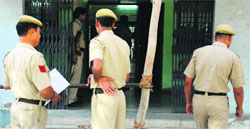 The fate of 160 candidates in the fray for the first-ever Panchkula Municipal Corporation elections will be decided tomorrow with counting of votes scheduled to start at 8 am at the community centre in the BHEL Officers' Colony in Sector 14 here.
Policemen deployed at the entrance gate of a hall where EVMs have been kept at the BHEL Officers' Colony in Sector 14, Panchkula, on Monday. Tribune photo: Nitin Mittal
Low urban turnout; ruralites throng polling booths in large numbers
Panchkula, June 3
In the Panchkula Municipal Corporation election that was held on June 2, most urbanites preferred to stay indoors. If we go by the data of votes polled, in almost every ward, the highest number of votes were cast by the rural people and the wards that consisted of elite sectors showed low turn out.


| | |
| --- | --- |
| | A girl walks on a street full of blooming amaltas trees at Sector 36, Chandigarh, on Monday. The scientific name of the tree is cassia fistula and it has herbal medicinal value. Tribune photo: Pradeep Tewari |
Panel fails to fix responsibility
Chandigarh, June 3
The committee inquiring into the alleged case of sexual harassment of an assistant professor, involving department head and another professor of University Business School (UBS), Panjab University, has failed to find evidence in support of the allegations.
Water wastage continues unabated in colonies
Chandigarh, June 3

While the water supply and sewerage disposal committee of the Chandigarh Municipal Corporation today held a meeting to discuss ways to meet demand and supply gap of water, the wastage of water continued unabated in slums of the City Beautiful.
Water overflows in the absence of taps at Pandit Colony, Sector 52; and (right) at Colony No. 4 in Chandigarh on Monday. Tribune photos: Parvesh Chauhan and Manoj Mahajan
Haryana Govt sends panel of three HCS officers to UT
Chandigarh, June 3
Finally, the Haryana Government has sent a panel of three HCS officers to the UT Administration. As the UT Administration was facing shortage of officials, they had written to the Haryana Government to send a panel of officers.
Delay in approvals hits repair of Mohali roads
Mohali, June 3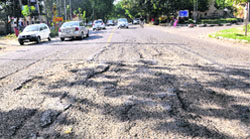 Despite residents expressing anguish over the poor condition of roads in the town, the Municipal Corporation is finding itself helpless in bailing them out of the situation, as the Department of Local Government, Punjab, has failed to clear the proposals submitted by the civic body for carrying out urgent maintenance works to the tune of Rs 9 crore.

A road in a dilapidated condition in Mohali. A File photo
Seek appointments online
Chandigarh, June 3
From next week, applicants who are seeking appointments from the Passport Seva Kendras (PSK), which is under the jurisdiction of Chandigarh, will have to pay online fee before the confirmation of booking dates. To resolve the issue of unavailability of appointment dates and reduce the number of invalid applicants, the Ministry of External Affairs has launched an online payment system for booking appointments.
No respite in sight from heat in coming days
Chandigarh, June 3

Blistering heat waves continued to sweep Chandigarh even today at 37.4 degrees Celsius and there would be no relief for residents in the days to come.





A dust storm hit the city on Monday morning. Tribune photo:S Chandan
Easyfive Pentavalent vaccine passes quality test
Chandigarh, June 3
A month after a six-week-old child died within a few hours of being administered the Easyfive Pentavalent vaccine at PGI the Drugs Controller General of India (DCGI) on Saturday gave a clean chit to the vaccine, declaring it of a "Standard" quality.
Defaulters challaned under Child Labour Act
Chandigarh, June 3
Acting on a secret information regarding child Labour, a team of Anti-Human Trafficking Unit of the Chandigarh Police conducted a raid in Sector 35-B, UT, Chandigarh, and rescued two minor children from a dhaba and a show room with the help of Labour Inspector, UT, Chandigarh.
Rural pharmacists, Class IV staff demand regularisation of services
Mohali, June 3
Rural pharmacists and Class IV employees of the health services and veterinary rural dispensaries under the zila parishads of the state today staged a protest in front of Vikas Bhawan at Phase VIII.
Workers demand residential plots
Mohali, June 3
Punjab Field Workshop Workers' Union staged a statewide protest and begun a chain hunger strike in front of the Punjab Urban Development Authority (PUDA) office at Phase VIII this morning.

Swati tops Mohali dist
Mohali, June 3
After producing the medical topper in the recently declared CBSE Class XII results in Mohali district, Kurali town once again has the district topper, Swati Kalia, in the Punjab School Education Board (PSEB) Class X results announced today.
Mission Admission
Premier institution for women education
MCM DAV College, a premier institution for women education in the region, was established in 1968. Ever since its inception, this college has risen from strength to strength and has made its mark in a range of fields in academic, cultural activities and sports. The college is not only a landmark educational institution with a national repute of excellence, but also a creative portal for the development of cultural and co-curricular talents in its stakeholders.
Students protest against poor results
Chandigarh, June 3
Representatives of the Panjab University Students' Union (PUSU) and students of the colleges affiliated to Panjab University staged a protest outside the administrative block of the university.
Children get tips on theatre at workshop
Chandigarh, June 3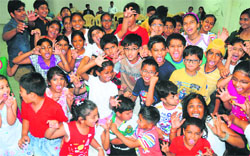 The summer workshop at the Tagore Theatre, Sector 18, is exposing the tricity children to the nuances of art of theatre. As many as 60 children from the age group of 6 to 12 years are being trained on a number of stage-related activities for two hours everyday. The workshop, which started on June 1, will continue till June 21.
Students participate in a summer workshop organised by the Tagore Theatre, Sector 18, in Chandigarh on Monday. Tribune Photo: S.Chandan
PUSU appoints office-bearers of its units
Chandigarh, June 3
The Panjab University Students' Union (PUSU) today appointed Gurinder Singh Minhas as president, Naresh Bawa (Nechi) as vice-chairman, Punjab, and Namesh as chairman, SD College, of the union.
Month-long summer training programme for students begins
Chandigarh, June 3
The Regional Institute of English (RIE), Sector 32, in association with the Chandigarh Administration, today began a month-long summer training programme for students of government schools. The RIE will be imparting computer training, and stress on the communication skills of the students of Government High School, Sector 32, and Government Model Senior Secondary School, Sector 33.
P'kula students fare badly
Panchkula, June 3
Panchkula fared badly in the Class XII results of the Haryana education board, with just 55 per cent of students passing the exams. A total of 2,724 students appeared in the board exam from Panchkula district, out of which only 1,494 could pass.