Power woes disrupt normal life at Sirhind
Fatehgarh Sahib, June 8
The mismanagement of the PSPCL officials is causing great inconvenience to people these days. Though there are no scheduled power cuts, still a major part of Sirhind is suffering from power breakdown.
MLA pays surprise visit to hospital
Fatehgarh Sahib, June 8
Justice (retd) Nirmal Singh, MLA, Bassi Pathana, conducted a surprise raid at the Civil Hospital in the town today. He expressed great concern over the state of affairs at the hospital. When the MLA entered the hospital, there was no doctor on duty at the OPD and emergency.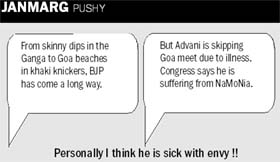 HC directs Public Health Dept to improve water supply in Kalka
Kalka, June 8
The Punjab and Haryana High Court has directed the Secretary, Public Health Department , Haryana, to take appropriate action for providing adequate water supply to Kalka and to lay down sewage lines in Pinjore.
Residents block road in Ambala
Ambala, June 8
Frequent power cuts in the city are causing great inconvenience to people these days. In some of the colonies in the city, the residents blocked roads to protest against the unannounced power cuts.
Factory worker killed in road mishap
Dera Bassi, June 8
A factory worker was killed in a road accident on Friday night. A speeding car hit his bicycle near Lehli village on the Ambala-Chandigarh highway. The victim has been identified as Dharminder Parsad, a resident of Lalru.
Youth run over by train
Dera Bassi, June 8
A youth was crushed to death in a train accident. He was trying to cross the railway track when the incident took place. The deceased was identified as 22-year-old Domni Kajoor, hailing from Jharkhand. He was currently staying at Gholumajra. This railway police has taken action under Section 174 of the CrPc and the body was handed over to the relatives after conducting a post-mortem.


16-yr-old boy commits suicide
Chandigarh, June 8
A 16-year-old boy allegedly committed suicide by hanging himself from a ceiling fan at his residence in Sector 46 here today. The deceased, Vasu Kumar, was a Class XI student of Kendriya Vidyalaya, Sector 31. His father Anant Kumar is a businessman.


Dhruv Pandove trophy
Chandigarh take lead on Day 2
Chandigarh, June 8
The Chandigarh cricket team scored 228 runs against Mohali on the second day of the ongoing Dhruv Pandove Trophy for Boys (U-19) being held today. Chasing the target of 218 runs, the openers of the Chandigarh team, Shivam Bhambri and Bhagminder, scored 50 runs for the first wicket before Shivam was caught by Ramandeep off left-arm spinner Amish Sidhu for 21 off 61 balls studded with 3 boundaries.


Tennis tourney
Neel, Manvir win first-round tie
Mohali, June 8
Neel Singh nailed down Harshdeep during the ongoing Manav Mangal-Total Tennis Academy's Tennis Tournament commenced here today. Neel won the match in the boys' (U-12) category 7-5. In another match of the same category, Manvir Singh edged past Chunu 6-2, while Sarabjot Singh registered triumph against Manik 6-2.
A player in action during the tennis tournament held at Manav Mangal School, Phase X, in Mohali. Tribune photo: Parvesh Chauhan
Cricket probables selected
Chandigarh, June 8
The Chandigarh Cricket Association (affiliated to the PCA) has selected the probables for the women district U-19 cricket team today. These players will undergo a training camp before participating in the inter-district tournament to be organised by the PCA from June 16.