Heart's calling
They had a choice to bury themselves behind the stack of files that needs to be cleared almost each day; a choice to hang their boots after a tiring, grilling day at work. They still have a choice to go on with their life the way it is, without spreading their wings. Had they limited themselves, these bureaucrats and IPS officers from the Tricity wouldn't have another version to themselves.
A different cut
The world of fashion is infinite; there's a place and space for every name and the ideas grow by the exponent. Gurgaon-based designer Suman Bharti hopped onto the bandwagon, hoping to cash-in on the sea of possibilities and endless permutations that the fashion industry had to offer.

Suman Bharti
Summer bonanza
Famous artists will be performing in the Summer Festival 2013 organised by the Department of Cultural Affairs, Chandigarh Administration. Here is the list of events scheduled at Tagore Theatre -18.
the 'in' side
Romancing the vintage trunk
Trunks were once a necessity for travellers but quickly faded when less expensive and easier to move luggage made its appearance. Since then they have become a great interior decorating accessory. If you have an old trunk or a vintage luggage, use it in the house in creative ways and see the appreciation you get.
stress buster
Finding your own path
Learning to respond in a balanced appropriate fashion to events is a key skill in fighting stress. A so called bad day in your life is just that and nothing beyond. You obviously cannot control events but you definitely can control your reactions to them.
vanity box
Keep it subtle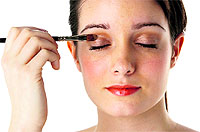 At times, bad make up can be worse than a shoe bite. A foundation that washes down to the collars till you look like a sportsperson in junior high and kohl running down the eyes till you appear like a werewolf that eats everything up on a moonlit night. It takes neither long nor a lot to get a set of eyes that look picture perfect for summers. Make up icon Bobbi Brown has always sworn by the no-sweat sheer make up to last you in heat and humidity.
Master Chef
Go for it!
If we split the word mangoes it comes to man + goes and actually this king of fruits can make any man go crazy as the tastebuds go hyper with the heavenly taste. This wonderful fruit is versatile and can be used in other preparations as well. Combined with macaroni and cherry tomatoes, it becomes a colourful and yummy salad.
A happy start
Start your day with a funny coffee mug. Or surprise someone you know by buying the prank mug by Whysoserious.co.in. The site brings you exciting mug collection to make your mornings fun.
star track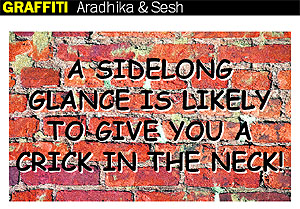 Emraan Hashmi comes of age
Emraan Hashmi's Ghanchakkar is getting ready for release and this movie is unlike anything he has ever done before. He talks about the promos of the sequel to Once Upon a Time in Mumbaai and dancing in Ghanchakkar.
chatter BOX
Stirring drama and commotion
In the up and coming episodes of Diya Aur Baati Hum, Bhabho (Neelu Vaghela) puts Sandhya (Deepika Singh) to test. So what do the viewers have in store this time? As per the ongoing track, Bhabho had told Sandhya that she will pursue her study for IPS exams only if she does not make any mistakes in the house till her next birthday. To keep a track of her mistakes, Bhabho keeps three mud pots in the house.
Astro turf
ARIES: Keep a check on your temper today. Turn a blind eye to unsavoury suggestions and everything will fall into place. A compulsion for romance can lead you astray. Tarot message: Put your terms and conditions in writing. Lucky colour: Sea green. Lucky number: 25.