Paddy plantation begins today
Govt promises unhindered 8-hr electricity supply to farmers
Chandigarh, June 9
With paddy transplantation starting in Punjab from tomorrow, farmers are vying with one another to employ migrant labour from Bihar and Uttar Pradesh in their fields, even as the government has announced it has made preparations for eight hours of uninterrupted power supply to farmers during the paddy season.

Corridor will propel growth in state
Amritsar, June 9
Representative of the trade and industry has hailed the Union Government's move to give a green signal to the Amritsar-Delhi-Kolkata industrial corridor while stating that it will give a major push to industrialisation in Amritsar, Jalandhar and Ludhiana.



BJP fumes as Batala MC chief set to join SAD


Batala, June 9
The SAD's Batala halqa (area) in charge, LS Lodhinangal, has succeeding in engineering a wedge within the BJP. He has been able to woo sitting councillor Vijay Thapar who joined the SAD at a function here today.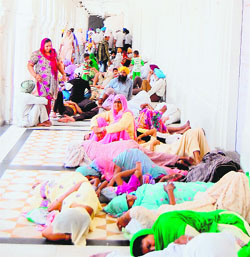 taking refuge:

Devotees take rest in a corridor at the Golden Temple in Amritsar on Sunday. Photo: Sameer Sehgal
Rajpura plant to open on CM's birthday
Chandigarh, June 9
The Rajpura thermal plant will be inaugurated on December 8, the 82nd birthday of Chief Minister Parkash Singh Badal.
Solar power generation to go up 10% by 2020: Majithia
Amritsar, June 9
To fulfil the power needs of the state, the Punjab Government has embarked on a two-pronged strategy - setting up of thermal power plants and tapping of renewable energy sources.
State govt wants to bring down area under paddy
Bathinda, June 9
Paddy cultivation, on which depends the financial health of almost two crore persons, directly or indirectly, starts in the state tomorrow. Experts advocating diversification are keeping their fingers crossed.
High input costs may push small farmer into debt
Chandigarh, June 9
The high cost of labour and diesel this season is bound to trim the profit margin of paddy growers.
Kidnapped child found near gurdwara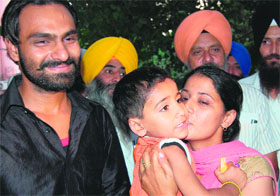 Amritsar, June 9
Three-year-old Gurmilap Singh, who was kidnapped from the Golden Temple complex yesterday, was found abandoned near Gurdwara Shaheed Baba Deep Singh.






Happy reunion: Gurmilap Singh with his parents in Amritsar on Sunday. Photo: Sameer Sehgal

Rural-urban divide in state getting bigger: Report
Chandigarh, June 9
Disparity between the rural and urban population has widened further in the state. The income distribution has become more skewed.
Sarna: Will back memorial outside Rakabganj Sahib
Ludhiana, June 9
Paramjit Singh Sarna, president of the Shiromani Akali Dal (Delhi), today said he would support the Delhi Sikh Gurdwara Management Committee (DSGMC) move to raise a memorial to the 1984 riots victims if the memorial was constructed outside Gurdwara Rakabganj Sahib at any other site in Delhi.
Unions reject draft agriculture policy
Chandigarh, June 9
A number of farmer unions and civil society organisations today rejected the Punjab Government's draft agriculture policy, describing it as an undemocratic, capitalist-minded and anti-farmer document.
Sukhraj murder case: Prime accused says he is innocent
Chandigarh, June 9
Sarwan Singh, the prime accused in the murder of Congress youth activist Sukhraj Singh during the zila parishad elections, today claimed he was innocent and that he would surrender in case the victim's father accused him of the crime.
Patiala police caught 'stealing' forest wood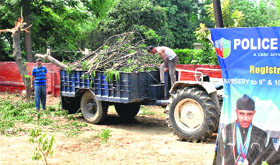 Patiala, June 9
In a major embarrassment for the district police, forest officials here caught policemen stealing forest wood today.




Police personnel with a tractor-trolley laden with forest wood outside the Police Lines in Patiala on Sunday. Tribune photo: Rajesh Sachar

13 years on, husband wants to testify in Canadian court
Ludhiana, June 9
A day after the 13th death anniversary of Jaswinder Sidhu aka Jassi (24), a Canadian girl of Indian origin, her husband Sukhwinder Singh alias Mithu has expressed his intent to appear in the extradition trial of the victim's mother and maternal uncle at British Columbia Supreme Court for allegedly orchestrating the honour killing of Jassi.
Patiala MC to discuss moving 631 establishments today
Patiala, June 9
The Patiala Municipal Corporation (MC) is expected to discuss the shifting of commercial establishments outside residential areas in its general house meeting here on Monday.
Govt to spend Rs 43 lakh on Sirhind choe
Fatehgarh Sahib, June 9
The Irrigation Department will spend Rs 43 lakh for the beautification of the Sirhind choe that passes through the town.
Now, Cong's Soni claims credit for corridor
Chandigarh, June 9
Punjab Congress vice-president OP Soni today claimed that the eastern industrial corridor announced by Prime Minister Manmohan Singh from Kolkata to Amritsar was the result of a representation made by him to the PM a few months ago.


Flesh-trade racket busted, five held
Sangrur, June 9
The Sunam police claimed to have busted a flesh trade racket and arrested three women and two men from a locality of the Sunam town, about 13 km from here, yesterday. The accused were produced before the duty magistrate at Sunam today and were sent in judicial custody for 14 days.