LIFE+STYLE

CHANDIGARH

LUDHIANA

BATHINDA

JALANDHAR

AMRITSAR TRIBUNE

JALANDHAR TRIBUNE

BATHINDA TRIBUNE

JAMMU TRIBUNE

KASHMIR TRIBUNE

DELHI

DEHRADUN

DEHRADUN PLUS

'Killer' cop, lover nabbed in Delhi
Sonepat, June 9
The Sonepat police has arrested suspended constable of the Chandigarh Police Basant Singh who allegedly killed Inspector Sucha Singh and critically injured his driver Jatinder in Chandigarh yesterday.



Chandigarh page: 6 stabs, four calls over 10 mins and still no response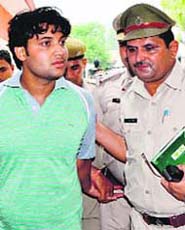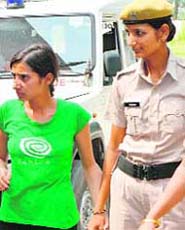 Basant (left) and Sarita in police custody in Sonepat on Sunday. Tribune photos
No movement on NCTC, says Home Minister
New Delhi, June 9
The much talked-about NCTC may be a non-starter but the government has rejected the demand of non-Congress Chief Ministers for a law to set up the anti- terror body. Home Minister Sushilkumar Shinde said his ministry was not exploring the option of bringing a Bill in Parliament for the purpose.
Lahore HC panel visits Sarabjit's cell, interviews prisoners
Lahore, June 9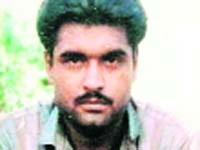 A judicial commission of the Lahore High Court visited Sarabjit Singh's cell in Kot Lakhpat Jail and interviewed prisoners as part of its probe into the brutal murder of the Indian death row convict. Justice Mazahar Ali Akbar Naqvi, head of the commission, collected the complete record of Sarabjit from prison officials.

OTHER PAGES

PUNJAB: Britain's move to compensate African colonial victims


HIMACHAL: Forest Dept to focus on chilgoza revival, lantana eradication


CHANDIGARH: 6 stabs, four calls over 10 mins and still no response


LUDHIANA: Robbers strike at dyeing unit


DELHI: BJP resolution backs full statehood for Delhi


Business:

FIIs pull out Rs 7,600 cr from debt market

OPINIONS: Delayed start


NATION: Advani breaks silence; alludes to Hitler, Mussolini in blog


SPORTS: Champagne moment

WORLD: Rival Koreas hold talks in 2 years


The tribune guide to best colleges

Budget
2013-14

INDIA CHINA WAR 50 YEAR LATER

YEAREND SPECIAL: 2012

Year of survival

The tribune 130 years
a witness to history
book released by prime minister manmohan singh

Guide to best colleges

Results of Punjab Assembly Polls 2012

HIMACHAL VOTES 2012

EARLIER FEATURES

First US C-17 heavy-lift plane arrives next week
New Delhi, June 9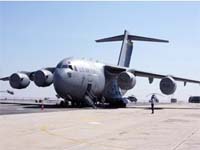 The first of the heavy lift transport planes, the C-17-Globemaster-III, is slated to land at the Hindon airbase near New Delhi on June 17. Once the entire fleet is in place, it will provide India with the ability to rapidly move troops, equipment, tanks and even choppers to far off places.
India to complete Afghan Parliament building by yr-end
New Delhi, June 9
As the deadline for withdrawal of NATO troops from Afghanistan approaches, India is working overtime to complete two of its most ambitious projects in the war-torn country-the new Parliament building and the Salma Dam.


Dirty train toilets? SMS for clean-up
New Delhi, June 9
The Railways have decided to launch an SMS-based service for immediate response to passenger complaints regarding housekeeping service in coaches. The service will be launched on a few select trains to facilitate passengers to contact onboard staff through SMS or phone call for complaints related to cleanliness in coaches, toilets and other problems faced during journey.

Storm in BJP intensifies over Modi
June 9, 2013
Nod to Amritsar-Kolkata industrial link
June 8, 2013
Kundra placed IPL bets: Police
June 7, 2013
Opposition CMs reject anti-terror body despite amendments
June 6, 2013
Cabinet nod to real estate regulator
June 5, 2013
Punjab woos industry with tax sops
June 4, 2013
Srinivasan steps aside, Dalmiya called back as interim BCCI chief
June 3, 2013
Shukla resigns as IPL chief, Srinivasan's exit imminent
June 2, 2013
Pressure mounts on Srini as two key BCCI members quit
June 1, 2013