Pvt clinics shut as docs protest
Tribune News Service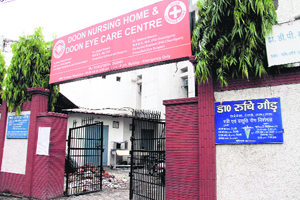 A clinic wears a deserted look due to the strike by doctors. A Tribune photograph

Dehradun, June 15
Protesting against the Clinical Establishment (Registration and Regulation) Act, 2010, that is to be implemented in the state in July, private clinics and nursing homes remained shut across the state today. Condemning the arbitrary implementation of the Act, private doctors held a protest in front of the Indian Medical Association (IMA) office here.
Later, the president of the IMA, Uttarakhand chapter, Dr RN Singh, submitted a memorandum to the Chief Minister.
The protest was mainly against the Clinical Establishment Act, which outlines standards for running clinics and hospitals.
"If draconian rules and regulations are enforced, patients will have to shell out more for treatment. The IMA has urged the government not to hurry in implementing the Act in the state. The other states have not done it so far. The government should hold deliberations first," said Dr RN Singh.
Around 300-odd private nursing homes and clinics remained shut in the city. Doctors said several clauses under the new Act were unfair.
"The Act will affect the patients adversely as the cost of medical services is likely to go up," said Dr DD Chaudhury, secretary of the IMA.
The new laws will give overriding powers to non-medicos who may have no medical expertise.
"Inspectors can visit your clinic anytime for ensuring that you comply with all rules and regulations laid down. Instead of doctors, right from the national, state and district council, non-medicos comprising the SSP and the DM, too, will have a say in matters concerning the doctors," said Dr DD Chaudhury.
He said doctors would be forced to take drastic steps in case the government forced them to comply with the Act.
The private doctors also got support from dentists, private practioners of homeopathy and ayurveda.


The implementation of the Clinical Establishment (Registration and Regulation) Act will affect the patients adversely as the cost of medical services is likely to go up. — Dr DD Chaudhury, secretary of the IMA