M A I N N E W S
Himalayan TSUNAMI

Uttarakhand death toll 550, 48 bodies found in Haridwar


Over 36,000 evacuated

24,500 still stranded


IAF deploys 13 more aircraft

Tribune News Service & PTI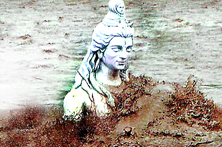 Haridwar/Dehradun/New Delhi, June 21
The death toll in flash floods and landslides in Uttarakhand touched 550 on Friday as rescuers stepped up relief and rescue operations to evacuate over 24,000 people still stranded in several inaccessible parts of the hill state.
Uttarakhand Chief Secretary Subash Kumar said 550 persons had died in the flash floods and 36,000 persons had been rescued via helicopter and road in operations by multiple agencies, including the Army, the IAF and the ITBP.
"Several tourists and pilgrims had taken shelter in the forests and upper areas. With the weather clearing up, they are coming down. As of now, it is difficult to say how many are actually stranded," he said.
The IAF deployed 13 more aircraft for relief and rescue work, taking to 43 the total number of planes in operation, including 36 helicopters. At least 270 persons were rescued today from Kedarnath and sent to Guptkashi and Fata via helicopter.
"Rescue teams are focusing on bringing the sick and the elderly to safer places," said Subash Kumar. A government officer said 2,000-5,000 persons were stranded in Harsil and Gangotri. Adequate food and lodging arrangements have been made for them.


Two days crucial

June 22 and 23 are "key dates" for rescue operations as heavy showers may come anytime, NDRF Inspector General said


The IAF has activated advanced landing grounds at Dharasu and Gaucher and set up an airbridge to evacuate the stranded


Efforts on to operationalise 207 mobile towers in Chamoli, Rudraprayag and Uttarkashi in the next 24 hours
Free rail travel
The state government and Railways are making arrangements to send stranded passengers free of cost from Dehradun to Delhi, Ambala and Lucknow. Air India said it would charge 50% of the basic fare for people travelling out of Dehradun to anywhere in the country.
Donate salary, Sonia to MPs, MLAs
Congress president Sonia Gandhi has told party MPs and MLAs to donate one month salary for Uttarakhand flood-relief. She also directed all party MPs from Lok Sabha and Rajya Sabha to give Rs 10 lakh each from their MPLAD fund.
Chief Minister Vijay Bahuguna told a TV channel that it could take another 15 days to complete the evacuation, adding "this kind of disaster has never happened in the Himalayan history".
As the terrible magnitude of nature's fury continued to unfold and survivors spoke of untold miseries, the death toll was expected to rise with Uttarakhand principal secretary Rakesh Sharma saying casualty figures can be "shockingly high". Efforts were underway to rush food packets amid reports that hundreds of survivors had not eaten for days.
Earlier, the Union home minister Sushilkumar Shinde put the official death count at 207 and expressed fears that the figure might go up as the Army carried on clearing the debris. "So far, 207 people have lost their lives. But the toll may go up as the debris in many areas is yet to be cleared", Shinde said in Delhi. He also announced the appointment of former Union Home Secretary VK Duggal as the nodal officer to coordinate relief and rescue operations. In Haridwar, 48 bodies of those killed in the flash floods and incessant rains were found floating in the Ganga. "48 bodies have been recovered from different points along the Ganga since last evening and taken to the district hospital where each of them is being given a number and an identification tag," Senior Superintendent of Police Haridwar Rajeev Swaroop said. The number is likely to increase.
Only one of the bodies has been identified as that of Dinesh Singh of Vyaoli village in Uttar Pradesh's Badaun district. He was carrying a physically handicapped certificate in his pocket for railway concession. The bodies have been taken to the district hospital for a postmortem and fingerprints and DNA samples have been lifted for future identification.
Uttarakhand officials said the focus of the rescue operation would now be the worst-hit Kedarnath area where 250 persons are stranded. The operation would then shift to Badrinath where 9,000 persons are stuck.
Uttarakhand Agriculture Minister Harak Singh Rawat, who had visited the Kedarnath area, termed the floods as the "worst disaster of the millennium". "It will take us at least five years to recover from the extensive damage to the entire infrastructure network in the Kedarnath area. The centre of faith has turned into a burial ground. Bodies are scattered in the area. Only the sanctum sanctorum is intact."
In HP, rescue operations were on to evacuate stranded people in rain-hit Kinnaur district with two dedicated choppers pressed into service even as reports of more people stuck in interior Pooh, Nako and Kaza areas poured in.

Will rescue all trapped, says Army commander
Tribune News Service
Dehradun/New Delhi, June 21
Rescue teams of the Indian Army, the Indian Air Force (IAF), the Indo-Tibetan Border Police (ITBP) and the National Disaster Relief Force (NDRF) on Friday made a final push into the worst affected Gauri Kund-Kedarnath stretch besides rescuing trapped pilgrims from Gangotri, Pindari glacier and other unreachable areas.
Some 5,500 persons are stranded on the 18-km Gauri Kund-Kedarnath stretch, the worst affected by the flood fury. In total 24,500 people are still stranded.
Besides the Kedarnath area, around 12,000 persons are awaiting evacuation on the Joshimath-Badrinath-Govindham axis.
Another 4,500 are awaiting evacuation near the Gangotri glacier and have been stationed at Harsil. Last night, first rescue teams of Army paratroopers reached Gangotri and rescued 500 persons.
The Army's Central Command chief Lt Gen Anil Chait said in Dehradun that while the Army was not "god", they would rescue everyone trapped in the flood-hit areas. "No more people will die there. We will rescue all those who are stranded. We will trudge every trail, every footpath and bring home anybody who is trapped," Lt Gen Chait said at a press conference.
He said the highest priority was to rescue the infirm, old and the weak with the help of elite soldiers over 40,000 km of rain-ravaged terrain in Uttarakhand. The best officers have been deployed for the rescue operations and each one of them was equal to four men.
"Those 200 men are equal to 2,000. They are the most elite forces of the Army," he said. However, he added that it was not possible to give a time limit for rescue operations.
The General said the Army would start phase two of 'Surya Hope' from tomorrow night. Stranded tourists and pilgrims would be moved from Harsil in Uttarkashi by road. "Bridges have been built to rescue people, bases are being built. We will transport people to safer places. Logistics, petrol, medical support needs to be given," he said.
A temporary bridge has been built at Ghangariya and Sonprayag to start movement of stranded pilgrims and tourists at Gauri Kund (Rudraprayag). These would act as an alternative route for evacuations on foot. He said the Army had also undertaken the expansion of the Gauri Kund helipad and another helipad is being constructed at Ganesh Chatti under "very difficult circumstances".
Even as death toll is feared to run into thousands, rescue efforts have been ramped up with the addition of helicopters and special operations planes. The Ministry of Defence said approximately 16,000 persons had been rescued by road and Army helicopters. Another 374 persons have been rescued by IAF helicopters.
The Army aviation carried out 115 helicopter sorties. Paratroopers and mountain trained teams of special forces, normally deployed for mountain combat, have been air dropped near Kedarnath to look for survivors. Each of the teams is equipped to survive on its own for seven days.
The Army landed the first helicopter at Kedarnath temple this morning. Approximately 1,000 persons stranded at Gaurikund are now being evacuated along the newly opened road to Sonprayag and Tehri, Maj Gen SL Narsimhan told reporters later in the evening.
Indo-Tibetan Border Police (ITBP) Director General Ajay Chadha was hopeful that the stranded pilgrims in Uttarakhand would be rescued in two days and the rescue operations will be majorly completed by tomorrow.
'Surya Hope' Phase 2
Rescue ops intensified on 18-km Gauri Kund-Kedarnath stretch where 5,500 persons are estimated to be stranded
The Army would start phase two of 'Surya Hope' from Saturday night to move the stranded from Harsil by road
Army lands the first helicopter at Kedarnath Temple; special forces' teams air dropped near Kedarnath to look for survivors