LIFE+STYLE

CHANDIGARH

LUDHIANA

BATHINDA

JALANDHAR

AMRITSAR TRIBUNE

JALANDHAR TRIBUNE

BATHINDA TRIBUNE

JAMMU TRIBUNE

KASHMIR TRIBUNE

DELHI

DEHRADUN

DEHRADUN PLUS

Higher cost of imported coal set to push up power bills
New Delhi, June 21
Power tariff is set to go up after the Cabinet Committee on Economic Affairs (CCEA) today allowed power producers to pass on the higher cost of imported coal to consumers. Finance Minister P Chidambaram said there would be a small increase in the power tariff, depending upon the cost of imported coal. It would go up by at least 15-17 paise per unit.
10.5m tonne foodgrain to be sold to curb price rise
New Delhi, June 21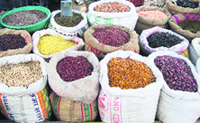 The government today decided to sell 10.5 million tonnes of foodgrains, largely wheat, in the open market to control retail prices and clear storage space. The move will entail a subsidy of about Rs 5,500 crore.
OTHER PAGES

HARYANA: High-level team in Uttarakhand


HIMACHAL: Restore roads within fortnight: Virbhadra


CHANDIGARH: 2 tricity lads among top 100


LUDHIANA: MC invites bids for auction


DELHI: Regular police meetings on women safety to be held: LG


Business:

RBI to take 'every necessary step' to stem rupee slide

OPINIONS: Pakistan at it again!

SPORTS: India saunter into envy zone

WORLD: Brazilian leaders to meet as protests against graft spiral


The tribune guide to best colleges

Budget
2013-14

INDIA CHINA WAR 50 YEAR LATER

YEAREND SPECIAL: 2012

Year of survival

The tribune 130 years
a witness to history
book released by prime minister manmohan singh

Guide to best colleges

Results of Punjab Assembly Polls 2012

HIMACHAL VOTES 2012

EARLIER FEATURES

Cabinet okays merger of 147 centrally sponsored schemes
New Delhi, June 21
The Cabinet yesterday approved the Planning Commission's proposal to merge 147 centrally sponsored schemes (CSS) and bring down their number to 66 across various sectors. The step is aimed at providing flexibility to the states in their better implementation.
10 die in Mumbai building collapse
Mumbai, June 21
In yet another case of house collapse in the suburb of Mumbra outside Mumbai, 10 persons died and at least 14 others were seriously injured when a 35-year old building came crashing down on the wee hours of today.
India cautions against conferring legitimacy on Taliban
New Delhi, June 21
India today reiterated its support for the reconciliation process in Afghanistan that has the support of the government and its people. It, however, underscored that nothing should be done to confer legitimacy on insurgent groups like the Taliban or create equivalence between the government and insurgent groups.


Fund crunch hits functioning of varsities in state
Ludhiana, June 21
A sinking feeling seems to be prevailing in four universities — Punjabi University, Patiala; Guru Nanak Dev University, Amritsar; Punjab Agricultural University, Ludhiana; and Baba Farid University of Health Sciences, Faridkot — in the state. (Details on Punjab page)


Toll may be in several hundreds: U'khand CM
June 21, 2013
Toll touches 150, hundreds missing
June 20, 2013
Rain fury: 131 dead, 500 missing
June 19, 2013
PM inducts 8 ministers; Kharge gets Railways
June 18, 2013
JD(U) parts ways with BJP
June 17, 2013
Party to decide on JD(U): Rahul
June 16, 2013
Nitish calls alliance with BJP difficult; signals split
June 15, 2013
Govt defers food Bill ordinance
June 14, 2013
Modi's rise puts BJP-JD(U) alliance on the rocks
June 13, 2013
RSS steps in, Advani withdraws resignation
June 12, 2013