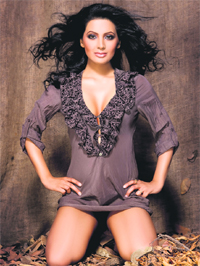 Wherever life takes
Bollywood actress Geeta Basra has no regrets about the films she chose and is happy to go with the flow
There are two kinds of people in Bollywood industry, largely! (In fact, every person in Bollywood is different). Ones who don't what to miss the train and others who wouldn't mind not boarding an overloaded train and would rather wait till something better comes along. For the latter ones, it is the journey which is paramount. Actor Geeta Basra slips easily into the second slot. You won't see her pretty often on screen or on page 3 covers but the actor is happy with the ride so far. Travelling, signing endorsements and preparing for upcoming flicks, Geeta Basra talks only about present.
Character calling
Dolly Ahluwalia Tewari is back. And this time the script is based on her character in Bajatey Raho...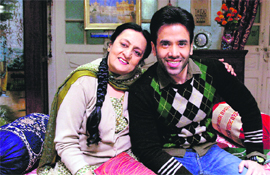 A woman in her fifties doing the lead for a full-fledged movie is not a common practice in Bollywood. Trust Shashant Shah, who gave Dasvidaniya and Chalo Dilli, to do the unusual and you see promise when the woman in question happens to be Dolly Ahluwalia Tewari! Vicky Donor made her come from the back of the stage (she is an immensely successful film costume designer) to the front and bag laurels.

Dolly Ahluwalia with Tusshar Kapoor

Screen presence
Director duo Rimpy Prince believes in the strength of storyline and dialogue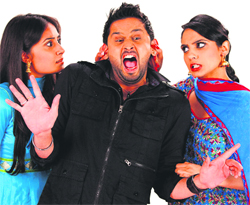 Rimpy Prince… those who have foot tapped to the hit Punjabi songs couldn't have missed this name. With more than 2000 music videos to their credit, the two video directors from Jalandhar have changed the way the music videos look. And now, they are repeating the feat in Punjabi movies as well. The film directors of Fer Mamla Gadbad Gadbad starring Roshan Prince, Japji Khera, BN Sharma, Bhanushree Mehra, Rana Ranbir are all set to take the audience through a fun filled ride.
A still from the Punjabi movie Fer Mamla Gadbad Gadbad

stress buster
Create your happy space
Nature has always been considered therapeutic. To have nature somewhat at our own doorstep is what a garden seems to signify. Watching flowers bloom can be a huge source of joy and creating a whole natural scenario gives us just an extra dose of adrenalin that sets our happy hormones in motion.
Spreading the word
There is something about coffee… Perhaps, it was bittersweet intoxicating quality that made the sixteenth-century Muslim rulers put a ban on it. Well, we are only glad that the city folks savour the beverage in all its glory. The Barista Lavazza Café organised the Barista Lavazza Café scrabble 2013, a scrabble competition that was brought in association with the Scrabble Association of India and Mattel.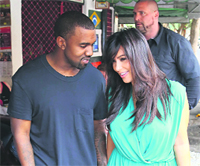 The baby comes home
Kim Kardashian and Kanye West have reportedly moved to a secret location after the new born was given a clean bill of health. Kardashian, 32, and daughter North West have been in the Cedars-Sinai Medical Centre for the last five days as doctors kept an eye on the tot, who was born prematurely.
First step: Kanye West and Kim Kardashian

Miley Cyrus injures neck
Singer-actress Miley Cyrus, who injured her neck during sleep, says she is in severe pain. The 20-year-old We Can't Stop hit maker said that she could not stop crying after she injured her neck and has been instructed bed rest to help it heal quickly, reported a website.
The name game
Sonakshi Sinha's character's name in Once Upon a Time in Mumbaai Again has been changed from Yasmeen to Jasmine because Mandakini's real name is Yasmeen Joseph and the character is based on her and the makers did not want unnecessary controversy.

The barter system
Britney Spears and Miley Cyrus have been praising each other on Twitter with the pop star asking for twerking lessons from the former Disney star. Spears also praised Cyrus' raunchy music video for We Won't Stop earlier this week, reported a magazine.
Dance lessons: Britney Spears

Colour code
They say colours add flavour to your life; each reflecting a mood and a taste that one hopes to savour. When it comes to white, it largely reflects peace. The newly opened Hotel Absolute Comfort, sector 35 Chandigarh spreads the 'sweet fragrance of hospitality.
green thumb
Of flowers & foliage
In the plant kingdom, there are thousands of species of plants. The horticulturists have selected the ones that are ornamental and suitable to their region. Even within species there is tremendous choice due to variation in colour, texture and types. There are plants that are selected due to foliage beauty whereas others find favour due to their floral beauty. But there are those types that have both the plus points that is floral beauty and attractive foliage. Begonia offers a wide range of such plants.
Style file
The Chandigarh girl goes out and shines bright like a star, bringing home some great stories to tell. She is fun, relaxed, living her life to the fullest and has many dreams in her eyes. Strong willed, she can swipe you off your feet with her charming personality, great styling sense and an outgoing attitude. Sadhvi Bajaj is a trendsetter for the aspiring youngsters in the city.
the 'in' side
Make it official
Communication has never been easier and many of us are welcoming the option of working from home. A dedicated room with a door for privacy would be ideal. However, for those of us with limited space, finding an appropriate zone can be an issue. With careful planning, space can be manipulated to suit everyone's needs.
chatter box
A decision in time
Navi Bhangu got a lot of popularity courtesy the show, Amrit Manthan. However, after his overnight exit from the show there were rumours that he was throwing his weight around, so his character was killed. Apparently, his desire to do Punjabi films along with the serial did not sit well with producer, Rajan Shahi, who decided to let him go.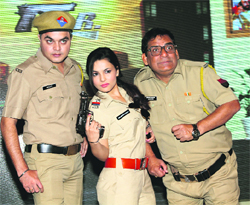 Zombie scare
For the first time ever, Sab TV will telecast a zombie attack in its popular show, FIR that will feature an interesting sequence about the zombies to entertain its viewers thoroughly. The drama unfolds when an unusual case comes inspector Jwalamukhi Chautala's way. It seems like there has been some sort of a zombie invasion and they are killing people around town one after another, thus turning them all into zombies. Undaunted by anything, Jwalamukhi steps forward to solve this case but she is unaware of what is in store for her.

Chills and thrills: A still from FIR
Basking in the glory of success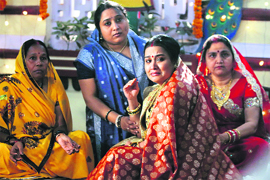 Urmila Sharma, who is currently essaying the role of Dhaisa in Diya Aur Bati Hum is on cloud 9 these days. She is happy with the success of her debut Bollywood film Raanjhaana, where she has essayed the role of Dhanush's mother. Besides, Urmila is endorsing her movie among her friends and family by calling and meeting them personally.
In seventh heaven: Dhaisa of Diya Aur Baati Hum

Worth the weight
Ritesh Deshmukh, who is one of the most sought-after actor when it comes to comedy, always cracks jokes on Geeta Kapur's weight and Ashley lobo's Hindi. He also keeps everyone entertained with his crazy antics and pranks.
Caught in the rumour mill
Iqbal Khan has been away from TV for quite some time. However, of late, he is rumoured to be considered for many shows. He talks about not being insecure about his career and clears the air.
Astro Turf
ARIES: Do not try to hurry jobs that require meticulous handling. You may have heated arguments with your partner today. Consult the experts when making any decisions related to cash.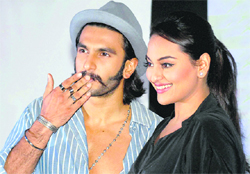 Together we can
Bollywood actors Ranveer Singh and Sonakshi Sinha pose during the promotion of their upcoming movie Lootera in Kolkata. The duo has been actively promoting the movie, across the country, for the past couple of weeks. — PTI

The role reversal
After playing lovers in Gunday, Priyanka Chopra and Ranveer Singh will play brother and sister in Zoya Akhtar's next film and this has been finalised even though there is no official comment on the same. They have replaced Kareena Kapoor Khan and Ranbir Kapoor.

Stepping in: Priyanka Chopra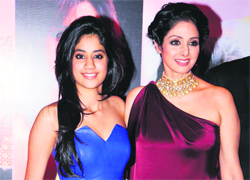 Like mother, like daughter
Sridevi and Boney Kapoor's daughter Jahnavi is going to Columbia University for a two-week course and her mother will accompany her. While what course she has opted for is unknown but after she comes back, she will take up movie offers.
Greener pastures: Jahnavi with Sridevi


At the box office

Raanjhanaa opened to glowing reviews with a special approval for Dhanush's debut in Bollywood and Sonam Kapoor's work has been appreciated too. Shortcut Romeo has got bad reviews, as was expected.



Couple of calls
Katrina Kaif and Farah Khan are good friends and their friendship began during the making of Tees Maar Khan. Katrina has been calling Farah a lot lately and we wonder if it is because she wants to be a part of Happy New Year. Anyway, Farah has not been keeping too well lately.