Illegal plying of tractor-trailers on roads goes unabated
23-year-old youth's death on Thursday fails to wake up authorities from slumber
Dharmendra Joshi
Tribune News Service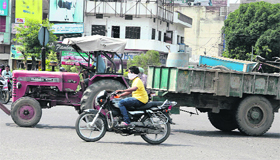 Despite ban, a tractor-trailier being used for commercial purposes at Model Town in Jalandhar. Photo: Sarabjit Singh
Jalandhar, June 28
The death of a youth, Amit Sidhu (23), when an illegally plying tractor-trailer collided with his motorcycle at Urban Estate, Phase II, yesterday, has failed to wake up the district transport authorities and city police from their slumber.
A day after this tragic incident, The Tribune team, during its visit to various parts of the city today, found that tractor-trailers were openly used for commercial purposes, despite ban.
Working at a call centre near Kapurthala Chowk, Amit was the sole breadwinner of his family as his father Pyara Sidhu had also died in a road accident a few years ago. His mother Kamlesh Rani was inconsolable at her residence, located in MGI flats, Urban, Estate Phase I.
While an FIR has been registered against the absconding driver and tractor-trailer impounded, but the question is that will it serve any purpose for Amit's family as Amit died due to the negligence of authorities concerned in the prime of his life.
The Thursday mishap, which claimed young Amit's life, was not an isolated incident. Fatal accidents due to the illegal plying of tractor-trailers for commercial purposes are occurring every now and then.
A student, Anmol (17), and her cousin Saksham (12) also lost their lives in similar manner after they had been crushed by an illegally plying tractor-trailer near the Sodal level crossing on March 1.
Similarly, Senior Deputy Mayor Kamaljit Singh Bhatia's only son Charanpreet Singh Bhatia, alias Channi, became the victim of one such illegally plying tractor-trailer loaded with sand in the Avtar Nagar area a few months ago.
Despite these mishaps, The Tribune team saw a number of tractor-trailers loaded with sand, soil, gravel and other material plying illegally in busy areas, including Guru Nanak Mission Chowk, BMC Chowk, Nakodar Road, Central Town, BMC Chowk, Model Town, Namdev Chowk, from PAP Chowk to Maqsoodan on National Highway No 1, Sodal Road, Devi Talab Mandir Road and Domoria Pull road.
These tractor-trailers continue to move on roads carrying all sorts of goods despite the ruling of the Punjab and Haryana High Court. The court ordered over a decade ago that the tractor-trailers could not be used for commercial purposes and their use would be restricted to agricultural purposes only. A Division Bench of the high court, headed by Justice RS Mongia and comprising Justice KC Gupta, in its order in November, 2000, while disposing of a petition of the Mazda Mini-Truck Operators Society, in this regard, had observed, "We are quite hopeful that the authorities concerned would see to it that the tractor-trailers are not used for commercial purposes in violation of law and such persons who had violated the law would be dealt with in accordance with the law." They further added, "It will be appreciated if more vigil is kept on such violations by the drivers of tractor-trailers for commercial purposes. It will be further appreciated if the authorities concerned monitor this aspect and review the situation every month."
While no exact figure about the accidents caused by tractor-trailers is available, rough estimates by traffic police officials indicate that over half of the total accidents are caused by them.
The official listed several reasons. Most of these tractor-trailers are driven primarily by people who do not possess driving licences. The tractor-trailers neither have indicators nor reflectors, which makes it difficult for the drivers of vehicles coming from behind to see them during night. Moreover, due to the more noise, the drivers of tractor-trailers seldom hear the horns of the vehicles coming from behind.
While neither DTO Dalwinderjit Singh, nor ADCP (Headquarters) Navjot Mahal could be contacted despite repeated attempts, a Transport Department official said, "Tractor-trailers are registered with the Transport Department for using them only for agricultural purposes. If any person wants to use a tractor-trailer for commercial purpose, he is required to get a permit for the same. Special modifications, including installation of hydraulic brake system, are done before the issuance of the permit by the Motor Vehicle Inspector (MVI) for its use for commercial purposes. Usually, no tractor-trailer owner applies for getting permit for using it for commercial purposes as its fee is very high."
Meanwhile, demanding strict action to check illegal plying of tractor-trailers on roads, Senior Deputy Mayor Kamaljit Singh Bhatia said, "They have become killers on wheels for many. I lost my only son because of that. Using tractor-trailers for commercial purposes should be treated as a crime as a number of families have been ruined due to such illegally plying vehicles. If required, amendments should be made to existing law for making the use of tractor-trailers for commercial purposes a crime so that no other family loses its child as mere registering a criminal case after the mishap is not adequate. I have already raised the issue in the MC House several times. The authorities did not take strict action against them due to pressure by some politicians. Politicians should refrain from putting pressure on the authorities for such things, which might prove fatal to them too anytime."