Scouts' pleasure trip turns into humanitarian mission
Rishikesh, June 28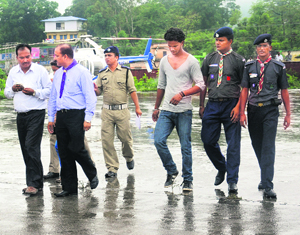 They came from all over India on a excursion to study nature, but ended up battling its fury. For 115 scouts and guides who had come on a camping trip to the upper reaches of flood-ravaged Uttarakhand, their pleasure trip turned into a humanitarian mission. Cut off from the world due to flash floods, they got down to rendering assistance to pilgrims and local villagers.
Rajeev Sharma, HQ Commissioner of Bharat Scouts and Guides, Uttarakhand, (2L) and an evacuated tourist (R) at a helipad in Uttarakhand. Tribune photo: Pradeep Tewari

Don't force people to walk long distances, SC tells U'khand
New Delhi, June 28
The Supreme Court today asked the Uttarakhand Government not to force people, caught in flash floods, to walk long distances and said that they should be airlifted to safer places. "As far as practical, the state government should not force people to walk long distances," a Bench of justices AK Patnaik and Ranjan Gogoi said.
Locals' dreams swept away by the waters
Dehradun/Chinyali Saur, June 28
Shambu Prasad Nautiyal, who took five years to build his dream college in Netala town near Uttarkashi, is devastated. The college came crashing down on June 16, barely a few months into its completion. "Now, I have nothing. No other businesses. I could not even see my college being swept away by the waters," he said.
Rescue copter makes hard landing at Harsil
Dehradun, June 28
A Pawan Hans helicopter made a forced landing at an Army base at Harsil in flood-ravaged Uttarakhand during rescue operations today. No casualties were reported.


---
Govt justifies increase in price of natural gas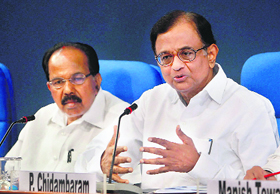 New Delhi, June 28
The government today justified the nearly doubling of natural gas prices, but said the issue relating to the user industries like power and fertiliser would be addressed so as to keep the prices affordable. The increase in current gas price of $4.2 per unit to more than $8 per unit will result in a sharp rise in cost of producing power, fertilisers, CNG for automobiles and cooking gas.
Union ministers P Chidambaram and Veerappa Moily at a press conference in New Delhi on Friday. — PTI

Bengal panchayat polls to be held in 5 phases, says SC
New Delhi/Kolkata, June 28
The Supreme Court today rescheduled the dates of West Bengal panchayat elections and directed the state Election Commission to conduct the exercise in five phases starting July 11.

Attack on Salem: Cops suspended, probe ordered
Mumbai, June 28
The Maharashtra Government has ordered a probe into the alleged attack on gangster Abu Salem inside the Taloja Jail, where he is lodged. "The Additional Director General of Jails will conduct the inquiry. Those responsible for the lapse in security will face action," Home Minister RR Patil said today.
(See video)
Injured Abu Salem being taken to a hospital near Navi Mumbai on Thursday. — PTI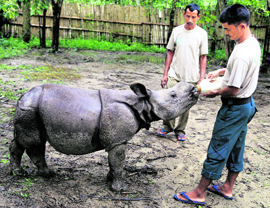 Kaziranga rhino calf joins an orphan at Manas park
Guwahati, June 28
A rescued rhino calf, Purabi, under care at the Centre for Wildlife Rehabilitation and Conservation (CWRC) in the Kaziranga National Park (KNP) was today shifted to the Manas National Park (MNP) to keep another calf company. This has been done to increase the rehabilitation prospects of the calf at the MNP after its mother was poached early this year.
IN GOOD HANDS: A caretaker feeds a rescued rhino calf at Kaziranga in Assam. — PTI

India takes up visa bond proposal with UK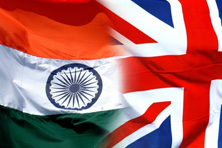 New Delhi, June 28
India today said it had taken up with the United Kingdom its controversial visa bond scheme that is likely to hugely affect Indian nationals. Briefing reporters here, MEA spokesman Syed Akbaruddin said the matter had been taken up both at the political level as well as the diplomatic level. "During both these conversations, the response we got is that it's a work in progress.''
They (UK) have said they are mulling it over. Let us wait how and in what format the issue will be discussed — Syed Akbaruddin, MEA spokesman

Raja Bhaiyya booked for fraud on complaint of former PRO
Lucknow, June 28
Trouble continued for former cabinet minister Raghuraj Pratap Singh alias Raja Bhaiyya with a case for fraud and forgery being registered against him, his wife and three close associates on Friday. The case against the former minister was registered on the complaint of his former PRO Rajiv Kumar Yadav. He has accused Raja Bhaiyya of forging his signatures to open a bogus account.
Malaysia deports BKI militant
Kuala Lumpur, June 28
An Indian national, believed to be part of an international Sikh militant group, has been deported by Malaysian authorities to India which sought his extradition to face trial.
Munde claims he spent Rs 8 cr on campaign
Mumbai, June 28
BJP leader Gopinath Munde has kicked up a storm by claiming that he spent Rs 8 crore during his 2009 Lok Sabha campaign. Speaking at an event at the Bombay Stock Exchange Thursday night where Gujarat Chief Minister Narendra Modi was the chief guest, Munde went on to challenge the Election Commission to take action against him. "I spent Rs 29,000 when I contested my first Assembly poll in 1980, but had to spend Rs 8 crore during my last election," Munde said.
Khurshid to meet Chinese FM on margins of ASEAN
New Delhi, June 28
India and China are expected to discuss the dates for the Prime Minister Manmohan Singh's proposed visit to Beijing when External Affairs Minister Salman Khurshid meets his Chinese counterpart Wang Yi on the margins of ASEAN meetings in Brunei next week.
Sikh group offers reward to serve notice on Badal
Milwaukee, June 28
A Sikh group is offering $10,000 to anyone who serves an Indian head of state with federal lawsuit papers on his expected visit to Wisconsin next week. The Sikhs for Justice filed a civil lawsuit this week in Milwaukee. One of the defendants is Punjab Chief Minister Parkash Singh Badal. The other is his son Sukhbir Singh Badal. The advocacy group alleges the Badals oversee a state police force that uses torture. The group was unable to serve the elder Badal when he visited Wisconsin last year. They are offering $10,000 to anyone serving him the notice this time. Parkash Singh Badal's media adviser says the case is "politically motivated". — AP
China ready to 'break new ground' with India
Beijing, June 28
China today said it was ready to "break new ground" with India to resolve the boundary dispute as their special representatives discussed the proposed Border Defence Cooperation Agreement (BDCA) against the backdrop of the recent Chinese incursion in Ladakh.
IPL spot-fixing: Key bookie held
New Delhi, June 28
The Delhi Police arrested one of the alleged key bookies Jitendra Singh, alias Jeetu, in the IPL spot-fixing case from Ahmedabad today. He was produced in a court that remanded him in four-day police custody till July 2.
Key bookie held, 29th arrest in IPL scam
New Delhi, June 28
Delhi Police have arrested a bookie involved in the recent Indian Premier League (IPL) spot-fixing scandal, an officer said Friday. "Jitender Jain alias Jitu Tharad, 45, was arrested from Ahmedabad yesterday (Thursday)," Special Commissioner of Police (Special Cell), SN Srivastava said.
Army to get first woman ADC to a Commander


New Delhi, June 28
Lieutenant Ganeve Lalji, a young intelligence officer, is set to create history by becoming the first woman to be appointed as a key aide to an Army Commander as part of Army Chief General Bikram Singh's efforts to provide more avenues to women in the force. She will become the aide-de-camps (ADC) of Central Army Commander Lt Gen Rajan Bakshi, who will be taking over his post in Lucknow on July 1. ADCs are officers who serve as a personal assistant of top officers, including the Army Chief and Army Commanders. — PTI
Flick on CBI
New Delhi: The achievements of the CBI's work culture and investigations will be showcased in a film being produced on the occasion of its golden jubilee. — PTI