PUNJAB

HARYANA

JAMMU & KASHMIR

HIMACHAL

REGIONAL BRIEFS

NATION

OPINIONS

LETTERS

BUSINESS

SPORTS

WORLD


M A I N N E W S
Himalayan TSUNAMI

Toll now put at 3,000; NDMA says 2,300 villages still cut off
SMA Kazmi
Tribune News Service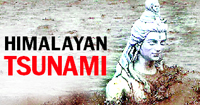 4 dists bear the brunt

A total of 2,300 villages in the districts of Uttarkashi, Rudraprayag, Chamoli and Pithoragarh completely cut off as roads and paths have been washed away

Four of the major road axis -- Joshimath-Badrinath, Rudraprayag-Gaurikund, Uttarkashi-Gangotri and Pithoragarh-Jauljibi - suffered major damages and are still cut off

Efforts on to airdrop essentials supplies to the marooned. Air Force helicopters would assist in the task for another 15 days
Dehradun, June 29
Two weeks after flashfloods and landslides devastated Uttarakhand, a key member of National Disaster Management Authority (NDMA), VK Duggal, on Saturday said the death toll in the natural disaster could cross 3,000.
The former Home Secretary, who has the experience of dealing with past disasters such as the tsunami and Kashmir earthquake of 2005, is overseeing and coordinating rescue and relief efforts for the past one week.
The phone at his desk does not stop ringing. A man on the other end pleads with him to rescue his 90-year-old grandfather stranded for the past fortnight at Badrinath. Passing on the necessary instructions, Duggal gets ready for another round of meetings with state government officers on rescue and relief efforts.
He has expressed satisfaction over rescue efforts undertaken by the Army, Air force, Indo-Tibetan Border Police (ITBP) and National Disaster Relief Force (NDRF) in coordination with the state government since June 18.
"It is a tough job to coordinate with a host of Central government agencies such as the Army, Air Force, ITBP, NDRF, Home, Defence and Health ministries and to get things done at the state-government level. But, it was all done in a well-coordinated manner," he said. All praise for the armed forces' role in the operation, he said, "It is a gigantic task given the extreme circumstances, but the armed forces are carrying out one of the biggest rescue operations and safely brought out more than one lakh stranded people from rain ravaged areas across the state."
As rescue operations come to a close, Duggal said the real challenge would be to coordinate relief and rehabilitation efforts of the state government for the local population.
"A total of 2,300 villages in the districts of Uttarkashi, Rudraprayag, Chamoli and Pithoragarh have been completely cut off as roads and paths have been washed away," he said. Four of the major road axis -- Joshimath-Badrinath, Rudraprayag-Gaurikund, Uttarkashi-Gangotri and Pithoragarh-Jauljibi - that suffered major damages are still cut off.
He said efforts were on to airdrop essentials supplies to the marooned and Indian Air Force helicopters would assist in the task for another 15 days.
"I have asked the Border Roads Organisation (BRO) officials to at least make mule paths so that essentials supplies could be sent to cut-off areas. The department has also been asked to give their requirements to repair the damaged roads on war-footing," said Duggal.
He said the reconstruction of roads, houses, shops, schools, power lines and restoration of water connections would be a herculean task. "There is no shortage of food, cooking gas, kerosene and medicines in affected areas," he said.
Asked about the number of deaths in the catastrophe, Duggal said although the exact figures would take some time to tabulate, his estimate was over 3,000 lives had been lost.
"I have requested Union Communication Minister Kapil Sibal to tabulate the number of outgoing calls from Uttarkhand made by the stranded and those from their relatives to Uttarkhand from outside to arrive at a number. All states have been asked to enlist their missing persons. I am hopeful that by July 15, the exact number of missing persons would be found out," he said. "If the weather permits, I will go to Kedarnath tomorrow to oversee the cremation of the bodies," he said. However, he said there was no epidemic in the area and the Union Health Ministry has taken steps to check any outbreak.