Rescue mission
Tribune team at epicentre
1,500 rescued, 500 left in Badrinath
Joshimath, June 29
The armed forces made their final push in flood-hit Uttarakhand today and evacuated over 1,500 stranded people from Badrinath. While IAF helicopters airlifted 842 people, the Army escorted 713 pilgrims through a 13-km trek on the Badrinath-Gobind Ghat route.
Rain effect: Huge lake in Dhauladhars poses threat to Palampur
Palampur, June 29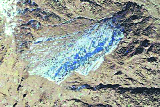 The formation of a huge lake in the Dhauladhars has become a cause for concern for the people of Palampur area, especially those living in the higher reaches.
A satellite picture shows a lake developed in the upper hills of Palampur after rain and flash floods.

Stable Afghan, Iran critical to India's needs: Khurshid
Srinagar, June 29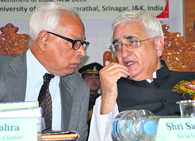 External Affairs Minister Salman Khurshid has said stability in Afghanistan and Iran is critical to India's energy needs as the two nations were gateway to the Central Asian region abundant in hydrocarbon wealth.
Foreign Minister Salman Khurshid talks to J&K Governor NN Vohra at a conference in Srinagar on Saturday. Tribune photo: Amin War