M A I N N E W S
Cabinet go-ahead for CBI autonomy
Retired judges set to oversee investigations
Girja Shankar Kaura/TNS
New Delhi, June 27
Hit hard by the "caged parrot" rap of the Supreme Court, the Union Cabinet today gave its approval for enhancing the powers of the Central Bureau of Investigation (CBI).
At a meeting of the Union Cabinet chaired by Prime Minister Manmohan Singh, the government cleared the proposals put forward by a Group of Ministers (GoM) for enhancing the powers of the CBI, seen till now as working under the shadow of the government at the Centre.
At a hearing on May 6 last, the Supreme Court had rapped the government following an affidavit filed by CBI Director Ranjit Sinha saying, "The CBI has become a caged parrot. We can't have the caged parrot CBI speaking in master's voice. It is a sordid saga where there are many masters and one parrot."
The government is due to file an affidavit on the issue in the Supreme Court on July 10, the next date of hearing in the "Coalgate" case.
Although the official briefing scheduled for the evening was cancelled late in the night, sources said the Cabinet cleared various GoM proposals, including appointment of the CBI Director through a collegium and vesting him with more financial powers.
The GoM has also recommended constitution of a panel of retired judges to monitor investigations undertaken by the agency to ensure that these probes remained free from any influence.
Sources, however, said despite the GoM having long-drawn deliberations on the issue, it was not inclined to bring about drastic changes in the functioning of the CBI.
Following the rap from the Supreme Court, the Prime Minister set up a GoM headed by Finance Minister P Chidambaram for drafting a legislation seeking to shield the investigating agency from political and external influences.
The other members of the the GoM are Home Minister Sushilkumar Shinde, Law Minister Kapil Sibal, External Affairs Minister Salman Khurshid and Minister of State, Personnel, V Narayansamy.
The GoM concluded its deliberations on the issue on Monday.
The CBI and its director Ranjit Sinha had been asked by the GoM to give inputs to the panel on the issue.
Govt's proposals
* Appointment of the CBI Director through a collegium
* Giving the CBI director more financial powers
* A panel of retired judges will monitor the probes undertaken by the CBI to ensure that these were free and fair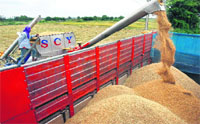 Paddy MSP up by Rs 60
Amid expectations of normal rain, the government today approved a hike of Rs 60 in minimum support price (MSP) of paddy, taking it up to Rs 1,310 per quintal. The step aims at encouraging farmers to grow more paddy during the ongoing kharif season
Coal Regulatory Authority okayed
* The government on Thursday approved the setting up of the Coal Regulatory Authority that would be empowered to specify methodology for determining coal prices
* The draft Bill was prepared based on suggestions of various committees and expert groups
* A Group of Ministers had earlier approved the draft Bill seeking to set up a regulator for the coal sector to address contentious issues like supply and quality