LIFE+STYLE

CHANDIGARH

LUDHIANA

BATHINDA

JALANDHAR

AMRITSAR TRIBUNE

JALANDHAR TRIBUNE

BATHINDA TRIBUNE

JAMMU TRIBUNE

KASHMIR TRIBUNE

DELHI

DEHRADUN

DEHRADUN PLUS
Himalayan TSUNAMI
2,500 still stranded as rescue ops near end
* 450 airlifted from Badrinath * 900 trek to Gobind Ghat * Harshil clear
Gobind Ghat/Dehradun, June 27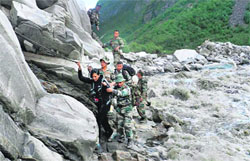 As one of the biggest rescue operations draws to a close in Uttarakhand, the agencies today evacuated 1,711 pilgrims and local residents across the state.
Armymen rescue a person near Pindari Glacier on Thursday. — AFP
Amarnath Yatra
First batch of pilgrims flagged off from Jammu
Jammu, June 27
Undeterred by threats of possible terror attacks and natural calamity that ravaged Uttrakhand, the first batch of 3,157 Amarnath pilgrims today left for the Kashmir Valley from Bhagwati Nagar Yatri Niwas, the base camp of Amarnath Yatra in Jammu, amid tight security arrangements.
SC dismisses PIL on US snooping
New Delhi, June 27
The Supreme Court on Thursday refused to entertain a PIL seeking direction to the government to initiate action against internet companies involved in sharing internet data from India with US National Security Agency.

OTHER PAGES

PUNJAB: Govt may extend incentives to projects approved earlier


HARYANA: 4 children die in wall collapse


HIMACHAL: 53.6 pc vote in Kinnaur


CHANDIGARH: ATM card cloning cases cracked, 2 held


LUDHIANA: Health Dept spares big eateries


DELHI: DSGMC seeks relaxation for Sikh students in its colleges


Business:

Current account deficit peaks at 4.8% in FY'13

OPINIONS: Rupee turns 60 plus


NATION: No outbreak of disease: Govt


SPORTS: Normalcy returns to Wimbledon

WORLD: Ecuador issued a 'safe pass' for Snowden


The tribune guide to best colleges

Budget
2013-14

INDIA CHINA WAR 50 YEAR LATER

YEAREND SPECIAL: 2012

Year of survival

The tribune 130 years
a witness to history
book released by prime minister manmohan singh

Guide to best colleges

Results of Punjab Assembly Polls 2012

HIMACHAL VOTES 2012

EARLIER FEATURES
Mandela's condition improves, but still on life-support system
Johannesburg, June 27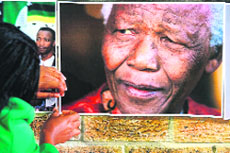 Nelson Mandela's condition has improved though he remained critical as South African President Jacob Zuma today cancelled his trip to Mozambique to see the anti-apartheid icon.
Pictures of Nelson Mandela at a mass prayer meeting in Cape Town on Thursday. — AFP
Sharif to visit China, his first trip after taking over as PM
Islamabad, June 27
On his first foreign visit since assuming office, Pakistani Prime Minister Nawaz Sharif will go to China next week where he is likely to seek Beijing's assistance to overcome the country's energy crisis. This would be the first foreign trip of the Prime Minister since the new government has taken over earlier this month, Pakistan Foreign Ministry Spokesman Aizaz Ahmed Chaudhry said at his weekly briefing here today.


Power, CNG, urea rates set to rise
New Delhi, June 27
The government today approved near doubling of natural gas prices to $8.4 from April 1, 2014, a move that is bound to effect hike in power tariff, urea cost and CNG prices. This will be the first revision in gas prices in 3 years. The Cabinet Committee on Economic Affairs (CCEA) headed by Prime Minister Manmohan Singh approved Oil Ministry's proposal to price the domestically produced natural gas as per a complex formula suggested by a panel headed by Prime Minister's economic adviser C Rangarajan.

PM, Sonia flag off first train to Kashmir Valley
June 27, 2013
Manmohan, Sonia in J-K vow to fight terror
June 26, 2013
Militants strike again, kill 8 jawans in Valley
June 25, 2013
Rescue efforts gather pace
June 24, 2013
1,000 dead; rescuers focus on Badrinath
June 23, 2013
Uttarakhand death toll 550, 48 bodies found in Haridwar
June 22, 2013
Toll may be in several hundreds: U'khand CM
June 21, 2013
Toll touches 150, hundreds missing
June 20, 2013
Rain fury: 131 dead, 500 missing
June 19, 2013
PM inducts 8 ministers; Kharge gets Railways
June 18, 2013
JD(U) parts ways with BJP
June 17, 2013