Termites damage books meant for primary class students in government school
Booklets had been kept in a room in Govt Sr Sec School Saragarhi, Town Hall, which has broken window panes
Manmeet Singh Gill
Tribune News Service
Amritsar, June 27
Termites have been gorging on the booklets sent by the Sarv Shiksha Abihyan (SSA) for primary students of schools at Government Senior Secondary School Saragarhi Town Hall at Mall Mandi here.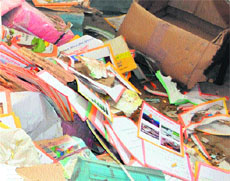 Books eaten up by termites lie scattered on the floor. Photo Vishal Kumar
Thousands of booklets have been kept in a room in the school, which has broken window panes. The termites have eaten most of these books, which include picture books, magazines, and educative pamphlets.
The condition of the reading material has deteriorated to such an extent that most of these cannot be given to the students now.
School principal Balwinder Singh said the said room was given to the SSA around two years ago and the school had nothing to do with the reading material.
The room has recently been allotted to Pehal Government School for Special Children. However, the SSA authorities have still not woken up to safeguard the books.
The negligence is an instance which shows how tax-payers' money is wasted by public officials. Students of government schools, most of whom belong to the poor sections of society, would surely have benefited if these had reached them.
District Education Officer (Elementary and Secondary) Satinderbir Singh said the books stored at the place were meant for sending to schools under the Zila Parishad. He said teachers working in these schools had decided not to take the books in protest, as they were demanding to shift these schools under the education department.
The fight of the teachers with the state government was surely going against the pupils as, ultimately, they were the ones did not get to benefit from this reading material. At least 47 schools in the district are working under zila parishads.
Satinderbir Singh said as the said room had been allotted to Pehal School, he would make sure that the books were shifted to a safer place. He said a meeting with heads of schools would also be organised so that these books could be put to good use.