I love warm Punjabi culture, food and people: Ameesha
Neha Saini
Tribune News Service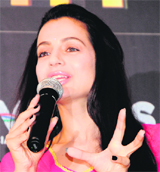 Ameesha Patel addresses the mediapersons in Amritsar on Monday. Photo: Vishal Kumar
Amritsar, june 24
With her latest release Shortcut Romeo that was premiered at the Cannes this year, Bollywood actress Ameesha Patel says she has hit a purple patch.
The petite actor, who had made a quite successful debut in Bollywood, was in the city as part of UTV Star's latest show "Stars in Your City", which brings famous stars from Bollywood to various cities to meet and connect with their fans.
She arrived here with lots of bhangra beats and fanfare.
"I purposely chose Amritsar as I have a deep connection with the city. I love the warm Punjabi culture, the food, the people and of course, the Golden Temple. My mother is a Sindhi and she used to take me to gurdwaras when I was young," said the actor.
Her Gadar experience, she said, had connected her to the city forever.
"When I came here last time, Gadar was being made. We shot at the railway station where my fans braved the lathis of the police to see me. But this time, I am here to experience Amritsar as a tourist, to know more about the city, its culture and heritage, connect with my fans," she quipped.
Ameesha's love for everything Punjabi is affirmed by the fact that she is playing a Punjabi character in her home production Desi Magic.
"She (her character) is completely a Punjabi girl, in her attitude. I play double role in the film and it will be shot mostly in Chandigarh, Amritsar, Patiala and various other cities in Punjab," the actress informs.
Ameesha's maiden Cannes experience too came with her recent release Shortcut Romeo that was featured in the non-competition category.
"Walking the Red Carpet at the Cannes was amazing with all the attention and appreciation Bollywood films get there. I had been there as a tourist but being there for a purpose or represent the industry among global audience was like opening your mind to a whole new experience," she said.
Ameesha is a big fan of Punjabi films. "I recently watched Jatt and Juliet and really enjoyed it. Just as Bollywood directors remake South Indian films, I think good Punjabi films should also be remade in Hindi."
But at the end of the day, it's her fans who make her day. "It is a big thing to have people admiring your work, appreciate everything you do and follow you. I think for a star, a simple gesture from a fan is very important," said the actor.
UTV's new show Stars in Your City brings a new concept of stars connecting with their fans on a personal level while visiting them and not vice versa. Ameesha Patel selected Amritsar city to connect with the chosen six fans from the city. The lucky ones — Harshdeep Singh, Yatin Gupta, Siddharth Arora, Mehak and Simran — met the actor.
Diva speak
Walking the Red Carpet at the Cannes was amazing with all the attention and appreciation Bollywood films get there. I had been there as a tourist but being there for a purpose or represent the industry among global audience was like opening your mind to a whole new experience
— ameesha patel, actor