Durgiana Committee, Chief Khalsa Diwan extend help for calamity victims
Amritsar, June 23
The Durgiana Temple Committee and Chief Khalsa Diwan, Amritsar, have come forward to extend a helping hand to provide relief and aid to the pilgrims stranded in Uttarakhand in the aftermath of catastrophe there.
'Regularisation of unauthorised colonies against city master plan'
Amritsar, June 23
The Punjab Government's recent approval to the regularisation of about 5,000 unauthorised colonies in the state seems to be the extension of its decision taken on December 10, 2011, by the SAD-BJP government.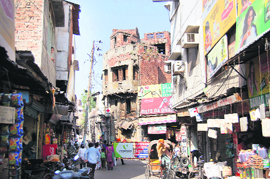 Traders meet Local Bodies Minister to stall demolition drive
Amritsar, June 23
The state government's notices to about 140 shops and houses near Jallianwala Bagh to vacate their premises to widen the road prompted them to meet Local Bodies Minister Chunni Lal Bhagat and seek his assurance to save the structures from getting demolished.
Shops near the Jallianwala Bagh in Amritsar. Photo: Sameer Sehgal

Supermoon leaves residents in awe
Amritsar, June 23
As the sky watchers world over had their lens and eyes set on the supermoon, a celestial phenomenon during which the moon appeared 14 times bigger than its actual size, Amritsar too had some enthusiasts who caught the moment live. Astronomers had predicted that this would be the time when the moon would be closest to the earth this year. People could see it with naked eyes and the holy city too had its eyes set on the moon on the Sunday evening.
Woman doc, attendant robbed
Amritsar, June 23
A woman doctor and her attendant were allegedly robbed by two unidentified armed youths at gunpoint in Greenfield area located on Majitha road here. The youths took away valuables, including gold jewellery and mobile phones from their clinic. The incident occurred last evening. The police has registered a case against the unidentified robbers under Section 382, 34 of the Indian Penal Code (IPC) and Sections 25/54/59 of the Arms Act in this regard.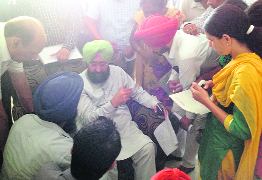 Compensate veterinary pharmacist who committed suicide: Bajwa
Amritsar, June 23
Punjab Pradesh Congress Committee (PPCC) president Partap Singh Bajwa today met a deputation of the Punjab Unemployed Veterinary Pharmacists Association. He expressed shock over the suicide committed by an unemployed veterinary pharmacist in Bathinda recently.
Unemployed veterinary pharmacists meet PPCC chief Partap Singh Bajwa in Amritsar on Sunday. A Tribune photograph

39 centres set for UGC-NET in city
Amritsar, June 23
All arrangements for the smooth conduct of the National Eligibility Test (NET) held by the University Grants Commission (UGC) for junior research fellowship and eligibility for lectureship have been made. The test is scheduled to be held on June30.
Bank told to pay Rs 10,000 compensation for loss of cheque
Amritsar, June 23
The District Consumer Disputes Redressal Forum has directed ICICI bank to pay Rs 10,000 as compensation to a customer for losing a cheque. The forum has also asked the bank to pay litigation expenses of Rs 2,000. Earlier, on December 6, 2010, Ramesh Chander, a resident of New Tehsilpura, had lodged a complaint with the forum that he had given a cheque of $ 500 to the bank for crediting to his account. According to him, the cheque was sent to him by her sister from abroad on September 17, 2009 .
Job-seeking youths end protest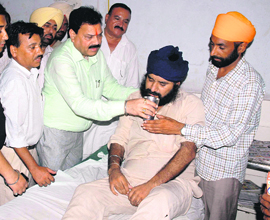 Amritsar, June 23
The 11 youngsters sitting atop the water tank for the past two-and-half-month ended their protest after National SC Commission Vice-Chairman and local Congress MLA Raj Kumar Verka assured to held help them. The youngsters are demanding jobs in the Power Corporation on compassionate grounds and were protesting since April 3. Earlier, one of the youngsters, Manjinder Singh, who had initiated the fast, was hospitalised due to the bad health.
National SC Commission Vice-Chairman Raj Kumar Verka offers juice to a youth to end his fast in Amritsar on Sunday. Photo: Sameer Sehgal

Shawl industry gears up for Amritsar Foundation Day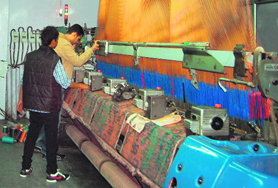 Amritsar, June 23
The Shawl Club, India, has demanded to declare Amritsar as a hub of shawl manufacturing in the forthcoming 436th Amritsar Foundation Day, which will be celebrated here on July 6. The US-based organisation, EcoSikh, has announced to observe the event at a mega level. The club, which is an association of Woolmark shawl licensees in India, has extended its support to the Amritsar Foundation Day.
A view of a shawl factory in Amritsar. A Tribune photograph
Medical session on bariatric surgery
Amritsar, June 23
A continuous medical education (CME) session on bariatric surgery was conducted under the aegis of Hargun hospital here today. The session was convened by the New Delhi-based Nova Specialty Surgery's senior bariatric surgeon Dr Ashish Bhanot, who delivered a lecture on bariatric surgery and its role in treating patients with type II diabetes mellitus.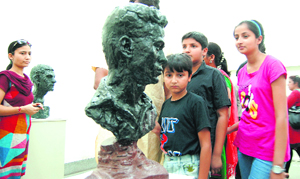 Visitors to a summer camp at the art gallery in Amritsar on Sunday. Photo: Sameer Sehgal

Youth booked for molestation
Amritsar, June 23
A youth identified as Deepak Kumar has been booked for allegedly molesting a teenaged girl in Karampura area here. The victim's mother alleged that Deepak had been stalking her daughter for sometime. She said her daughter informed her about this on Friday and she complained about it to the accused's family the same day. Enraged over this, the accused stopped her daughter on her way when she was returning home. She alleged that the accused physically assaulted and insulted her. The Civil Lines police has registered a case under Section 354 of the IPC in this connection. No arrest has been made so far. — TNS
Last date for GNDU online admissions extended
Amritsar, June 23
GNDU has extended the last date for admission to B.Sc. (Hons School) in chemistry, physics, human genetics, B. Pharmacy, bachelor in physiotherapy (BPT), B.Sc. Economics, B. Tech Urban & Regional Planning, B. Tech Computer Science (self-financing course), B. Tech Electronic Communication Systems Engg (self-financing course), MCA (FYIC), MBA (FYIC), B.A.(Hons.) in social sciences and BA Punjabi (Hons School) from June 23 to June 24. Dean Academic Affairs Prof MS Hundal said the extension had been granted in view of the students' convenience. — TNS