Sana to shake a leg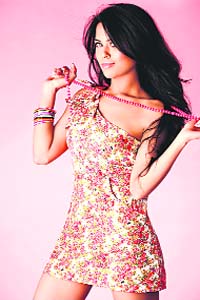 We saw her as a kid in Kuch Kuch Hota Hai and later as a grown up in Student of The Year, now Sana Saeed will be part of Jhalak Dikhhlaa Jaa as a wild-card entry. We ask her about television debut and more.
How are you feeling about joining Jhalak Dikhhlaa Jaa?
I am both excited and nervous. Right now Jhalak is at the peak. I love dancing and I am looking forward to it.
What are your preparations like?
I have a brilliant choreographer and these guys are all trained. My forte is Bollywood and I am a hyperactive person in general. We will put our best foot forward but variation is everything in Jhalak. I will go with what he thinks we can do best together.
You have worked with Karan Johar in both your movies; is it the reason why you are in this show?
After acing if there is something I love and enjoy, it is dancing. Jhalak is a great platform to go bigger in dance; of course having Karan as a judge is the icing on the cake. I am excited to perform in front of him. We had a very good time working with him.
We have heard that Shah Rukh Khan too might come to promote Chennai Express on the show. Are you looking forward to it?
Yes. It would be wonderful to meet Karan and Shah Rukh together. I am really looking forward to it.
Have you signed any film?
I have got some offers but I am taking my time in deciding.
Rohit Roy turns teacher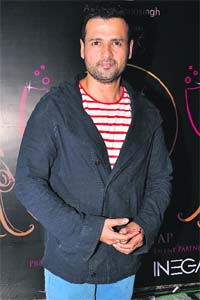 Anupam Kher's Actor Prepares: The School for Actors organised an Alumni Talk with Rohit Roy recently. Be it his debut in the serial Dess Mein Nikla Hoga Chaand or Bollywood films like Shootout at Lokhandwala, Rohit has always made sure that he does complete justice to his characters.
"It was an honour to conduct a master class at Actor Prepares and a pleasure as always to meet and guide the young students. At the start of my career, I had no interest in becoming an actor. I always wanted to be either a producer or a director but it was only post working in Mr. Bhatt's serial and the appreciation that I got through it that I decided to give my acting career a full-fledged shot. Today as an actor I must share my learning with these aspiring newcomers and tell them that always keep up the never-give-up attitude. This industry always calls for tremendous hardwork and patience so one must be ready for it all," said Rohit Roy.
"I am very glad that Rohit took out time to visit Actor Prepares and shared his experience as well as knowledge with the students," said Anupam Kher, Chairman of Actor Prepares. Rohit Roy started the class session by sharing his experiences in the Television and Bollywood industry followed by a class on the different forms of acting and the various topics related to the same. This session was specially organised for the Diploma Batch students.
Smilie set for Jodha Akbar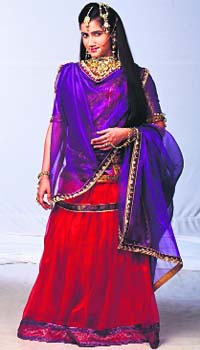 Smilie Suri, better remembered as the lead actress in the movie Kalyug, is soon going to make her small screen debut. She will play Akbar's first wife Ruqaiya Begum in Zee TV's historical show Jodha Akbar.
Unfortunately, soon after she was signed on for the project, Smilie was taken ill and had to be hospitalised with high fever. Smilie confirmed the news from her hospital bed, saying she will be entering the serial in the eighth or ninth episode. The actress, who is director Mohit Suri's sister, says that it's the role that prompted her to take up the offer. She says, "Over the last few years, I was offered TV shows but I declined them. This one's not a saas-bahu show and the role of Ruqaiya is also very different. It helps me break away from the girl-next-door image created by my Kalyug character."
She adds, "The travel from Mumbai to Karjat for the shoot can be pretty taxing so I was in two minds initially but the character is not only interesting, it also has different layers. Ruqaiya is an important part of Akbar's life. She was his best friend, almost like his mirror. I'm just waiting to get out of the hospital and begin shooting for the show."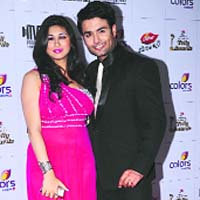 Party time
For his birthday on June 28, Vivian Dsena will take his wife Vahbbiz Dorabjee to a foreign location for some rest and relaxation. He is apparently going to some exotic beach for four days. Vahbbiz tweeted saying, "Last nite I gifted Vivian his bday gift. its a music dock. he luvvved it. on d Bday hes kidnapping Me n takin me away 2 a secret destination;-) (sic)."
Vahbbiz Dorabjee & Vivian Dsena
Promotional drive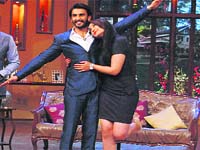 The team of Lootera — Sonakshi Sinha and Ranveer Singh — were on the sets of Comedy Nights with Kapil to promote their movie. The two shared many light-hearted moments with the cast. Ranveer was seen flirting with Kapil's Dadi (Ali Asgar) and Bua (Upasana Singh), and narrating various incidents of the past while Sonakshi was seen joking with Kapil and reciting a dialogue of her father.
Comic take: Ranveer Singh and Sonakshi Sinha
Vidya struck!
A little birdie straight from the sets of Indian Idol Junior conveys that when Vidya Balan came on the show to promote her upcoming movie Ghanchakkar, show host Karan Wahi couldn't stop praising this lovely damsel!
Karan couldn't help being totally awestruck and flirted with her throughout. He kept on insisting that Vidya comes closer to him and touches him just once. So much so that, that the judges had to intervene and tell him to stop flirting with Vidya and focus on the shoot.
Farhan, Sonam on IDS
This weekend on Star Plus' India's Dancing Superstar (IDS), Farhan Akhtar and Sonam Kapoor will be there to promote their upcoming flick Bhaag Milkha Bhaag. D-Maniax from Dehradun, who are known for their slow motion performances, will also light up the show.
The group also performs on a song from the movie Bhaag Milkha Bhaag. The contestants also put up a special show for them.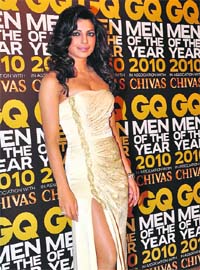 A milkshake named after Priyanka!
After Mallika Sherawat and Koena Mitra, it's actress Priyanka Chopra who will be launching a milkshake named after her at Millions of Milkshakes, a milkshake bar at Hollywood.
Confirming the news, Chopra tweeted: "Excited to be launching "The Exotic Shake" at Millions of Milkshakes in West Hollywood on July 25 at 7 pm.'
Chopra, who will be next seen in Zanjeer, has collaborated with American rapper and songwriter Pitbull for her next single titled Exotic.
Drink to it: Priyanka Chopra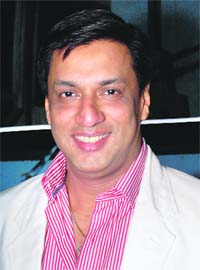 In the mood for love
Madhur Bhandarkar has attacked and exposed various segments of society through his movies such as Page 3, Fashion, Chandni Bar and others. He wants to make a realistic love story now as he has not done it before. He is a romantic guy by nature. He also feels that the sequels to Chandni Bar and Fashion will not happen.
Madhur Bhandarkar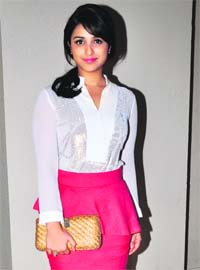 Fashion faux pas
Parineeti Chopra has a full figure and she should accept that and work around it. She should flaunt her cleavage instead of her arms and wear clothes accordingly. It seems she had not even shaved her underarms when she wore a sleeveless top at a recent appearance.
Wrong move: Parineeti Chopra
What a party!
The who's who of the new generation of actors in Bollywood attended Arjun Kapoor's birthday party organised by his dear cousin Sonam Kapoor. Ranbir and Sonam melted the ice between them. Dhanush was also present and in high spirits. Ranbir and Katrina arrived and left separately. The Student of the Year team was also present. Ranveer Singh's dancing and mock fight with Arjun Kapoor was the highlight of the party.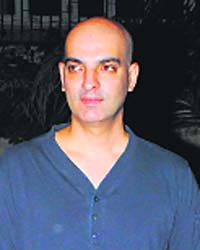 A different cut
Abbas Tyrewala is back with a movie called Mango, starring Chandan Roy Sanyal, Swara Bhaskar, Rannvijay Singh and other debutantes. It has gone on the floors in Goa and the fruit has a pivotal place in the movie.
Experimental mode: Abbas Tyrewala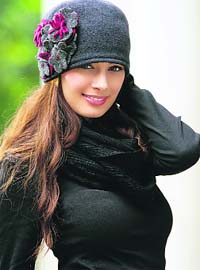 Out in the open
Evelyn Sharma, of Yeh Jawaani Hai Deewani fame, was spotted on a domestic flight earlier this week. She was getting cozy with a young and a good-looking boy. The fellow fliers enjoyed watching them.
Flight of fancy: Evelyn Sharma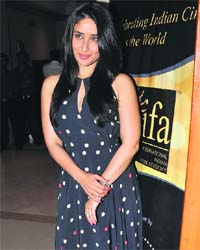 Instinctively natural
Kareena Kapoor Khan does not like preparing much for her roles and relies completely on her instincts, the director, and the script of the movie. She plays a journalist in Satyagraha and completely follows Prakash Jha's vision. She feels lucky to essay the character of a journalist on screen and to work with Prakash Jha.
Spontaneous act: Kareena Kapoor Khan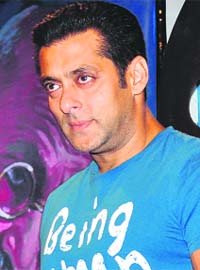 United they stand
Salman Khan has agreed to do the sequel to No Entry, to be directed by Anees Bazmee. They have reconciled their differences. Their last film together was Ready. Producer Boney Kapoor is very happy that the film will roll in 2014.
On again: Salman Khan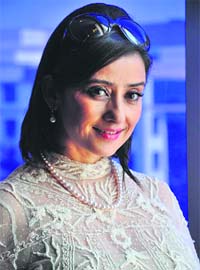 All in the past
Manisha Koirala is back in Mumbai, from the United States, after undergoing a surgery for cancer. She is overjoyed to have overcome the disease. Her friend Deepti Naval was by her side all along and is very happy to have her back in Mumbai.
Health wise: Manisha Koirala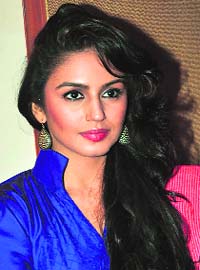 Huma's new look
Huma Qureshi has lost quite a bit of weight by working out for two hours everyday and monitoring her diet. She looked her plus size figure in movies like Luv Shuv Tey Chicken Khurrana and Gangs of Wasseypur and now she has done a photo shoot to show off her new slim figure.
Diet chart: Huma Quershi