M A I N N E W S
Kin of missing persons still hopeful
Vijay Mohan/TNS
Dehradun, June 30
On entering a large hall at the Police Lines, visitors looking for missing relatives make a beeline for the notice boards set up on one side. But a grim reality hits home as the boards, besides other information, bear pictures of bodies recovered by rescue teams from the flood-ravaged areas.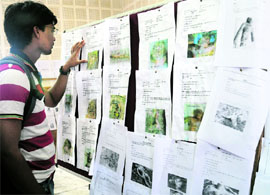 A visitor looks at a notice board carrying information about victims of the flash flood in Dehradun. Tribune photo: Pradeep Tewari
As authorities begin to wind up rescue operations to evacuate those stranded, the long, often futile, wait for missing persons is taking its toll on the relatives camping in the region for days.
While some of the dead can be identified, a few pictures displayed are of bodies badly mutilated and almost beyond recognition. Some contain only facial shots. The pictures are displayed next to a food distribution stall that offers free meals, water and snacks.
"The images are unsettling and give you a sense of despair and helplessness," says Banwari Lal Pandey, a businessman from Gaya, who has been camping in the city for over a week.
"I have been frequenting various helipads and other relief camps to know the whereabouts of my brother and two of his friends, but to no avail," he says.
Others scour long lists containing the names and particulars of those evacuated from the disaster-hit areas.
With photographs in their hands, they are willing to talk to or listen to just about anyone associated with the rescue operations in a bid to glean some information about the missing.
Thousands have perished in the flash floods and the whereabouts of thousands are still not known. Many rescued pilgrims speak of having seen people being swept away by gushing waters or bodies lying in the area.
The information on the lists is incomplete and at places only the first name is mentioned, adding to the relatives' woes. In some cases, several families have responded to the same name on the list.
"The lists are being updated on the basis of information collected from those evacuated and inputs from rescue teams," says a police officer involved in registering FIRs about the missing.
"The person may not have been in a state to converse with his rescuers or have just mumbled a name," he says. Collecting and collating data involving thousands of persons under such circumstances is a tough task.
Hundreds of pictures, mostly computer printouts, of those missing have been pasted at helipads, bus stands and the railway station across the region carrying appeals and contact details.
As days turn into weeks, despair and anger slowly grows among those seeking information about their loved ones, many of whom are presumed dead.
Some have still not lost hope, praying that their near and dear ones may be stuck in some camp, hospital or village.
"I don't know how long I will stay here," says Mahender Singh, who travelled from Delhi looking for his sister and her husband. "It is agonising, but abandoning search is emotionally difficult. I can't think or decide what to do next," he says.