M A I N N E W S
Landslide win for Pratibha as Cong retains Mandi LS seat
Tribune News Service
Shimla, June 30
The Congress stamped its authority in Himachal Pradesh today as party candidate Pratibha Singh won the Mandi Lok Sabha byelection by over 1.36 lakh votes. Pratibha secured 3,53,469 votes (60.09 per cent) as against 2,16,765 (37.23 percent) polled by BJP candidate Jai Ram Thakur. She had won the seat by around 66,000 votes in 2004.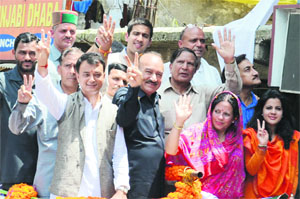 Pratibha Singh (2nd from right) with daughter Aprajita, son Vikramaditya (extreme left) and other senior leaders at a victory rally in Mandi on Sunday. Photo: Jai Kumar
The victory margin has surprised many given the low voter turnout of 52.4 per cent.
The seat fell vacant after Virbhadra Singh resigned to take over as the Chief Minister in December.
The BJP had thrown a tough challenge by fielding Thakur who enjoys a clean image. But the contest turned into a virtual clash between Chief Minister Virbhadra Singh and Leader of the Opposition PK Dhumal.
Issues such as corruption, land deals and alleged shady affairs of the state cricket association, highlighted by the Congress during the last Assembly elections, came back to haunt the BJP.
Virbhadra, who led a divided Congress to win the Assembly elections, campaigned hard to ensure complete dominance of the Congress. This was evident from the fact that the BJP could gain lead only in the Seraj Assembly segment, Thakurís home turf, out of total 17 segments.
Breakaway BJP group Himachal Lokhit Party (HLP) led by Maheshwar Singh also played spoilsport by launching acerbic attacks on Dhumal and his son Anurag Thakur.
Virbhadra termed the victory an endorsement of the performance of the Congress government in the state. Pratibha said the people had rejected the politics of propaganda being pursued by the BJP and voted in favour of the Congress-led UPA government at the Centre.