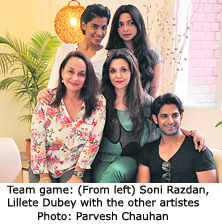 Drama in real life
Lillete Dubey is back. And this time it is with a play inspired by the world of theatre and cinema — Where Did I Leave My Purdah
Theatre and films… which one affords more creative space, wherein lies more challenge, which is more gratifying…the questions are many. In Chandigarh, the cast of the play Where Did I Leave My Purdah has a few insights to offer. The play, written by Mahesh Dattani and directed by Lillete Dubey, has artists Soni Razdan, Neha Dubey, Sid Makkar and Priyanka Karunakaran working their magic on stage. It is inspired by the spirit of the famous doyens of yesteryears.
Twice the melody
Janaka Selekta and Shridevi, part of the band Gods Robots, say their music brings in elements of classical music along with regional styles
A spontaneous conversation on life and artificial intelligence gives way to a name that reflects the music that they stand for. Gods Robots, for a band name, does strain the imagination for a couple of minutes. "Our music is inspired by life… besides one of the purposes of naming it like this was that it is catchy," shares Janaka Selekta, the multi- instrumentalist, over a couple of introductory notes.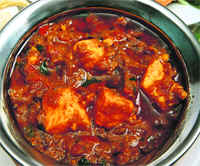 For a rainy day!
Monsoon is synonymous with taste-bud tantalising food. Here are some recipes that you can try out at home…
Heavy rain spattering the windowpanes, different shades of green all around, water puddles all over; there is something refreshing, rejuvenating about the monsoon. And one of the biggest indulgences of the season is food! Now that it's not advisable to eat outside in the rainy season, we get you a quick recipe guide for simple, easy snacks you can make in your kitchen…here you go…
Punjabi scope
Romcom is a genre that is being interpreted in a hundred different ways in Punjabi films. Ideally, for those of you who need more dope, this actually means romantic comedy. By this virtue, a film should have romance and comedy both. Apply this to Punjabi film Fer Maamla Gadbad Gadbad (FMGG) and one out of the two finds favour - com overshadows rom! Directed by well-known videographers Rimpy-Prince, starring Roshan Prince, Japji Khera, Bhanushree Mehra, Rana Ranbir, BN Sharma and Rana Jung Bahadur, FMGG is an attempt to make you laugh, which is managed to some extent, and fall in love…with whom we could not figure till the end! Film: Fer Maamla Gadbad Gadbad  
Astro turf
ARIES: Keep in mind that situations change and lucky breaks can be just around the corner. Try to increase your knowledge in new areas. Health will need more care in the evening.
First-day-first show
Bhaag Milkha Bhaag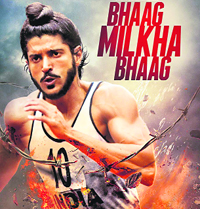 A biopic on the life of Flying Sikh, Milkha Singh, an Indian athlete, who was a world champion runner and an Olympian, Bhaag Milkha Bhaag has been produced and directed by Rakeysh Omprakash Mehra and the script has been written by Prasoon Joshi. The film stars Farhan Akhtar, Sonam Kapoor and Meesha Shafi in the lead roles. The name of the film comes from the last words spoken by his father, which were to save his life during the riots of Partition of India. During Partition, Singh lost his family members. The story talks about his perseverance as an athlete and as a courageous human spirit. The film starts with Milkha Singh racing in 1960 Olympics in Rome but when his coach said Bhaag Milkha Bhaag, he was taken back to memories of his childhood days, which haunted him.
Chatter box
Bharti on a roll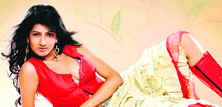 The family show Piya Ka Ghar Pyaara Lage has been moving up the TRP charts. The production house of this show is all set to add another small screen actor, Bharti Sharma, to its ranks. With a fresh plot, viewers will get to see this talented actress. Bharti Sharma speaks about her role and much more.
What do you like about your character?
What I like about the character Urmila, earlier played by Reshmi Ghosh, is that it is a powerful role that I am doing after Pyar Ka Dard Hai Meetha Meetha Pyaara Pyaara. It is an interesting character and I would love to play it.
Live healthy, live long
Model and television actor Bhushan Patil, who was last seen in Suvreen Guggal on Channel V, shares his mantra for a healthy body and stress-free life.
How do you stay fit?
I work out regularly, eat well and think positive. It also helps me have friends who are equally health-conscious and positive in life.
What's an ideal workout for you?
Honestly speaking, whatever works out well with your body! Currently, my workout schedule is working fine for me. I do weights for three days, cardio for two days; one day for legs and one day for functional training in a week.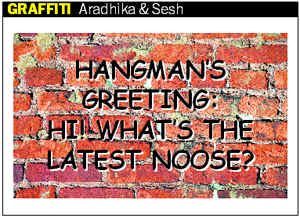 Social status
For actor Dia Mirza, social work is much more gratifying than working in films
Carrying the title of Miss Asia-Pacific and a number of movies to her credit, actress Dia Mirza stands level headed in an industry where stardom usually brings pretension. Apart from being an actress, she has also been actively involved in social work and has also opened a production house, Born Free Entertainment. She talks about stardom, producing movies and more...
When words came calling
Young lyricist Kumaar says giving up on a night's sleep is worth all the fame that follows...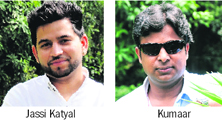 He has given a number of hits, yet lyricist Kumaar refuses to take any credit. Fame came to him with Dostana; numbers Maa ka ladla bigad gaya and Desi Girl bagged him appreciation and recognition like never before. This arts graduate from DAV College, Jalandhar, has this passion to write songs. A focused approach and his share of luck brought him laurels. In Chandigarh for an event, Kumaar credits his success to all those around him, "I write about yours and my experience. By the grace of god they click."
Tapping the market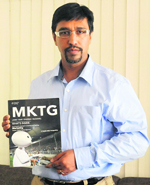 After earning a doctoral degree with major in marketing and double minors in psychology and quantitative analysis from Louisiana Tech University, USA, Dheeraj Sharma set out to teach marketing research at numerous education institutions in North America, Europe and Asia only to return to his roots, India. He is currently a faculty of Indian Institute of Management, Ahmedabad and has been involved in several consulting projects with various multinational corporations, including Ministry of Defence, Delhi Government, Gujarat Government, and Ministry of Home Affairs, Ministry of Sports and Youth Affairs.
Marketing strategy: Dheeraj Sharma
Rihanna is a latecomer!
Singer Rihanna showed up more than three hours late for her show in Monte Carlo, Monaco. The 25-year-old singer continues to test her fans' patience. Her fans had paid at least $782 for tickets, which included dinner. The show was originally scheduled to start at 8:30 pm, according to information on ticketing websites.
Alia Bhatt to walk at IBFW
Young Bollywood actress Alia Bhatt will sashay down the ramp at India Bridal Fashion Week (IBFW) organised by World Gold Council. The forthcoming six-day fashion extravaganza will start on July 23 at The Grand Hotel in south Delhi. Alia, 20, will walk the ramp on the last day. "Every design has been made keeping in mind the bride who is modern and contemporary in style. Alia Bhatt resonates the designs extremely well. She is young, vivacious and is the perfect fit for what we are trying to communicate," Vipin Sharma, director-jewellery, World Gold Council (India) Private Limited said.
Let your hair down!
Tressed-Up has tied up with American wellness giant– Matrix to introduce the biggest salon, wellness and spa in Tricity. Spread over 2300 sq feet area at Manimajra, the salon will offer its services form of hair and beauty treatment by 15 matrix certified specialists.
An action-packed decade!


Former Miss India and actress Neha Dhupia, who made her debut with Qyamat: City Under Threat, completed a decade in Bollywood on July 11. "On this beautiful day I complete 10 years in the movie business. My head filled with beautiful memories and great experiences. People I've met, the things I've learnt, the ups and downs, the hits the flops, the singing and dancing, the madness. All if it I owe to the movies!" she tweeted.
Kiran Rao to pledge organ donation
Taking inspiration from Anand Gandhi's film Ship of Theseus, filmmaker Kiran Rao, who is presenting it to the audience, will take a pledge to donate her organs. The Dhobi Ghat director believes that there is a "great merit" in saving a life. "I have thought about organ donation. This film has given me a chance to think about organ donation deeply."
Suri's baby steps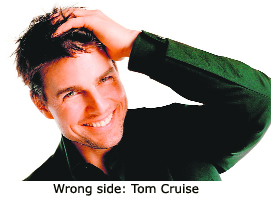 Mission Impossible star Tom Cruise's seven-year-old daughter Suri was insulted by one of her fans while she was leaving a hotel with her mother and friend. They were greeted by a group of paparazzi and fans asking for autographs which annoyed the little girl and she was compelled to yell at them to get them out of their way from Trump International Hotel in New York's Upper West Side, reported a website. Video footage of the incident revealed one of the bystander appreciating her attitude yelled out at her while she got into the car saying, "Bye, Suri, you little brat!" In initial reports, the fan was mistakenly recognised to be one of the paparazzi present during the incident. But it was denied later claiming he was "a bystander, not a paparazzo". — PTI
Dare bare appearance


Troubled star Lindsay Lohan has stripped off in the trailer for her raunchy new film The Canyons. The 27-year-old actress is seen lounging around in her inner-wear in the official promo for Paul Schrader's erotic thriller, in which Lohan plays Tara, a sensuous woman torn between two loves, reported a publication online. Lohan pouts her way through the melodramatic trailer, which shows her character struggling between two loves, played by porn star James Deen and Nolan Funk. The Canyons, scripted by American Psycho author Bret Easton Ellis, was rejected from the 2013 South By Southwest Film Festival due to quality issues but will be released on August 2 in the US. — PTI
Men want to be nourished like a pet dog: Nicki Minaj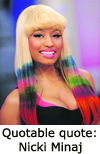 Rapper Nicki Minaj feels it is best for women to take charge because men love independent woman. Minaj, 30, who has not dated anyone till now, said men are like children who expect love and care from their partner, reported a magazine. "Don't chase any man. Put your school first. Men love independent women. You don't have to be a bitch but there's nothing wrong with it at times. Men are kids at heart. They want to be nourished and petted like a dog," she said. Minaj also expressed her wish to be a lawyer. "I just loved the thought of going into a courtroom with mostly men and defending someone - just being able to persuade people with your words. It seems glamorous in a way. Very inspiring and ballsy," she said. — PTI
Wedding bells for Jennifer Aniston
Jennifer Aniston and her actor boyfriend, Justin Theroux, have decided to tie the knot this winter, according to reports. The couple was forced to postpone their wedding plans due to their busy work schedules, but they now seem ready to say 'I do' in December at a ceremony in California. A source close to Justin told a UK publication that this was a "breakthrough" as the main source of uncertainty has been removed. The insider added that Aniston has always made it clear that LA was her first choice and Justin has compromised and agreed to marry in California. — ANI
The better half
Hugh Jackman has revealed that he and wife Deborra-Lee Furness had an instant connection when they first met. The Wolverine actor, who has been married to Furness for 17 years, said his wife is his best friend. "From day one, we were best mates. We just clicked. We were giggling and laughing - we just connected. The bedrock of any relationship is to communicate, and Deb and I have always done that, discussing whatever's going on, good or bad." — PTI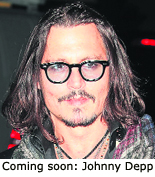 Johnny Depp in talks for Mortdecai
Hollywood superstar Johnny Depp is in negotiations to play the lead role in Mortdecai, an adaptation of Kyril Bonfiglioli's novels. The movie adaptation is being directed by David Koepp while Eric Aronson is behind the script, a publication reported. Depp would play the role of a dashing art dealer and a part-time rogue Charles Mortdecai, who must find a stolen painting rumoured to contain the code to a lost bank account filled with Nazi gold. The actor is currently starring in Disney's The Lone Ranger and is wrapping up Wally Pfister's directorial debut Transcendence. — PTI
In reel & real
We have always seen Kareena Kapoor Khan in her ultra-glam avatar. However, for the upcoming film Satyagraha we will see Kareena sporting a de-glam look not only in the film but also during all her promotions before the film. Kareena is playing the role of a political investigative journalist. She will remain in the character's look for the promotions, which will begin a month before the film hits the screens on August 30. This will be different from usual promotional events where Bollywood celebrities put their best foot forward in terms of fashion at public and media events.
Huma dares no-makeup look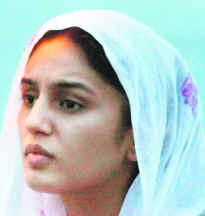 Huma Qureshi's nude make-up could well be the reason why one must watch Anurag Kashyap's latest offering Shorts, a collection of short films hitting the theatres on July 12. Huma features in the film Sujata, directed by Shlok Sharma and produced by AKFPL and Tumbhi. Huma says, "Shlok wanted me without makeup in the film as it is a hard-hitting story and needed that look." Initially apprehensive, Huma finally consented. But once the shoot was over, Huma was apprehensive of how she would end up looking on screen. Considering that director Shlok sharma is a Anurag Kashyap protégé, Huma ended up winning an award at Los Angeles for the film. Now, if we hear an announcement of Huma starring in Shlok Sharma's next full-length feature, we won't be surprised!
Farhan's got a fan
Shah Rukh Khan has heaped praises on his friend Farhan Akhtar for his work in Bhaag Milkha Bhaag. The movie released on Friday. Khan arranged a special screening of the movie at his place and tweeted, "The only race you can't win is the race against your past. What a lovely experience is bhaag Milkha. Thanks Rakyesh and you inspire me my Flying Farhan."
To be or not to be
Celebrity publicist Dale Bhagawagar who has handled the likes of Hrithik Roshan and Priyanka Chopra and who was responsible for the buzz around Shilpa Shetty when she was in the Big Brother House, has received an offer to be in the latest season of Bigg Boss as an inmate. He is unsure if he should go. We think it would be fun to have legitimate publicity for himself.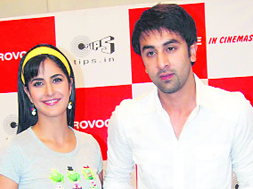 Romance in Ibiza
Ranbir Kapoor and Katrina Kaif finally made time for each other in Ibiza and even attended the David Guetta concert together. They were joined by their friend Ayan Mukerji. The returned separately. We wonder when they will come out in the open with the fact that they are dating. They both skipped the IIFA Awards to go on holiday with each other.


Love story: Katrina Kaif & Ranbir Kapoor
Hot and happening
Priyanka Chopra totally sizzles in the pictures of her video Exotic, a song she has sung alongside famous rapper Pitbull. The song is shot on an exotic island and Priyanka has three different looks in it. The girl has achieved international fame and that is awesome!
In the great league
Sushant Singh Rajput's career has started with such a bang! He already has two big films in his kitty and in November he will reunite with Abhishek Kapur for Fitoor, an adaptation of Charles Dickens' novel Great Expectations. The movie stars Katrina Kaif as his leading lady! Lucky boy but he is better at acting than she is.

Watch out for Shraddha
Shraddha Kapoor is going places and how! She has become busy shooting for films and endorsements. Her new TVC for Vaseline is on air and she looks sweet in it. We feel she will get even more confidence with growing success. She is a talent to watch out for and we wonder what she will endorse next!