Crucial Tuesday for Telangana


All eyes on UPA coordination committee, CWC meetings


Centre rushes forces to AP
Aditi Tandon/Suresh Dharur/TNS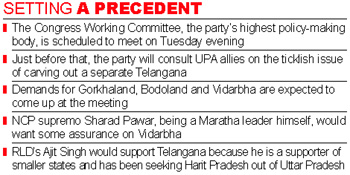 New Delhi/Hyderabad, July 29
A separate Telangana state appears a distinct possibility with the ruling UPA and its main constituent, the Congress, deciding to hold their crucial meetings tomorrow amid raging protests from pro and anti-Telangana activists.
In an indication that the Congress is inclined to a separate Telangana state, the Centre has sanctioned 1,000 additional paramilitary forces to be deployed in coastal Andhra and Rayalaseema regions of the state where bitter protests are expected in case the CWC endorses a move to divide Andhra Pradesh.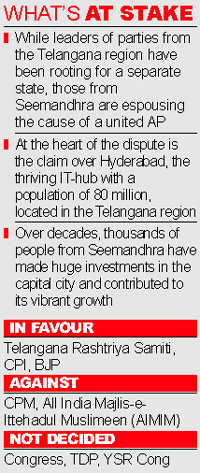 A decision for or against the new state can have its fallout over several Assembly and parliamentary polls due this and the next year. Bifurcation of Andhra may also lead to similar demands for Gorkhaland (West Bengal), Bodoland (Assam) and Vidarbha (Maharashtra).
Congress general secretary in charge of Andhra, Digvijay Singh said the Congress Working Committee (CWC), the party's highest decision-making body, will decide on the Telangana matter tomorrow. He, however, said he was not aware of the CWC agenda.
Top sources in the party told The Tribune that the UPA Coordination Committee meeting on the issue would be more vital than the CWC meeting. "It is at the UPA coordination committee meeting that we are expecting a lot of debate. Telangana cannot be discussed in isolation. The Government also has to form its own view on the matter. We are expecting that at the meeting of the coordination committee tomorrow, demands of Gorkhaland, Bodoland and Vidarbha are going to be raised and we would have to discuss ways to tackle them," a top Congress source said.
He indicated that the UPA coordination committee might decide to form a panel or a commission to look at these pressings demands from other regions while the party takes a call on Telangana.
Asked if the UPA partners would be fine with the demand, Congress sources said NCP supremo Sharad Pawar, being a Maratha leader himself, would want some assurance on Vidarbha. "RLD's Ajit Singh would support Telangana because he is a supporter of smaller states and has been seeking Harit Pradesh out of Uttar Pradesh," a source said.
Samajwadi Party president Mulayam Singh is not likely to attend the meeting tomorrow, it is learnt. However, Andhra Chief Minister Kiran Kumar Reddy and his deputy Damodar Rajnarsimhan will be in Delhi tomorrow, with Reddy — who hails from the Rayalaseema region — having already expressed his displeasure over the division.
In Hyderabad, Congress leaders from Andhra and Rayalaseema regions, who are opposed to creation of Telangana, held a closed door meeting with Reddy. A source said that Reddy, who himself is opposed to the bifurcation, may consider resigning if the proposal goes through.
The pro-Telangana agitation has only intensified after the Centre had in 2009 announced in-principle acceptance of the demand. The local stake holders from Coastal Andhra, Seemandhra and Rayalaseema have locked horns over their claim on Hyderabad, the thriving IT-hub with a population of 80 million, located in the Telangana region.
On a specific query to whether a Second State Reorganisation Commission could be considered, Congress sources said they were not sure of what emerges after tomorrow's coordination committee meet. "Some committee or commission might be set up to view demands such as Bodoland and Gorkhaland, which people will like to tag along with Telangana at tomorrow's UPA coordination committee meet," said a senior party leader. Pro-Gorkhaland outfits have already announced a 72-hour bandh, even as anti-Telangana activists from Andhra today protested outside the houses of MPs from Andhra in Delhi.
Meanwhile, highly-placed sources in the government said the Law Ministry had already been consulted on the legal processes involved in the formation of Telangana.