LIFE+STYLE

CHANDIGARH

LUDHIANA

BATHINDA

JALANDHAR

AMRITSAR TRIBUNE

JALANDHAR TRIBUNE

BATHINDA TRIBUNE

JAMMU TRIBUNE

KASHMIR TRIBUNE

DELHI

DEHRADUN

DEHRADUN PLUS

Gurgaon CJM, parents booked for dowry death


Gurgaon, July 29
Almost two weeks after being booked for alleged murder of his wife Geetanjali, Gurgaon Chief Judicial Magistrate (CJM) Ravneet Garg has now been booked for dowry death. The Gurgaon police has booked the CJM and his parents under Section 304B (continuous dowry harassment leading to unnatural death) of the Indian Penal Code.

PM, industry captains discuss ways to revive growth
New Delhi, July 29
Raising duties on consumer and luxury goods and accelerating the Amritsar-Delhi-Kolkata industrial corridor were among the measures discussed to revive economic growth at Prime Minister Manmohan Singh's meeting with industry captains today.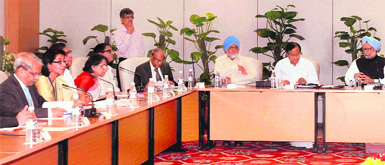 Prime Minister Manmohan Singh, Finance Minister P Chidambaram and Dy Chairman of Planning Commission, Montek Singh Ahluwalia during a meeting with business leaders in New Delhi on Monday. — PTI
OTHER PAGES

HIMACHAL: PCC focuses on Hamirpur LS seat


CHANDIGARH: Patil seeks explanation from UT officials


LUDHIANA: MC gets third time lucky


DELHI: Round-the-clock vans to help women in distress


Business:

RBI unlikely to change rates, will focus on stabilising rupee

OPINIONS: India-Pak prisoners

SPORTS: To represent India, BCCI needs to be under RTI: Justice Mudgal

WORLD: Wave of car bombings in Iraq kills 54


Lahore Log

The tribune guide to best colleges

Budget
2013-14

INDIA CHINA WAR 50 YEAR LATER

YEAREND SPECIAL: 2012

Year of survival

The tribune 130 years
a witness to history
book released by prime minister manmohan singh

Guide to best colleges

Results of Punjab Assembly Polls 2012

HIMACHAL VOTES 2012

EARLIER FEATURES
Punjab's cotton belt gets boost with textile park


Barnala, July 29
Lotus Integrated Texpark, the first such commercial hub in North India, was today inaugurated by Union Minister for Textiles Dr Kavuru Sambasiva Rao at the Trident Complex at Dhaula village near here.
KS Rao
Union Minister for Textiles


RS seats for Rs 100 cr, says Haryana MP Birender; retracts
New Delhi, July 29
The Congress today distanced itself from the remarks of its Rajya Sabha MP from Haryana Choudhary Birender Singh who said at a rally in Jind yesterday that Rajya Sabha seats were available for Rs 100 crore.
Indian-Americans celebrate 100 years of Ghadar movement
Washington, July 29
Hailing the contribution of leaders of the Ghadar movement in India's freedom struggle, Indian-Americans from across the US have called for remembering their sacrifices annually on Memorial Day.
A first: Cashless treatment for road accident victims
Scheme rolled out for Gurgaon-Jaipur stretch; Six advanced ambulances flagged off
Gurgaon, July 29
Union Minister of Road Transport and Highways Oscar Fernandes today launched country's first cashless treatment project for accident victims on the Gurgaon-Jaipur stretch of the National Highway-8.
India, Pak chalk out schedule for resuming dialogue
July 29, 2013
UK set to go ahead with controversial visa bond
July 28, 2013
Takht directs DSGMC ex-chief Sarna to do religious service
July 27, 2013
Court: Batla encounter not fake; IM operative convicted
July 26, 2013
Compensate Railways for loss in 2011 stir, SC tells Haryana
July 25, 2013
India, US keen to take civil N-deal forward
July 24, 2013
US Vice-Prez arrives to discuss trade, defence ties
July 23, 2013
Uncertainty over sale of power to Pakistan
July 22, 2013
100 Yamunanagar villages flooded
July 21, 2013
PM admits growth rate may fall below target
July 20, 2013