M A I N N E W S
5 soldiers killed in Pak ambush
Army patrol attacked in Poonch;
Delhi summons Pak Dy High Commissioner
Ravi Krishnan Khajuria & Darshan Bharti
Tribune News Service
Jammu/Poonch, August 6
Pakistani Army's Border Action Team (BAT), which is an amalgam of Pak Army regulars and Lashkar-e-Toiba terrorists, ambushed an Indian patrol and killed five troopers after breaching the Line of Control (LoC) in Poonch district late last night.
Reacting strongly, New Delhi summoned Pakistan Deputy High Commissioner Mansoor Ahmed Khan and lodged a protest against the attack. The attack was carried out near Punjar post in Khari Gulpur sector under Sarla Battalion being manned by 21 Bihar Regiment in Chakan-da-Bagh area from where the trans-LoC trade between J&K and PoK takes place four days a week from Tuesday to Friday.

"The casualties included a Junior Commissioned Officer (JCO) and four troopers. The attack was carried out around 1.30 am last night," said a senior Army officer.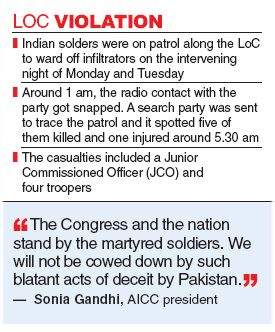 "They (Pak troops and terrorists) clearly breached the LoC and ambushed our patrol party comprising a JCO and five soldiers. While four soldiers and the JCO were killed in the firefight, the injured soldier who survived the attack is in a state of shock," he said. Another top officer in the Northern Command said, "As a routine, an area domination patrol was sent to patrol the area between the LoC and the barbed fence erected 100 m to 1.5 km inside the Indian Territory to ward off infiltrators. Around 1 am, the radio contact with the party got snapped. It was raining heavily in the area at that time."
"A search party was immediately sent to trace the patrol and around 5.30 am this morning, the search party spotted five of them killed and one lying injured. They all had sustained gunshot injuries," he added.
However, no weapons were taken away and no bodies were mutilated, he said.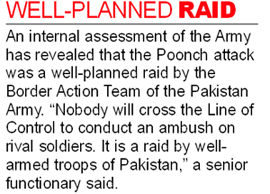 Another source said at least 15 to 16 BAT men carried out the attack. In a similar attack on January 8 this year, BAT men had brutally killed two Indian soldiers - Lance Naiks Hemraj Singh and Sudhakar - of 13 Rajputana Rifles in Balnoi sector. An officer maintained the ghastly act looked to be a handiwork of 801 Mujahid Battalion, Punjab Battalion and Lashkar terrorists. "The situation was tense along the LoC in Chakan-da-Bagh area, but we didn't retaliate to the severest provocation," he added.
Senior Army officers have rushed to the area. An intelligence source confided into The Tribune that Jamat-ud-Dava chief Hafiz Saeed had visited Gurund post around three days ago and spent some time with the Border Action Team. Meanwhile, residents of Poonch today held demonstrations against Pakistan and demanded that bilateral talks and other confidence-building measures be stopped forthwith.