LIFE+STYLE

CHANDIGARH

LUDHIANA

BATHINDA

JALANDHAR

AMRITSAR TRIBUNE

JALANDHAR TRIBUNE

BATHINDA TRIBUNE

JAMMU TRIBUNE

KASHMIR TRIBUNE

DELHI

DEHRADUN

DEHRADUN PLUS
Antony draws Oppn wrath over remarks on LoC attack


New Delhi, August 6
Defence Minister AK Antony's statements in the Lok Sabha and the Rajya Sabha today that the attack in Poonch was carried out by "terrorists along with persons dressed in Pakistan Army uniform" sparked a controversy and drew flak from political parties.
PIL in SC against Durga's suspension
New Delhi, August 6
A public interest litigation has been filed in the Supreme Court seeking quashing of the Uttar Pradesh Government's orders suspending IAS officer Durga Shakti Nagpal as SDM of Gautam Budh Nagar for allegedly directing demolition of an under-construction mosque compound without bothering about the possibility of a communal flare-up.

Editorial: IAS in crisis

OTHER PAGES

HIMACHAL: 8 die as bus falls into gorge in Shimla


CHANDIGARH: Blows exchanged at ISBT


LUDHIANA: Rain throws life out of gear


DELHI: Vikaspuri- Wazirabad flyovers will save Rs 280-cr fuel a year


Business:

Sensex nosedives 449 points as rupee hits new historic low

OPINIONS: IAS in crisis

SPORTS: Sports Ministry is hiring

WORLD: US evacuates its citizens from Yemen


Lahore Log

The tribune guide to best colleges

Budget
2013-14

INDIA CHINA WAR 50 YEAR LATER

YEAREND SPECIAL: 2012

Year of survival

The tribune 130 years
a witness to history
book released by prime minister manmohan singh

Guide to best colleges

Results of Punjab Assembly Polls 2012

HIMACHAL VOTES 2012

EARLIER FEATURES
Raghuram Rajan to be new RBI Governor
New Delhi, August 6


Chief Economic Advisor Raghuram G Rajan, who as IMF economist had predicted the 2008 global crisis, was today appointed the new RBI Governor. Rajan (50) will succeed D Subbarao, who by his hawkish policy stood his ground on continuing with a tight monetary policy despite repeated entreaties from the government to ease interest rates to boost growth.

Business page: Sensex nosedives 449 points as rupee hits new historic low

SC to review govt's drug pricing policy
New Delhi, August 6
The Supreme Court today agreed to examine the new national pharmaceutical pricing policy framed by the government for fixing prices of essential medicines in the country. A Bench headed by Justice GS Singhvi asked the Centre to file its response on a petition challenging the policy and raised questions on prices of medicines fixed by government.
Haryana offers affordable housing bonanza


Cabinet gives nod to new policy


A 500 sq ft flat worth Rs 20 lakh on cards
Chandigarh, August 6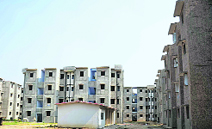 Owning a flat may seem a far-fetched idea to the common man but Haryana's 'Affordable Policy 2013' is set to change all that. With the Cabinet giving its nod to a policy for mass availability of dwelling units at rates that are easier on the common man's pocket, a 500 sq ft flat will now cost Rs 20 lakh in the high potential towns of the state.

SP, Cong slug it out over UP officer
August 6, 2013
Turbulence looms as crucial monsoon session begins
August 5, 2013
Bombers target Indian mission in Afghanistan, 12 locals dead
August 4, 2013
Telangana storm hits Cong as 8 MPs quit, 4 ministers ready to go
August 3, 2013
Govt wants parties out of RTI ambit
August 2, 2013
40 feared dead as bus falls into Bhakra canal near Sirhind
August 1, 2013
Green light for 29th state Telangana
July 31, 2013
Crucial Tuesday for Telangana
July 30, 2013
India, Pak chalk out schedule for resuming dialogue
July 29, 2013
UK set to go ahead with controversial visa bond
July 28, 2013
Takht directs DSGMC ex-chief Sarna to do religious service
July 27, 2013