Talent hunt competition held at Apeejay college
Tribune News Service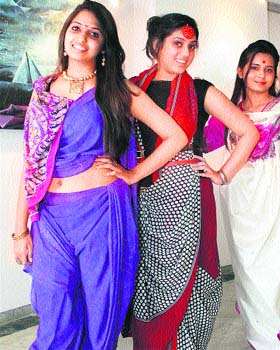 Girls show colourful attires at a talent hunt contest in Jalandhar on Saturday. Tribune photo: Sarabjit Singh
Jalandhar, August 10
The Department of Home Science of the Apeejay College of Fine Arts, Jalandhar organized a talent hunt competition. Competitions were held in the categories of smokeless cooking, mehndi, rangoli, saree draping and phulkari. Students participated with enthusiasm in all categories. Approximately 70 students participated in these competitions under the supervision of the organizers, Rashmi Kapoor, head, department of H. Sc. and Monika Anand, assistant professor in H.Sc. Principal, Dr Sucharita lauded their creativity.
Tae kwon do competition
A district level Taek won do competition was held at the Little Blossom School, Jalandhar. In this competition, students of DIPS school, Nurmahal, won six gold medals, five silver medals and eight bronze medals. Six students of the school were also selected for the state level competition. Principal Usha Parmar congratulated students and inspired them for such marvelous performance in future too. Chairman Gurbachan Singh, MD Tarvinder Singh and CEO Monika Mandotra also congratulated students.
Blood donation camp
Bowry Memorial Educational and Medical Trust organised a blood donation camp in association with the Civil Hospital at the Innocent Hearts College of Education, Jalandhar. Students of Innocent Hearts College of Education actively donated blood.
Poem recitation contest
To enhance the oral skills and develop self confidence among students, a poetry recitation competition was organised at the Seth Hukam Chand SD Public Senior Secondary School, Jalandhar. Students displayed their talents with great poise and spirit. Poems were recited by junior students of Class I to IV. Hindi and Punjabi poem recitation took place. Principal Manju Arora appreciated students and admired winners.
Results declared
Pooja Rai student of the Prem Chand Markanda SD College for Women stood 1st in college in BCA II semester exam. She secured 300 marks out of 400. Daljeet Kaur secured 295 marks and got II position in college. Mandeep Kaur got 294 marks and is III in college. Pooja Rai topped in 1st Semester Examination of B.C.A. Principal Dr Kiran Arora congratulated students.
NCC parade
The N.C.C Army wing's parade for this session begins at the DAV College auditorium. On the occasion, commanding officer, Punjab battalion, Colonel Tejpal Singh was the honorable guest along with training JCO Keval Singh and other staff members. NCC Army wing's Major SK Tuli welcomed guests and enlightened all about the wing's facilities. Lieutenant Sameer Sharma presented a documentary to cadets. Flight Lieutenant AK Trivedi and Lieutenant Manoj Kumar were also present.
Science meet
Based on the issue given by National Science Museum Kolkata, "Water co-operation issues and emotions" and the instructions of the State Science Education Organisation, Punjab, a science meet was organised at the Government High School, Maqsoodan. District Science coordinator Sajiwan Singh Dadwal said 80 schools of the tehsil Jalandhar-2 particpated in the meet. Students read papers on the issue 'International water cooperation" as per 2013 being declared the 'International water cooperation" year by the UNO. They gave out various solutions with the help of slides and charts on the problems of pollution, depletion of water sources, rain water preservation. Praveen, Harpreet Kaur and Priya, Sandeep Kaur and Deepak Kumar won positions. The meet was supervised by DEO Neelam Kumari and District Science Supervisor Baljinder Singh.