Six CCTV cameras become operational at BMC Chowk
Jalandhar, August 7
Traffic violators and suspects will now have a tough time while crossing BMC Chowk as the much-awaited dry run for the closed-circuit TV cameras, installed here, has finally started today.
From schools & colleges
Citigroup honcho gives lecture on investment banking
Jalandhar, August 7
A guest lecture on client connectivity through electronic trading banking was conducted at GNA-IMT for the students of MBA (third semester). The resource person was Vishal Sood, global head of Electronic Trading Technology at Citigroup, New York City, USA. He educated students about investment banking, e-trading, global financial market, current economic scenario etc.
Rana Ranbir gives lessons in film making
Jalandhar, August 7
'Words' are very important for an actor or a director. Staying away from bad ones and befriending good ones is very important. It was with such lessons of wisdom that students of the local Doaba College were introduced to the art of making/acting in cinema.
Poll panel's facilitator service receives poor response
Jalandhar, August 7
The proposal of the Election Commission of India (ECI) to deploy matric-qualified unemployed youth as facilitators for fresh enrolment of voters has proven to be a damp squib. Even as the directives came about two months back, none of the Electoral Registration Officers (EROs) have so far publicised the new provision or made any headway in this direction.
Agent booked for duping youth
Phagwara, August 7
The Phagwara police has booked Avtar Singh, a fake travel agent of Jassowal village, Mahilpur police station, under Sections 420/406 of the IPC and the Emigration Act, on the charges of duping Amrik Singh, a resident of Palahai village, of Rs 18.50 lakh, on the pretext of sending him to Canada.
Medical reps protest for fixation of working hrs
Jalandhar, August 7
Demanding fixation of their working hours, members of the Jalandhar unit of the Punjab Chandigarh Medical and Sales Representatives Union (PCMSRU), held a demonstration in front of the office of Assistant Labour Commissioner (ALC), here today. The union members complained that though the Punjab government had declared the medical representatives as workmen, yet their working hours had not been notified till date. R Sahni, president of the PCMSRU, Jalandhar, said the union members held demonstrations in every district headquarter across the state and submitted their demands to the ALCs. The union has also threatened to launch a state-level protest in front of Labour Commissioner's office in Chandigarh if their demands were not fulfilled. Vinit Sharma and other union leaders also addressed the gathering. — TNS
Drivers of garbage-lifting vehicles hold protest at Wariana dump
Jalandhar, August 7
The drivers of garbage-lifting vehicles of the Municipal Corporation (MC) today lodged a protest at the dumping site in Wariana village over spillage of the waste onto approach road to the dump leading to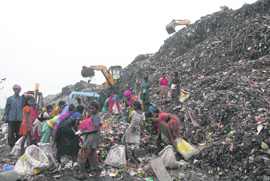 problems for them. The drivers alleged that the MC officials were not getting the chain machines repaired for compaction of the piles of garbage, which was leading to the problem. They said they were left with no way to cross the piles and had to either return with loaded trucks or further fill the roads with garbage. After their protest, however, the officials got smaller JCB machines into operation for clearing the passage. — TNS
The Municipal Corporation deploys JCB machines for the compaction of garbage piles, which have spilled over on the approach road to the dump site at Wariana village in Jalandhar on Wednesday. Tribune photo: Malkiat Singh

Three brothers critically injured in attack
Phagwara, August 7
Three brothers, identified as Pawandeep Singh, Pardeep Singh and Jasbir Singh, were wounded critically, when some unidentified armed assailants attacked them with sharp-edged weapons,
when they went to a village gurdwara to pay obeisance on the birthday of injured Pardeep, in Dhadhey village, this afternoon. Personal rivalry was said to be the cause behind the attack. All the three injured were admitted to the local Civil Hospital. The police has registered a case. — OC
The three injured were admitted to the Phagwara Civil Hospital on Wednesday. A Tribune Photograph

EPFO to hold Bhavishya Nidhi Adalat
Jalandhar, August 7
In an effort to provide solution to employee grievances, the Employees Provident Fund Organisation (EPFO), Sub Regional Office, will organise "Bhavishya Nidhi Adalat" for employees and employers of various organisation and business establishments in Phagrawa on next Monday. A press note issued by the EPFO, Jalandhar office, said the Adalat will be held from 11am to 2 pm for August at the EPFO, Inspectorate Office, Ghai Building, Railway Road, in Phagwara. Any member or employer can take part in this Adalat for resolving of his grievances. — TNS
Protests against killing of five Indian soldiers
Jalandhar, August 7
Various political parties held a protest here today against the Pakistan government over the killing of five soldiers along the border yesterday. Representatives of the BJP Sports Cell led by Sunny Sharma burnt an effigy of Defence Minister AK Antony at Company Bagh Chowk. The party's human rights activists cell led by Ajay Chopra, too, held a separate protest. Leaders of the District Congress Committee led by president Arun Kumar Walia, too, burnt an effigy of Pakistan government, condemning the brutal killing and violation of ceasefire norms. — TNS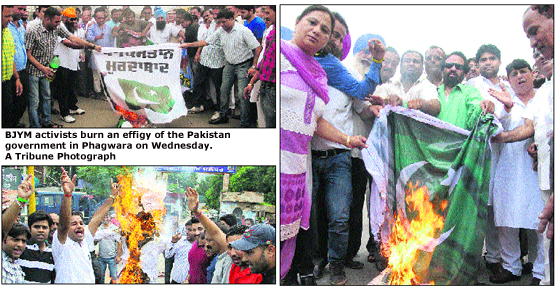 | | |
| --- | --- |
| Members of the BJP Sports Cell burn a Pakistani flag in Jalandhar on Wednesday in protest against the killing of five Indian soldiers. Photo: Sarabjit Singh | District Congress workers burn a Pakistani flag in Jalandhar on Wednesday in protest against the killing of five Indian soldiers. Tribune Photo: Malkiat Singh |
One held with intoxicant powder
Phagwara, August 7
The police has arrested a drug peddler, identified as Mandip Singh alias Happy, of local Moti Bazar locality, and recovered 100 gm of intoxicant powder from his possession today. The police said the accused was nabbed during a naka bandi near Panchhatt T-point on the Phagwara-Hoshiarpur Road. — OC