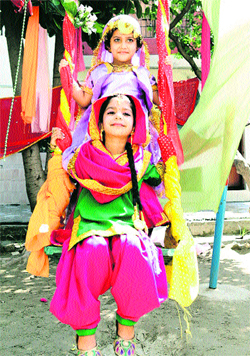 GOLDEN DAYS: Teej being celebrated by tiny tots at a school in Jalandhar on Tuesday. A Tribune photograph
Cong councillor Shravan Grover dead
Jalandhar, July 30
Congress councillor Shravan Grover (60) passed away here this morning. He had been suffering from liver cancer. His daughter had donated her liver to him and the same was also transplanted at Medanta Hospital in Gurgaon a few weeks ago but he could not survive.
Autorickshaw union ends strike
Jalandhar, July 30
Ending their two-day strike, members of the School Autorickshaw Tempos and Van Union today decided to resume the pick and drop services for schoolchildren from tomorrow morning.
New services at Suwidha Centre lead to chaos
Jalandhar, July 30
Ever since the district administration has added new services, including the issuing of SC/BC, residence and income certificates at Suwidha Centre, its problems have compounded manifold.
Workshop held against femicide
Kapurthala, July 30
Deputy Commissioner D.S. Mangat and senior physicians have appealed to masses to join hands for spreading awareness against the curse of female foeticide. Addressing a workshop on the PNDT Act here today, Mangat said he has already issued strict instructions for the effective implementation of the PNDT Act in the district.
Five snatchers arrested
Jalandhar, July 30
Five snatchers were arrested by the police here today. The police has also recovered 1 kg drug powder and other snatched items. One of the arrested persons was also reportedly involved in thefts.





Vanmahotsav:

Dr BB Sharma, head of botany department, DAV College, planting a sapling on college campus in Jalandhar on Tuesday. A tribune photograph
Two bikers killed in road mishap
Phagwara, July 30
Two youths were killed on the spot when their bike collided with a bus at Mehatiana village on the Phagwara-Hoshiarpur road.
Student selected as Google ambassador
Jalandhar, July 30
Karti Puri, student of B.Tech fifth semester, Information Technology (IT), DAVIET, has been selected by Google as GSA - google student ambassador for year 2013-14.
Cong for formation of vigilance monitoring panels
Jalandhar, July 30
Apprehensive of fair and impartial implementation of the Right to Food Security scheme in Punjab, the Congress has demanded that the state, district and tehsil-level vigilance monitoring committees (VMCs) of public representatives be formed for its fair implementation.
Punjab govt misutilising central funds: PMC chief
Jalandhar, July 30
Accusing Parkash Singh Badal led SAD-BJP government of misutilising funds provided to state under various schemes by Dr. Manmohan Singh-led Union Government, Punjab Mahila Congress president Malti Thapar said she would apprise the general public about the various welfare schemes started by the Centre.
Peace bikers return to Amritsar
Amritsar, July 30
Motorbike rally 'Ride for Peace' today returned to the city after an eight-day journey, covering 2,000 km in Punjab and Himachal Pradesh.