M A I N N E W S
Vikrant set to be launched today
Vijay Mohan/TNS
Kochi, August 11
As INS Vikrant, India's first indigenously built aircraft carrier, lay decked up with flags and streamers awaiting its launch tomorrow, it signaled a moment of intense pride for the engineers and technicians who had toiled and innovated for almost seven years to build the hull of what would be the largest warship ever to be built in India.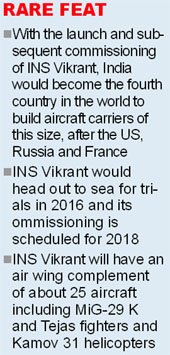 With the launch and subsequent commissioning of INS Vikrant, India would become the fourth country in the world to build aircraft carriers of this size, the other three being the US, Russia and France. This feat comes close on the heels of another landmark in Indian naval history-the nuclear reactor of INS Arihant, the indigenously developed nuclear powered submarine, becoming critical.
The 37,500-tonne carrier, being built by Cochin Shipyard Limited, will be launched by Defence Minister AK Antony's wife Elizabeth here tomorrow. The launch has immense strategic implications for India and sends a strong signal to the maritime community.
The launch would signify that the hull is capable to be put out to water, though the carrier is still years from becoming operational. The hull would be floated out from the dry dock where it is being constructed and the remaining works, including building the superstructure and out fitting it with its sailing and war fighting tools, would be carried out while it is moored at the dock. At present, the carrier weighs about 18,000 tonnes.
While the engines have been installed, the next major task is electrification. According to the shipyard's chairman-cum-managing director, Cmde K. Subramaniam, the process would be complete by 2016, following which INS Vikrant would head out to sea for trials. Commissioning is scheduled for 2018.
Cmde Subramaniam said the entire process was a huge challenge for the shipyard, which had employed about 5,000 engineers, designers, technicians and support staff for the purpose. There were times where we had to innovate things to overcome hurdles. Specialised welding of steel plates for the carrier, installing unique support structures for the shafts and heavy moving equipment to virtually inaccessible areas were some of the things we carried out.
The entire ship's structure was divided into separate parts and different teams worked simultaneously on them, cutting down on time and quickening the process, he added.