LIFE+STYLE

CHANDIGARH

LUDHIANA

BATHINDA

JALANDHAR

AMRITSAR TRIBUNE

JALANDHAR TRIBUNE

BATHINDA TRIBUNE

JAMMU TRIBUNE

KASHMIR TRIBUNE

DELHI

DEHRADUN

DEHRADUN PLUS

Namdhari sect chief injured in attack in UK gurdwara
Bhaini Sahib, August 11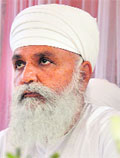 Namdhari sect head Satguru Uday Singh was attacked with an axe during prayers at a Namdhari gurdwara at Leicester in England this morning. The attacker has been arrested. Besides a fracture on the left forearm, the sect chief suffered injuries on the nose and the forehead. Sant Surinder Singh Namdhari, vice-president of Namdhari Darbar, said the incident took place while Satguru Uday Singh was performing a "kirtan" amidst a packed hall of devotees at a Linden Street gurdwara.
Indian drugmakers will have to bear higher costs in US
Washington, August 11
Many Indian drugmakers will soon have to bear higher costs for sale of products in American markets, as the US health regulator FDA is hiking the fees for generic drugmakers by up to 48 per cent from October. India is the second largest drug exporter to the US, according to the Food and Drug Administration (FDA).
OTHER PAGES

PUNJAB: Women at receiving end as spouses refuse to take blame


HARYANA: Hooda wins over Shah


HIMACHAL: Cabinet to assess replies of cement companies


CHANDIGARH: Road safety takes a back seat in rally


LUDHIANA: Loans turn bad debts


DELHI: Assembly poll: Rajnath appeals to vote Cong out of power


Business:

Bear cartels under lens for battering blue chip stocks

OPINION: Insecure in Pakistan


NATION: Modi talks Telangana to revive BJP's southern dreams


SPORTS: Great Dan of China remains the king

WORLD: Afghan floods, hailstorms kill 22


Lahore Log

The tribune guide to best colleges

Budget
2013-14

INDIA CHINA WAR 50 YEAR LATER

YEAREND SPECIAL: 2012

Year of survival

The tribune 130 years
a witness to history
book released by prime minister manmohan singh

Guide to best colleges

Results of Punjab Assembly Polls 2012

HIMACHAL VOTES 2012

EARLIER FEATURES
Onion prices bring tears, soar to Rs 60
Chandigarh, August 11
Owing to shortage in supply triggered by damage of crops due to heavy rainfall, onion prices have shot up. Burning a hole in the common man's pocket, the per kg cost of onion has gone up to Rs 60 in retail markets in the region.
Vikrant set to be launched today
Kochi, August 11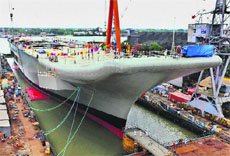 As INS Vikrant, India's first indigenously built aircraft carrier, lay decked up with flags and streamers awaiting its launch tomorrow, it signaled a moment of intense pride for the engineers and technicians.
Indigenous aircraft carrier INS Vikrant is docked at Kochi on Sunday. — PTI

Murrah beauty starts for new home in Andhra
Singhwa Khas (Hisar), August 11

Around 2,000 persons enjoyed a feast hosted by farmer Kapoor Singh in Singhwa Khas village here today. The occasion was the farewell of a Murrah buffalo! But Lakshmi is no ordinary buffalo.
CENTRE OF ATTRACTION: Villagers click pictures with Lakshmi at her farewell. Photos: Manoj Dhaka

Kishtwar violence spreads to Jammu, Rajouri areas
August 11, 2013
US pulls out diplomats from Lahore over terror threat
August 10, 2013
Antony now says Pak Army did it
August 9, 2013
Furore in Parliament over Antony's 'clean chit' to Pak on LoC killings
August 8, 2013
5 soldiers killed in Pak ambush
August 7, 2013
SP, Cong slug it out over UP officer
August 6, 2013
Turbulence looms as crucial monsoon session begins
August 5, 2013
Bombers target Indian mission in Afghanistan, 12 locals dead
August 4, 2013
Telangana storm hits Cong as 8 MPs quit, 4 ministers ready to go
August 3, 2013