PUNJAB

HARYANA

JAMMU & KASHMIR

HIMACHAL

REGIONAL BRIEFS

NATION

OPINIONS

LETTERS

BUSINESS

SPORTS

WORLD


Birender's proposed rally raises political temperature
Sirsa, August 8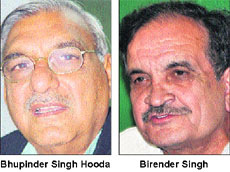 Rajya Sabha MP Birender Singh's proposed August 20 rally at Jind, Chief Minister Bhupinder Singh Hooda's announcement to launch Food Security Bill in Haryana on the same day, subsequent utterances of pro- and anti-Hooda camp leaders and "resignation" by Panipat MLA Balbir Paul Shah have heightened political temperature in Haryana.
Falling prices of guar worry farmers
Sirsa, August 8
Falling prices of guar are sending shivers down the spines of farmers who have opted for this crop instead of cotton and other traditional kharif crops this year.
Varsity holds workshop on Food Security Ordinance
Food security is 'right of poor people' in a democracy
Sonepat, August 8
BPS Women University, Khanpur Kalan, organised a one-day workshop of the sarpanches of the Gohana, Kharkhoda and Sonepat blocks in the university recently for the successful implementation of the provisions of the Food Security Ordinance in their villages.
Increase in political activities of MP's wife raises eyebrows
August 6, 2013
Haryana villagers spend most on education, says study
August 2, 2013
Providing affordable healthcare his endeavour
July 30, 2013
Central varsity sans regular VC, Pro-VC, registrar
July 26, 2013
No government-run drug de-addiction centre in Sirsa
July 23, 2013
Despite HC orders, cop fights own dept
July 19, 2013
Congress in poll mode in Haryana
July 16, 2013
Meeting Kalam 'unforgettable' experience for Sirsa students
July 12, 2013
Meeting Kalam 'unforgettable' experience for Sirsa students
July 9, 2013
Politicians scramble to take credit
July 5, 2013