Cong bigwigs concerned about Durga Nagpal, silent on Khemka
Gurgaon, August 12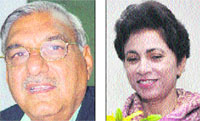 Top Congress leaders, including party president Sonia Gandhi and Prime Minister Manmohan Singh, had expressed concern over the recent suspension of Uttar Pradesh officer Durga Shakti Nagpal.
Bhupinder Sinth Hooda and Selja
Many in race for Cong nomination from Fatehabad Assembly seat
Fatehabad, August 12
Many are in race for filling the vacancy created in the Congress by former parliamentary secretary Dura Ram, who bid goodbye to the ruling party to join his cousin Kuldeep Bishnoi's outfit, Haryana Janhit Congress, in December last year.
Listen to 'marginalised people' before formulating policies
Sonepat, August 12
Dr Syeda Hameed, Member, Planning Commission of the Government of India, emphasised the importance of listening to people who were among the most marginalised and destitute before formulating policies.
State govt under fire for not paying attention to project
Gurgaon, August 12
Residents of Mewat are up against the state government for yet another "step-motherly" act.