Residents gherao Ambala DRM
Megha Mann
Tribune News Service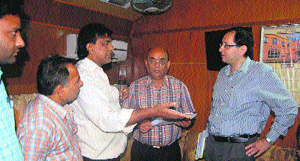 Anil Kumar Kasba, DRM, Ambala, interacts with residents in Bathinda on Wednesday. A Tribune photograph

Bathinda, August 14
Residents of the trans-railway lines area gheraoed the Divisional Railway Manager (DRM), Ambala, early this morning during his visit to the Bathinda railway station. Camping for their charter of 20 demands, led by former municipal councillor Vijay Kumar, residents pressed the railway authorities for their demands.
The DRM, Anil Kumar Kasba, listened to the grievances and assured them of taking action over the same. Later, he left for Sri Ganganagar.
Their demands include new 20-feet-wide railway footbridge with ramp facility to enable cycles and two-wheelers to pass in the place of the existing railway footbridge. The present footbridge was constructed in the 1895 and has been repaired twice since then. Platform to platform underground subways have also been demanded for elderly and physically challenged people.
They also demanded railway over bridge crossings on the railway lines of Sirsa, Delhi, Ganganagar and Ferozepur and an under bridge at the Sirki Bazaar railway crossing.
The iron-made railway footbridge connecting platform No. 3 to 7 has been lying defunct and locked for the past around 25 years. The residents demanded that the bridge be shifted towards the area near the church on the railway road with the Municipal Corporation Bathinda (MCB) office located on the Mall Road.
"The trans-railway lines area has a population of 1.25 lakh and 17 municipal wards. Despite such a huge number, the ticket window towards Pratap Nagar does not work and even the private one has been closed down. Also there are eight ticket windows at the Bathinda railway station of which only two remain open. We requested that all windows should be made functional," said Vijay Kumar.
The demand for widening the Thandi Sarak hospital road to 30 feet as well as that of roads around the railway ground was also raised.
People want the godam of railways to be shifted out of the city to ease the traffic bottlenecks. They also demanded that toilets and urinals in and around the railway platforms should be repaired and cleaned regularly.
Mentioning the underdeveloped and poorly maintained areas of the railway colony, the residents demanded that the water tanks should be covered. Around five people, including two children, have got drowned in the tank.
They demanded that the first two tanks be covered and the third one, which has been lying defunct, should be covered permanently and a playground be provided.
The delegation that met DRM included Sanjiv Kumar Soni, Baldev Kumar, Madan Mohan Sahni, Alamjit Singh, Balwinder Singh, Om Prakash and Anjani Kumar.