M A I N N E W S
Explosions sink sub off Mumbai; 18 dead


Ordnance fire engulfs INS Sindhurakshak in midnight tragedy


Inquiry report in 4 weeks
Shiv Kumar/TNS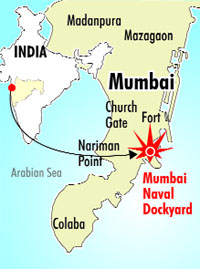 Mumbai, August 14
Eighteen crew members, including three officers, on board submarine INS Sindhurakshak were feared dead after three explosions rocked the vessel causing it to sink off Mumbai harbour shortly after midnight today.
Naval Chief Admiral DK Joshi said three explosions were heard from the submarine before it sank in the shallow waters. A small explosion was followed by two massive blasts that sparked a major fire.
The Admiral said the ordnance on board the submarine might have exploded, adding that the extent of damage could be ascertained only after the salvage operations were over.
The submarine had explosives, fuel, oxygen and batteries that could have played a part in the explosion, he said. The explosion caused the submarine to sink nose first where it was berthed at the Mumbai dockyard.


The Navy Chief said the possibility of sabotage would be among the points that would be investigated by a Board of Inquiry (BoI). "Indications so far do not support such a theory," he said. The BoI will submit its report in four weeks.
Earlier in the day, Admiral Joshi who accompanied Defence Minister AK Antony said divers were trying to establish contact with the crew members trapped inside the stricken submarine.
"While we can hope for the best, we have to be prepared for the worst," the Navy Chief said.
He said rescuers were hoping against hope that the crew members could be breathing air trapped in different pockets in the submarine.
Official sources later said all crew members seemed to have perished in the mishap.
Three crew members had a narrow escape as they jumped off the submarine when the explosions occurred. The naval authorities were waiting to question them. "They are in a state of shock and in no position to answer questions," the Admiral said. Shortly after the explosions lit up the South Mumbai sky a little after midnight, fire tenders from the Navy and the Mumbai Fire Brigade arrived at the scene to put out the blaze. Fire officials said it took several hours to douse the fire.
Close shave for another sub
The tragedy could have been worse had it not been for the presence of mind of naval and fire brigade personnel who were at the naval dockyard. The explosions sparked off a major fire on another Kilo-Class submarine, INS Sindhuratna, stationed nearby. Fire-fighters were quick to check the spread of fire on the second submarine before moving it away.
most members were away
Most members of over 80 crew members on board were not present at the time of the tragedy, officials have said. While 18 crew members, including three officers, were feared dead, three jumped to safety. They have been admitted to naval hospital INS Ashwini. The submarine was set to leave for operational deployment shortly.