LIFE+STYLE

CHANDIGARH

LUDHIANA

BATHINDA

JALANDHAR

AMRITSAR TRIBUNE

JALANDHAR TRIBUNE

BATHINDA TRIBUNE

JAMMU TRIBUNE

KASHMIR TRIBUNE

DELHI

DEHRADUN

DEHRADUN PLUS

Don't take India's restraint for granted: Parliament tells Pak
New Delhi, August 14
Strongly condemning the recent killing of five Indian soldiers by the Pakistan Army on the LoC, Parliament today warned Pakistan not to take India's restraint for granted or the capacity of its armed forces to ensure the territorial integrity of the nation.
India, China hold maiden dialogue on Central Asia
New Delhi, August 14
India and China today held their first-ever dialogue on Central Asia, discussing the similarity of their respective interests in the resource-rich region. They had a conversation on specific issues like regional security and counter-terrorism, Shanghai Cooperation Organisation (SCO), energy security, development partnerships and people-to-people contacts with the countries of the region.
OTHER PAGES

HIMACHAL: State to start radio taxis in tourist towns


CHANDIGARH: Toilet doubles as kitchen for mid-day meal!


LUDHIANA: Blind murder case cracked


DELHI: Onion price touches Rs 80/kg; BJP stages massssive protest


Business:

FM advises RBI to focus on growth, job creation

OPINION: Being Indian

SPORTS: India pass final test with A grade

WORLD: 149 killed in Egypt, emergency imposed


Lahore Log

The tribune guide to best colleges

Budget
2013-14

INDIA CHINA WAR 50 YEAR LATER

YEAREND SPECIAL: 2012

Year of survival

The tribune 130 years
a witness to history
book released by prime minister manmohan singh

Guide to best colleges

Results of Punjab Assembly Polls 2012

HIMACHAL VOTES 2012

EARLIER FEATURES

Govt mulls one-time diesel price hike
New Delhi, August 14
The government is mulling a one-time hike of Rs 2-3 per litre in diesel prices to offset the impact of fall in rupee value but there is no proposal to raise cooking gas (LPG) and kerosene rates.
HAL basic trainer project on despite IAF scepticism
Kochi, August 14
State-owned Hindustan Aeronautics Limited (HAL) will go ahead with the design and development of the HTT-40 basic trainer aircraft despite the IAF not being keen for the indigenous trainer, preferring instead to opt for further numbers of the Swiss Pilatus PC-7 trainer.


Pranab: Elect a stable govt to ensure security, development
New Delhi, August 14
Underscoring that a way out of the current state of disillusionment exists in the form of electing a stable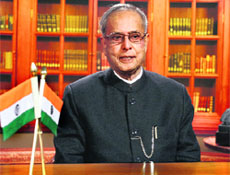 government, President Pranab Mukherjee today reminded the people that the next General Election would offer an opportunity to elect a government that could ensure both security and economic development.
President Pranab Mukherjee addresses the nation on the eve of the 67th Independence Day, in New Delhi on Wednesday. A Tribune photograph

Pakistan Assembly passes anti-India resolution
August 14, 2013
J&K minister quits, protests continue
August 13, 2013
Curfew in 5 more J-K districts
August 12, 2013
Kishtwar violence spreads to Jammu, Rajouri areas
August 11, 2013
US pulls out diplomats from Lahore over terror threat
August 10, 2013
Antony now says Pak Army did it
August 9, 2013
Furore in Parliament over Antony's 'clean chit' to Pak on LoC killings
August 8, 2013
5 soldiers killed in Pak ambush
August 7, 2013
SP, Cong slug it out over UP officer
August 6, 2013
Turbulence looms as crucial monsoon session begins
August 5, 2013