M A I N N E W S
India, China hold maiden dialogue on Central Asia
Ashok Tuteja
Tribune News Service


Issues discussed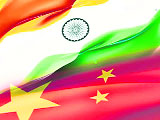 The representatives of the two countries had a conversation on specific issues like regional security and counter-terrorism, Shanghai Cooperation Organisation, energy security, development partnerships and people-to-people contacts with the countries of the region
New Delhi, August 14
India and China today held their first-ever dialogue on Central Asia, discussing the similarity of their respective interests in the resource-rich region.
They had a conversation on specific issues like regional security and counter-terrorism, Shanghai Cooperation Organisation (SCO), energy security, development partnerships and people-to-people contacts with the countries of the region.
The Indian side at the dialogue held in Beijing was led by Ajay Bisaria, Joint Secretary (Eurasia) in the External Affairs Ministry while the Chinese delegation was headed by Zhang Hanhui, Director General of the Department of European-Central Asian Affairs in the Chinese Foreign Ministry. Prabhat Kumar, Joint Secretary, Energy Security in the MEA, also joined the Indian side to discuss energy security related issues related to Central Asia, an official statement issued by the Indian Embassy in Beijing said.
The two sides discussed the situation in Central Asia, focusing on the very similar India and Chinese approaches and economic relationships with the countries of the region.
The Chinese side briefed the Indian delegation on China's vision of its relations with Central Asia while the Indian side explained the details of New Delhi's 'Connect Central Asia' policy. Both India and China are in the neighbourhood of Central Asia and have established close political and economic ties with the countries of the region. Both the delegations stated that strong relations with the countries of the Central Asian region were an important priority in their foreign policy.
The dialogue reflected the growing engagement between the Foreign Offices of India and China and comes after similar comprehensive dialogues on Africa, West Asia, Afghanistan and counter-terrorism issues.