RLEK schools to have trained Irish teachers
Dehradun, August 14
Realising the need to build the capabilities of the teachers in the schools being run by Rural Litigation and Entitlement Kendra (RLEK) in reading, writing and spoken English, the organisation has been involved in an exchange programme in which trained English teachers from Ireland teach the teachers.
ONGC Day observed with homage to martyrs
Dehradun, August 14
The edifice of Oil and Natural Gas Corporation (ONGC) stands on the commitment, dedication and sacrifice made by ONGCians over its journey of 57 years. The hazardous operations of the energy company has not deterred its soldiers from toiling in adverse conditions to provide energy security to the country. In the call of duty, there have been occasions when ONGCians have laid down their lives.
Heavy rains bring life to a halt in Kumaon region
Pithoragarh, August 14
Rains continue to play havoc in the Kumaon region. More than 30 families of Garur in Almora district were shifted to safer places after cracks appeared in their houses following heavy rains since Monday night.
Officer gets notice for failure to provide info on kids
Dehradun, August 14
After failing to provide information on children who were affected in the natural calamity that hit the state in mid-June, the State Child Rights Protection Commission (SCRPC) has issued a notice to the Secretary, Disaster Management, to appear before the Commission by August 20.
Students burn effigy of Pak over killings
Dehradun, August 14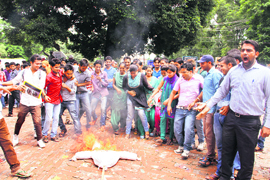 Students belonging to the K2 group of DAV PG College burnt the effigy of Pakistan against the killing of five Indian soldiers in Jammu and Kashmir here today. The students staged a protest and raised slogans against Pakistan and called the gruesome act as cowardice. They blamed the government for its soft policies towards Pakistan and demanded immediate action.
Students of DAV College burn an effigy of Pakistan against the killing of Indian soldiers in Dehradun on Wednesday. Tribune photo: Vinod Pundir

Congmen protest against BJP leader
Haridwar, August 14
Congress workers today staged a protest against the Leader of the Opposition in Uttarakhand Assembly, Ajay Bhatt, for making a false allegation on Congress Cabinet Minister Harak Singh Rawat. The activists led a protest march from Maya Devi shrine to Chandi Ghat (Bhoomanand chowk), raising slogans against Bhatt, who has alleged the role of the Minister in the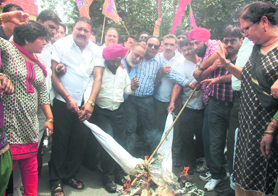 murder of his former public relation officer Yudhvir Singh Rawat. Congress leader Sanjay Chopra said earlier the allegations made against Rawat, had been proved wrong. He said due to popularity of the Minister, the BJP was relying on the allegations to corner the Congress government. The party activists demanded that Bhatt should either prove the allegation or resign from the constitutional post. — TNS
BJP workers burn an effigy of the Congress government to demand a CBI probe into the murder of a close aide of Uttarakhand minister Harak Singh Rawat in Dehradun on Wednesday. Tribune photo: Vinod Pundir

Kumaon varsity teachers donate for flood-hit
Dehradun, August 14
Prof H.S. Dhami, acting Vice-Chancellor of Kumaon University, today gave the Governor, Dr Aziz Qureshi, a draft for Rs 2.45 lakh for the disaster-affected people. The Presentation College of Teacher Education, Kathgodam, Inspiration College of Teacher Education, Kathgodam, Devbhumi College of Education, Banbasa, Devbhumi Institute of Professional Education, Rudrapur, Devbhumi Institute of Professional Education for Women, Rudrapur, LBSS, Jaspur, and Amrapali Educational Institute, Haldwani, made the contributions. — TNS
CM rules out CBI probe into murder case
Dehradun, August 14
Uttarakhand Chief Minister Vijay Bahuguna has rejected the demand by Leader of the Opposition Ajay Bhatt for a CBI probe into the killing of Yudhvir Singh Rawat, a former public relations officer of Uttarakhand Minister Harak Singh Rawat. Talking to mediapersons, here today, Bahuguna said he was satisfied with the police investigation and the arrest of the alleged accused in the murder case. He said that there was no need for a CBI probe into the matter. — TNS