A sprawling canvas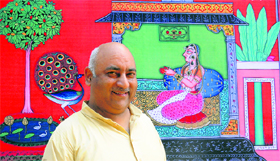 Change and evolution are central to art. Little wonder then, art defines several eras and reflects on the general life during those times. The five-day Arts and Heritage Festival, organised by the Chandigarh Lalit Kala Akademi and Chandigarh Administration (Department of Culture), aims to explore several dimensions of art in its two art workshops - one on contemporary art and the other on Pahari miniature painting.
Band of boys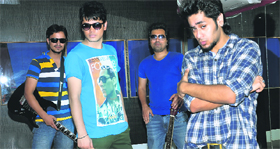 Experiment and fusion are the two buzzwords in today's music world. Mir, a band formed in 2009 with a group of music enthusiasts (some of them even bathroom singers), has evolved over the years. What started as fun is now sounding good. Each pooled in his talent and it all added to the sound of Mir.


STRINGS ATTACHED: Members of the band Mir

Red hot
What happens when you've navigated through the industrial area traffic, negotiated non-functional lifts and maneuvered escalators down with power breakdown? Perhaps, a frozen yoghurt to set things right! Red Mango opens it doors to Chandigarh amidst a semi-functional Elante Mall.
gyan zone
Poignant portrayal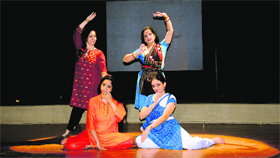 I am Mandodari, the devoted queen, wife, mother, daughter-in-law...sings Deepika Reddy, bringing the mythological character alive on stage. The happy Mandodari saddened at her husband's misdemeanour dares to warn Ravana about the consequences of his misdoings.


dancing divas: (Clockwise from top) Uma Dogra, Ranjana Gauhar, Gopika Varma and Deepika Reddy PHOTO: Manoj Mahajan

Drab and dramatic
Once Upon Ay Time In Mumbai Dobaara!
punjabi scope
An incoherent voice
Ek rehan eer, ek rehan bir, ek rehan fatey and ek rehan hum…. So, we have a grand total of four people, which is precisely the number of people present in the auditorium watching the Punjabi film Punjab Bolda. Even when this little information explains a lot, we move ahead with every scene like a brave soldier.
Best foot forward
Alberto Torresi, the most admired and emerging footwear brand of India, releases its latest Italian shoe collection 'Darwin'. This collection is based on a classic Italian concept with a true Italian fit. It is endowed with the concept sole that ensures maximum comfort and relaxation. The sole is inserted with TPR portion that does not let water seep in, besides, it also enhances flexibility.
STAR Track


Celebrations can wait


It's official


Second chance for Katrina?


Kajal wants to kick butts


Akshay's house hunting


Dia loses her deal
chatter box


Moving on


New entry


Act by act


Of love & hate


Grand return


Matters of choice