Chetan's nagging question remains unanswered
Chandigarh, August 17
For former Indian cricketer Chetan Sharma, his Daronacharya Award recipient guru DP Azad left the world without answering his one repeated question: "Who was his Arjun among all the students".
Kapil Dev and Chetan Sharma (third from left ) during the funeral of Desh Prem Azad at the cremation ground in Sector 25, Chandigarh, on Saturday. Tribune photo: Parvesh Chauhan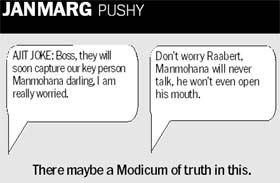 Thrashed, vendor jumps before train
Panchkula, August 17
A vendor today committed suicide by jumping in front of a train after he was allegedly beaten up by the staff of the Haryana Urban Development Authority (HUDA) and the Municipal Corporation while removing his 'rehri' in Sector 19 here this afternoon.
Girl child found raped, murdered in Panchkula
Panchkula, August 17
A two-year-old girl was found raped and murdered near the Hafed building in Sector 5 here this evening. Preliminary police investigations revealed that the child was first raped and then dumped in the isolated area.
238 pedestrians die in mishaps in 5 yrs
Chandigarh, August 17
The accident of Shawinder Kaur Johal, mother-in-law of People's Party of Punjab (PPP) chief Manpreet Badal, has once again raised questions over the safety of pedestrians in the city. She was hit by a speeding Range Rover in Sector 10. In the last five-years over 238 pedestrians died in road accidents across the city.
UID switches to normal mail service for Aadhaar delivery
Chandigarh, August 17
Due to the slow speed of postal services in delivering the Aadhaar cards in the region, the Unique identification Authority of India (UID) has decided to use the normal mail services of the Postal Department.


School or shelter for stray cattle!
Panchkula, August 17
Stray cattle had a field day when they were found relaxing inside a government school here today. As many as 10 stray cattle were found inside the Government Primary and Middle School, Sector 19, Panchkula. Meanwhile, no security guard was present there.
Stray cattle squat inside Government Primary School; and (right) a man paints his doors on the school premises at Sector 19 in Panchkula. Tribune photos: Nitin Mittal

Siswan Dam to become major tourist spot
Mohali, August 17
"The New Chandigarh would have a world class tourist spot, the Siswan dam," said Anuraag Aggarwal, Managing Director of Punjab Infrastructure Development Board while visiting the site, here today.



Siswan Dam would be developed under the ECO Project. A Tribune photograph



Mohali schools in a fix over counter sign fee on buses
Mohali, August 17
Local school authorities seem to be in a dilemma over counter sign fee on the school bus permits by the Chandigarh Administration to ply the vehicles in the city under mutual agreement of the administrations of Chandigarh and Mohali.


Play highlights femininity, female foeticide
Chandigarh, August 17
Who does not love a happy ending? This was precisely the case with a play "Jug Jug Jiyo" that touched several issues, including femininity, female foeticide and human predicaments, but managed to bring smiles on the faces of the audience as it ended at the Tagore Theatre, Sector 18.

Artistes enact a scene from play "Jug Jug Jiyo" at the Tagore Theatre in Chandigarh on Saturday. Tribune photo: S Chandan

Know Your Case: 97 persons turn up at police stations
Chandigarh, August 17
As many as 97 persons visited police stations to know the status of their cases and complaints under the scheme Know Your Case. The scheme was launched by the Chandigarh police to bring transparency and accountability in functioning of the police.

Residents enquire about the status of their complaints at the Sector 34 police station in Chandigarh on Saturday. Tribune photo: Parvesh Chauhan
Section 144 imposed in Sector 41
Chandigarh, August 17
Due to a rally by the Tenants' Welfare Society, Chandigarh, near Shivalik Public School, Sector 41, the Deputy Commissioner has imposed Section 144 of the CrPC at the venue of the rally.


obstructing faculty development programme
4 teachers arrested, released on bail
Chandigarh, August 17
The issue of the faculty development programme of the UT Education Department has come alive again. The police, which registered an FIR against four government schoolteachers on July 20 for obstructing the department's faculty programme, today arrested these four teachers and later released them on bail.


Government Primary School re-inaugurated at PGI
Chandigarh, August 17
Government Primary School at the PGI, Sector 12, Chandigarh, which was in a shambles nine months ago, was re-inaugurated after the repair work today. Children presented a cultural programme on the occasion, which was attended by the PGIMER Director, Dr Yogesh Chawla, the Municipal Councillor of Ward Number 2, Saurabh Joshi, and the Municipal Commissioner, VP Singh.
Municipal Commissioner VP Singh re-inaugurates Government Primary School at Sector 12, Chandigarh, on Saturday. A Tribune photograph
Placement drive, orientation held at Chandigarh varsity
Mohali, August 17
Students of Chandigarh University, Gharuan, could not have asked for much better beginning to their academic career with a campus placement drive being conducted for the outgoing 2013 batch on one hand while on the other the university organised an orientation programme to welcome the newly admitted 2013 batch students on its campus.


Students display creative talent at exhibition
Mohali, August 17
The annual exhibition, Xpressions '13, at Manav Mangal Smart School, Mohali, brought alive the best of the creative talent of students. Twenty-eight rooms displaying various themes were set up by the creative efforts of students and teachers.

Students during the annual exhibition, Xpressions '13, at Manav Mangal Smart School, Mohali, on Saturday. A Tribune photograph
Rotary Club celebrates I-Day with special kids
Chandigarh, August 17
This Independence Day, the Rotary Club of Chandigarh Midtown, Part of Rotary International, world's first service club organisation, and the Prayaas Rehabilitation Centre for Handicapped Children, a unit of the Indian Council for Child Welfare, Chandigarh, joined hands to celebrate the event with special children.
Regional CBSE Science Exhibition
Samarth, Parth emerge winners
Chandigarh, August 17
Samarth Sardana and Parth Lal of St John's High School, Sector 26, emerged winners at the Regional CBSE Science Exhibition held at Sacred Heart Convent School in Ludhiana recently. They would now be competing at the national level soon.
FROM SCHOOLS
Patriotic zeal marks I-Day festivities
Mohali: Students of DAV Public School, Sector 39, celebrated Independence Day in their own way. Children were dressed up in saffron, white and green clothes and brought tricolour food items.
PU asst prof to attend workshop in S. Korea
Chandigarh, August 17
Dr Namita Gupta, assistant professor at Centre for Human Rights and Duties, PU, has been invited to participate in the "Workshop for Developing Capacities on Climate Change Adaptation and Disaster Risk Reduction in the Asia-Pacific Region" to be held from September 3 to September 5 in Jeju, Republic of Korea (South Korea). The workshop is being organised by UNITAR CIFAL Jeju. — TNS