Be aggressive yet politically correct, BJP leaders tell party members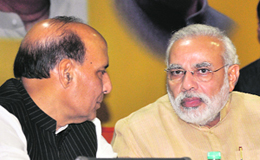 New Delhi, August 17
The BJP's top leadership today asked the party's spokespersons and media cell office-bearers to be more aggressive in their approach while taking on the Congress but with decency and decorum. They said there should always be a "proper correctness" while countering the Opposition in television debates and press interactions because "words once spoken cannot be taken back".
Gujarat CM Narendra Modi with the BJP national president Rajnath Singh in New Delhi on Saturday. Tribune photo: Mukesh Aggarwal

Sadhu Yadav slams Cong
New Delhi, August 17
Unfazed by the talk of action against him by Congress over meeting Narendra Modi, Sadhu Yadav, the estranged brother-in-law of RJD chief Lalu Prasad, today went hammer and tongs against party slamming the UPA government.
Name Modi as PM nominee: Bihar BJP
Gaya (Bihar), August 17
BJP's Bihar unit today became the first state body to ask its central leaders to formally name Narendra Modi as party's prime ministerial candidate for the 2014 Lok Sabha elections.
India being considered for Security Council permanent membership: Khurshid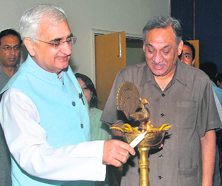 Dehradun, August 17
The Union External Affairs Minister Salman Khurshid today said it is a measure of success of the Indian foreign policy that as far as India and Pakistan are concerned, India is now being talked about for permanent membership of the Security Council and not Pakistan. "We are able to tell the USA doesn't hyphenate India and Pakistan. It is India as a responsible country which is being seen as candidate for the membership of the Security Council.
Union External Affairs Minister Salman Khurshid with Uttarakhand CM Vijay Bahuguna in Dehradun on Saturday. — PTI

Setback for GJM as constituent walks out
Darjeeling, Aug 17
Fissures appeared barely a day after GJM propped up an eight-party platform for Gorkhaland stir as major constituent All-India Gorkha League walked out demanding that its three conditions be met first, including the scrapping of the Territorial Administration (GTA).
Wholesale onion prices soften amid threat of import
Mumbai, August 17
Prices of onions at Nashik's Lasalgaon and Pimpalgaon, the country's main wholesale markets, showed signs of softening today after the government announced measures to import the bulb in a bid to control prices.
Tanker's detention a technical issue: Iran
New Delhi, August 17
Iran has asserted that the detention of an Indian oil tanker by its Navy in the Persian Gulf was "purely a technical and non-political issue", underlining that the two countries were engaged in negotiations to resolve the issue in accordance with the international law.