Punjabi by design
Harinder Singh and Kirandeep Kaur's brainchild 1469, a brand that stands for Punjabi faith, language and humour, aims at connecting Punjabi youth to their culture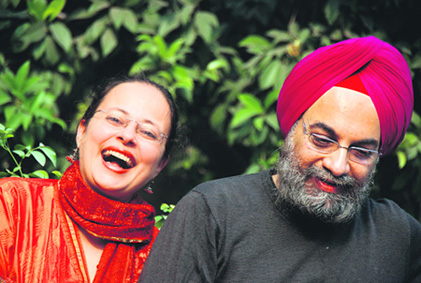 The brand 1469 stemmed from an unpleasant experience which Harjinder Singh, founder of the brand, also terms as life-changing. Had he not been mistaken for one of the Bin Laden clan, he wouldn't have thought of taking his heritage and culture to the world. Today, seven years down the line, 1469 stands for everything Punjabi--language, faith, art, humour and objects. Likewise, the merchandise under the brand name comprises much that promotes Punjabi culture and appeals to the youth.
Short take
With Haani , though Anuj Sachdeva graduated from being a model to an actor, the art of telling a story in just a few seconds through ads still fascinates him
One step at a time, no rush, no hurry! For model-turned actor Anuj Sachdeva life is not to be wasted in a rush. He lives each day in complete awareness. And from this awareness stems his decisions, subtle yet firm. The actor, who made his debut in Punjabi film industry with Haani, plans to stick around to do more films. Haani is his one odd stint, but the good looking actor has much on his sleeves and heart!
A new roommate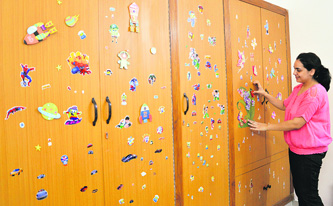 If you thought stickers were a kid's play, then think again! A lot many grown ups are playing with the new 3-D stickers these days that stick out from the wall and seemingly have a depth. Available in various shapes and themes, these stickers look elegant. Depending on the theme, these can be used anywhere, kitchen or study or for decorative purposes.
Photo: Inderjeet Verma
Astro turf
ARIES: Someone you are attracted to at work feels the same way. It is for you to make the first move. Eat wisely, as you could be in danger of suffering digestive problems.
The year ahead
If your birthday is September 10...
Discuss topics connected with bureaucracy, important financial matters, and your long-term goals. Listen carefully to what is said on the subject. If you need to concentrate on some important paperwork, you will get on with it much better if you can do it in private and away from any distractions. Travel for work is on the cards. Better planning will be required in achieving financial prosperity. Personal matters may suffer due to confrontation between partners. As problems arise, you will be forced to use your own imagination. The year, 2014 will open up some lucrative opportunities with attractive financial possibilities. If you are planning to buy a studio or premises of your own, it will now be easier to arrange for a loan, which can supplement your savings.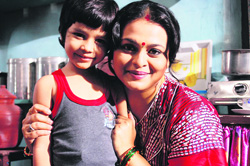 Chatter box
Back with a bang
Actor Shilpa Shirodkar, who bid adieu to stardom and walked to the altar with a UK-based merchant banker in 2000, has now returned to her first love—acting, with the show, Ek Mutthi Aasmaan, where she essays the lead role, Kamala Bai. In an exclusive conversation with the Life+Style, she talks about her character, show and much more…
New innings: Shilpa Shirodkar
Some loss, more gain!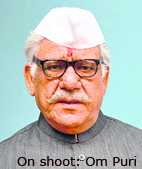 Escaping the wrath of a marriage gone horribly wrong, Om Puri is currently in a small French town of Alibi shooting a film with none other than Helen Mirren. Ahem, you read it right! For those not aware, Om will be seen in a Hollywood film titled The 100 Foot Journey. He plays the male lead opposite distinguished British actress Mirren while creative Swedish filmmaker Lasse Hailstrom is directing it. In a conversation, he talks about the film, his character and more...
Accomplished team: Lasse Hailstrom will be directing this film. He has directed 35 films, most of them very successful. This is not a small film. As for Helen Mirren she is legendary on British stage and in cinema. I am very happy to be working with a co-star who can challenge the best out of me.
Par Excellence
The art of putting
Putting is probably the most important aspect of the game and also the most variable. The number of putts a player can take on each round could vary a lot. This is due to the complexity of the greens and their imperfect nature as well as the fact that a small error can lead to a missed putt. At 10 feet a one degree error of the putter face would lead to a putt missing the hole.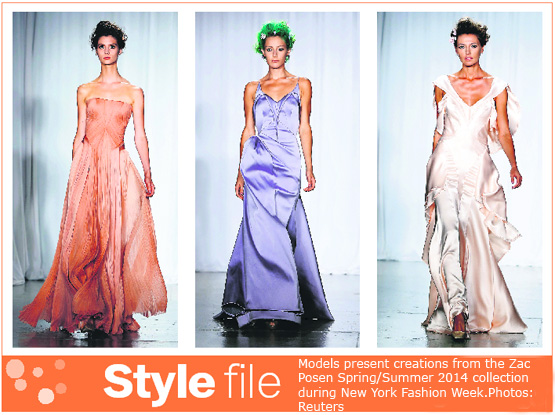 TRENDSETTER
Cool and candid
There is something very intriguing about people who are not pretentious. And most of the times, their sense of originality validates a very deep level of comfort, which often translates into their style statement. Amol Gakhal , 22, is a master's student at the DAV College, Sector 10 and though he claims to be an average college going Chandigarh lad, one can trace his witty sense of humour that is masked by his evident high spirits. Here's a self-proclaimed Narcissist's confessions about fashion, style and a lot more...
It's rocking
Going berserk!
Well, here's good news for all you Eminem fans! Your favourite rapper is back with a brand new single, Berzerk that is produced by American music producer Rick Rubin. The song is the first single from Eminem's up and coming eighth studio album, The Marshall Mathers LP 2. The song was released on August 27 via Twitter and it samples Billy Squier's The Stroke, as well as Beastie Boys' The New Style and You Gotta Fight for Your Right (To Party!), songs taken from their 1986 debut album Licensed to Ill, which were also produced by Rubin. The song received heavy downloads in its first week of release, resulting in the song debuting at number three on the Billboard Hot 100.


Aditya's hidden talents


Aditya Roy Kapur is a crazy doodler. He even plays the guitar and sings and writes English songs. He was gifted an acoustic guitar by Mohit Suri during Aashiqui 2.
Nargis makes her mark


It is most likely that Nargis Fakhri will bag the lead role opposite Salman Khan in Sooraj Barjatya's next film. She has auditioned a few times as the people from Rajshri Films liked her work in Madras Cafe. Bag it: Nargis Fakhri
Tour & tell
Nischal Masand brings out some interesting aspects of life and places in his series of travel photographs
When the subject of photography is France and Chandigarh, it's the architecture that is usually captured by lensmen. Next, comparisons are drawn which throw up ample similarities and a few contrasts. A travel exhibition by Nischal Masand at Alliance Franchaise is treading on the same path, where the focus is on the prominent buildings and landmarks of the two places.
Watch out
Style and sophistication have acquired a new meaning with Pierre Cardin Time Couture going a la France. With its unparalleled style and ingenuity, the brand is all set to redefine the French savoir-faire with timepieces that exemplify legendary designer Pierre Cardin's stylish persona. Enhance your sartorial choice with watches that are a combination of the classic urbane, yet a sporty casual trend this season.
Master Chef
Sweet something
The quaint taste of the sweet potato makes it one of the adventurous root vegetables to experiment with. Roast it, steam it or spice it up and there you have a delicious mid-meal snack.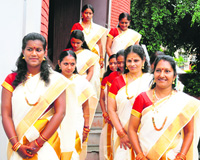 Cultural treat
Chandigarh Malayalee Association celebrated Onam at Punjab Kala Bhawan sector -15.Nearly 2000 members participated in this cultural event. CR Benny, secretary Chandigarh Malayalee Association adds, "This is our yearly affair, which has been happening for the last 13 years. We celebrate the festival with cultural performances and grand treat towards the end." The event was inaugurated by Member of Parliament, Pawan Kumar Bansal. — TNS
Celebration time: Women in their traditional attire. PHOTO: Pradeep Tewari

Katrina faces the aftermath
Susannah Turquotte and Katrina Kaif have parted ways on their favourite charity Claretian Mercy Home in Madurai because the people at orphanage were unhappy with the way the pictures of Katrina were splashed across the internet. Parting ways: Katrina Kaif

High risk, high returns
Ranbir Kapoor is ready to take on the Khans. His new film Besharam has mass appeal and will open in around 3000 screens and the film rests completely on his shoulders. He is taking a keen interest in the marketing and promotions of the movie.
Grand opening: Ranbir Kapoor

Of influence and inspiration
Sushant Singh Rajput loves acting and he claims to be an actor because of Shah Rukh Khan. He considers SRK his idol. He also feels acting is a powerful profession because it has such a wide reach across the world.
Acting bug: Sushant Singh Rajput

Keeping up with appearances
Kareena Kapoor Khan is doing a cameo in Saif Ali Khan's latest romantic comedy, in which he has been paired with Ileana D'cruz. She is also doing a special song in the movie. This will be their first film appearance together post marriage.
Onscreen reunion: Kareena Kapoor and Saif Ali Khan